Parks Associates' Smart Energy Summit Returns with Insights on Grid Management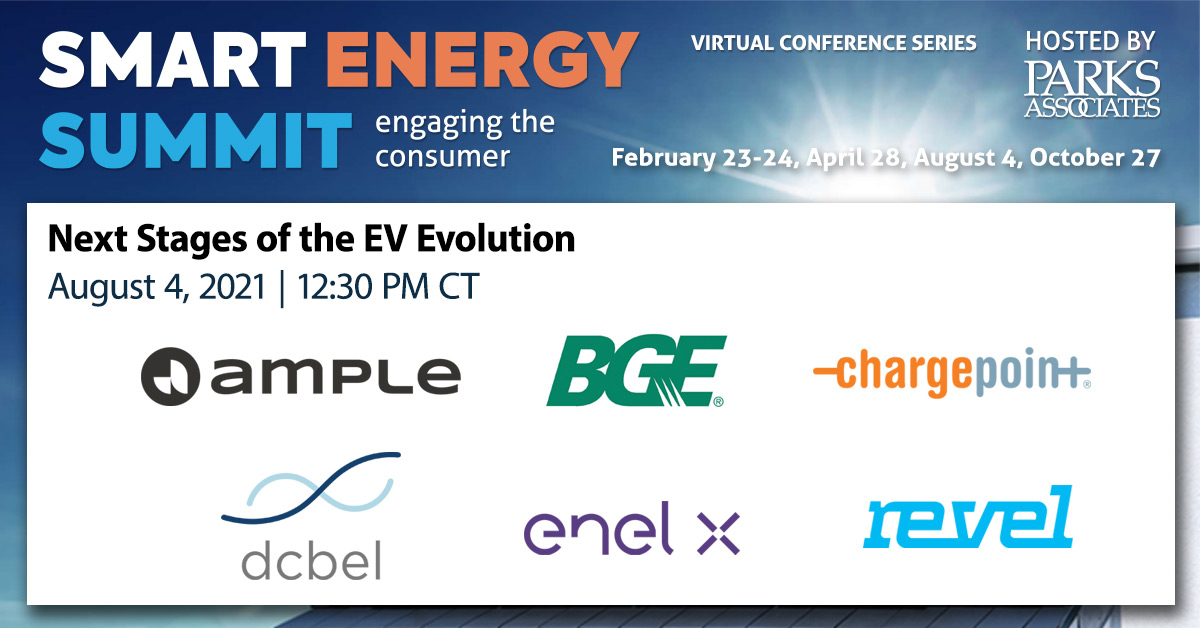 Connectivity of a smart home provides consumers and energy service providers the tools to manage energy consumption throughout the home. As the adoption of solar, storage, and electric vehicles continues to rise, utilities have the opportunity to align operation of smart home devices to the needs of the grid.
Don't miss Parks Associates' Smart Energy Summit: Engaging the Consumer conference as it continues its virtual series next week with the upcoming session Next Stages of the EV Evolution on August 4 from 12:30 PM to 2:45 PM CT. Throughout the session, leading industry executives will address the adoption and drivers for EV in 2021, as well as the role of storage in helping to manage the grid.
During the event, Parks Associates will highlight exclusive research from their recent report, Smart, Clean, Connected: The Future of Home Energy Management, which provides a deep analysis on consumer interest in clean energy management products and services, including features, price sensitivity, and incentives for energy-efficiency solutions.
Register now to join interactive conversations regarding energy management, connectivity, electric vehicles, and more. The firm will feature major industry players Paul Suhey, COO and Co-Founder, Revel; Anthony Harrison, Head of Utility Partnerships, ChargePoint; Lauren Burke, Sr. Director of Marketing & Development, Enel X North America; Laurent Schmitt, Head of Utility & European Markets, dcbel; Levi Tillemann, Vice President for Policy and International Outreach, Ample Inc, will provide insights on how storage can aid in grid management, and more.
Thank you to our event sponsors: Bidgely, Grid4C, Austin Energy, dcbel, Flo, American Water Homeowner Services, and Very.
Register today to join upcoming sessions on August 4, and October 27!

Next: Promising Growth for the EV Market
Previous: The New Business Model - Insights from IOTAS on COVID-19 Effects on the Residential Space

Comments
Be the first to leave a comment.
Post a Comment