Artificial Intelligence and The Future of the Smart Home
Amidst this disruptive year, the smart home market continued its steady growth, with 34% of consumers owning a core smart home device and 41% owning a remotely monitored connected home device. Not only are new households getting in on the smart home trend, but current device owners are adding to their collection. Parks Associates research shows that 17% of US broadband households are now what we call smart home Power Users, meaning they own at least five smart home devices — and this rate has just about doubled in the past two years. Additionally, 9% are Super Power Users, owning ten or more smart home devices.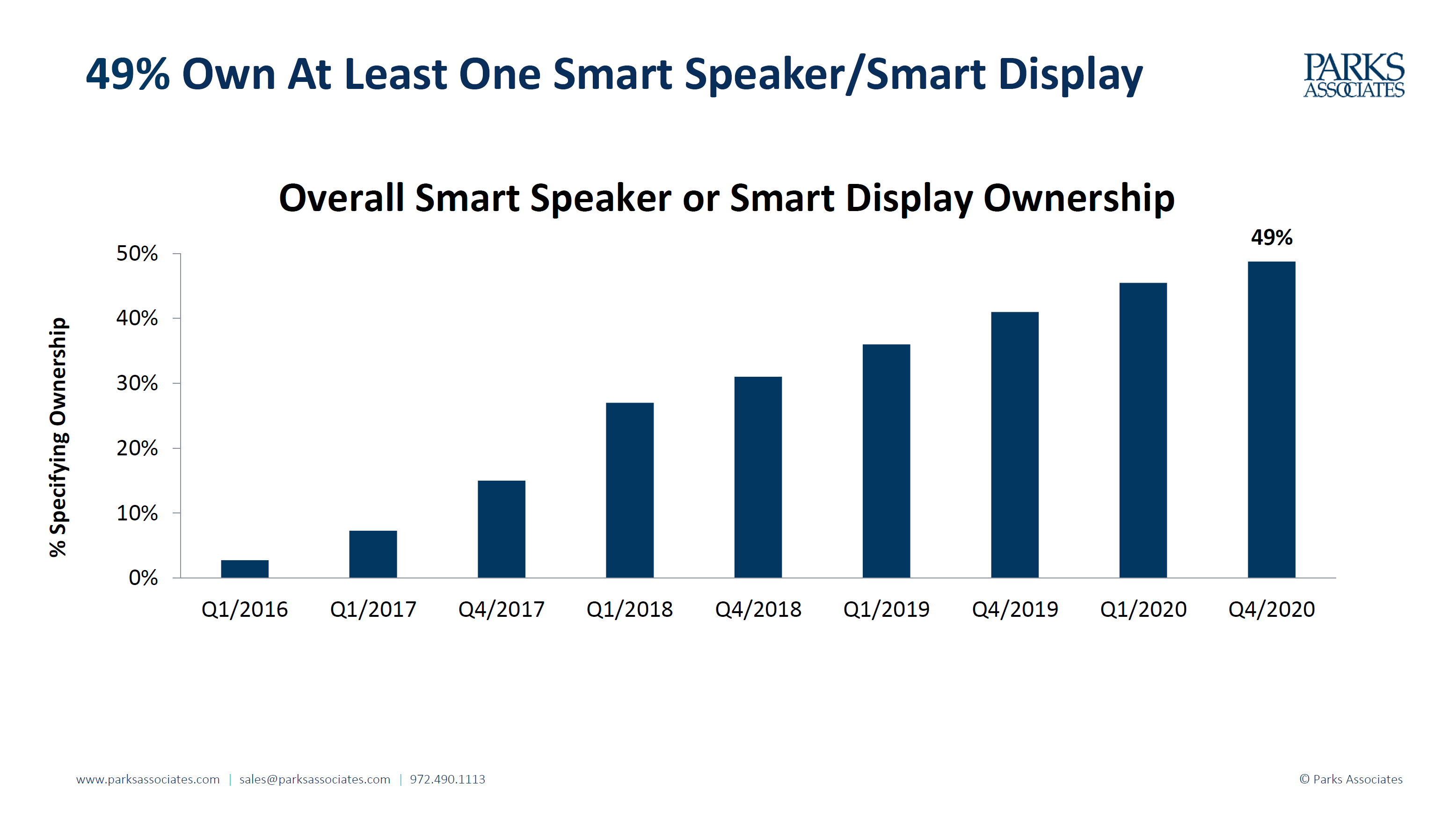 Artificial intelligence has been a big influence on the smart home market as AI-driven features help enhance the user experience across product lines by allowing devices to respond to voice commands, learn preferences, and identify notable events that merit an alert.
Developments in AI are improving and taking the user experience to the next level. Amazon Alexa can now make hunches at a potential action by smart home devices based on less direct user speech. For example, when a user says good night, Alexa can make a hunch that the user may want the lights turned off or direct other night time activities with supported smart home devices like adjusting the temperature on a smart thermostat, locking doors and turning off smart switches. Google's Meena can now have more human-like conversations including some joking around. Additionally, their Nest cameras feature face detection via AI that the company is offering as a service to its camera owners.
It is not just cameras and voice assistants that are smarter and more powerful; sensors and other inputs are also improving, and their data is being incorporated into more systems. Robot vacuums by iRobot and others utilize a mix of sensor and video data to map and navigate the home while cleaning. Bosch makes a smart refrigerator that uses gas sensors to detect the "smell" of food spoiling. Radar and Wi-Fi monitoring technology are being ported from security use cases to the smart home. These different types of data are all being analyzed by smarter devices.
To make all of this possible, AI is leveraging more powerful edge components and working together with the cloud, therefore, making smart products smarter.
In the near future, though, more powerful AI will do all of those things so much better. All voice controlled devices will be conversant, and simple commands will be more individualized and contextualized. The combination of AI and increasingly open connectivity standards, like the rebranded initiative called Matter (formerly known as Project Connected Home over IP) by the Connected Standards Alliance (CSA), will help facilitate better interaction by smart home devices without the limits of a branded ecosystem. This provides smart home customers with the ability to choose the devices that best meet their needs and ensures they work together seamlessly.
AI will be more commonly included in devices and the products will then be better able to anticipate requests and proactively take action based on a situation without a command. Access point cameras and video doorbells will identify suspicious movements and deter a would-be burglar, then unlock the door for a recognized visitor or give instructions to a delivery person. Our research shows that intended buyers are interested in all of these AI features, and while they are bleeding edge now, they will be common in ten years. Smart lights and thermostats will prepare the home for a family returning from vacation based on their calendars. Refrigerators will monitor supply levels of frequently used ingredients and order grocery deliveries.
This level of automation AI provides will appeal to a whole new population of smart home users who don't currently see the added convenience or don't enjoy setting routines, learning commands, or interacting with devices in general. As AI technology advances and spreads across product categories, powerful edge components get smaller and cheaper, cloud integration gets faster, more and more smart home users will enjoy the benefits.
For more information on the latest Smart Home Research or Artificial Intelligence industry updates please visit www.parksassociates.comor attend CONNECTIONS: The Premier Connected Home Conferencewhich hosts year-round virtual sessions on these topics.
Next: ISC West Endeavors to Get the Security Trade Show Back on Track
Previous: SmartThings Hits Milestone in Transition Away from Hardware

Comments
Be the first to leave a comment.
Post a Comment