Universal-Peacock Deal Disrupts Pay-One Content Windowing
by Liam Gaughan | Jul. 12, 2021
NBCUniversal's Peacock had a disappointing launch in summer 2020 due to unavailability on key platforms and a lack of appealing exclusive content to drive initial engagement. After finally adding Roku and Amazon Fire, Peacock has gradually risen in the OTT market through the addition of appealing content, including WWE's library, the day-and-date streaming release of Boss Baby: Family Business, and the upcoming coverage of the Olympic Games that was initially intended as a springboard event to help launch the service. Peacock's "freemium" model has captured viewers at the free tier and laid the groundwork for paid subscriptions, but the exclusive content the service will score through the new deal between NBCUniversal and Universal Pictures will be its greatest asset in attracting new paying subscribers.
This deal disrupts the traditional pay-one window for theatrical film releases, which traditionally extends to 120 days after theatrical release. The pay-one window is the first exclusive release window from carriers following a film's theatrical release and transactional purchase sell-through period. Instead, Peacock will gain 2022 theatrical releases from Universal Pictures four months after their theatrical release, including new installments in the Jurassic Park, Fast and Furious, and Despicable Me franchises. Peacock will have exclusive distribution for these titles during the first four months and last four months of the 18-month pay-one window. Amazon entered into its own agreement with Universal and gained the rights for the ten-month period in between, and will stream the films on Prime Video and IMDb TV.
The deal dramatically reduces the traditional pay-one partner-TV window, which prior to the pandemic was 120 days after theatrical release. The films will also benefit from a traditional PVOD and home entertainment sell-through period before appearing on Peacock. The segmented windowing allows NBCUniversal to maximize its profits during the 18-month period by gaining profits from theatrical ticketing, retail purchases and rentals, advertising, added Peacock subscriptions and ad deals, and licensing to Amazon.
Universal likely wanted this window for Peacock's launch, but HBO held the pay-one rights in a deal with Universal Pictures that lapses in 2022. The importance of Universal Pictures content for Peacock is evident, with an announcement that original exclusive films will be developed and produced exclusively for the service. Peacock and Universal are sister entities, and Peacock is NBCUniversal's real option for distributing direct-to-consumer OTT content.
The exclusive post-theatrical availability and development of related exclusive content for these highly anticipated films should bolster their appeal on Peacock before they are featured on rival services. Universal Pictures was among the first studios to break traditional content windowing when it made new films available day-and-date in theaters and on transactional services, beginning with Trolls: World Tour during the early stages of the COVID-19 pandemic. Now that Universal has retained the rights to its theatrical slate for Peacock, the studio can satisfy both markets by retaining a traditional theatrical window for its topline releases and developing new programming specifically for Peacock.
Data from Parks Associates indicates that while interest in watching new releases on transactional services has decreased, interest in watching new film theatrically and through subscription OTT services has risen. Thirty-two percent of households surveyed in Q1 2021 prefer to watch new releases in theaters, an increase of eight points since Q3 2020. Interest in subscription OTT services has increased by two points to 27 percent during this period.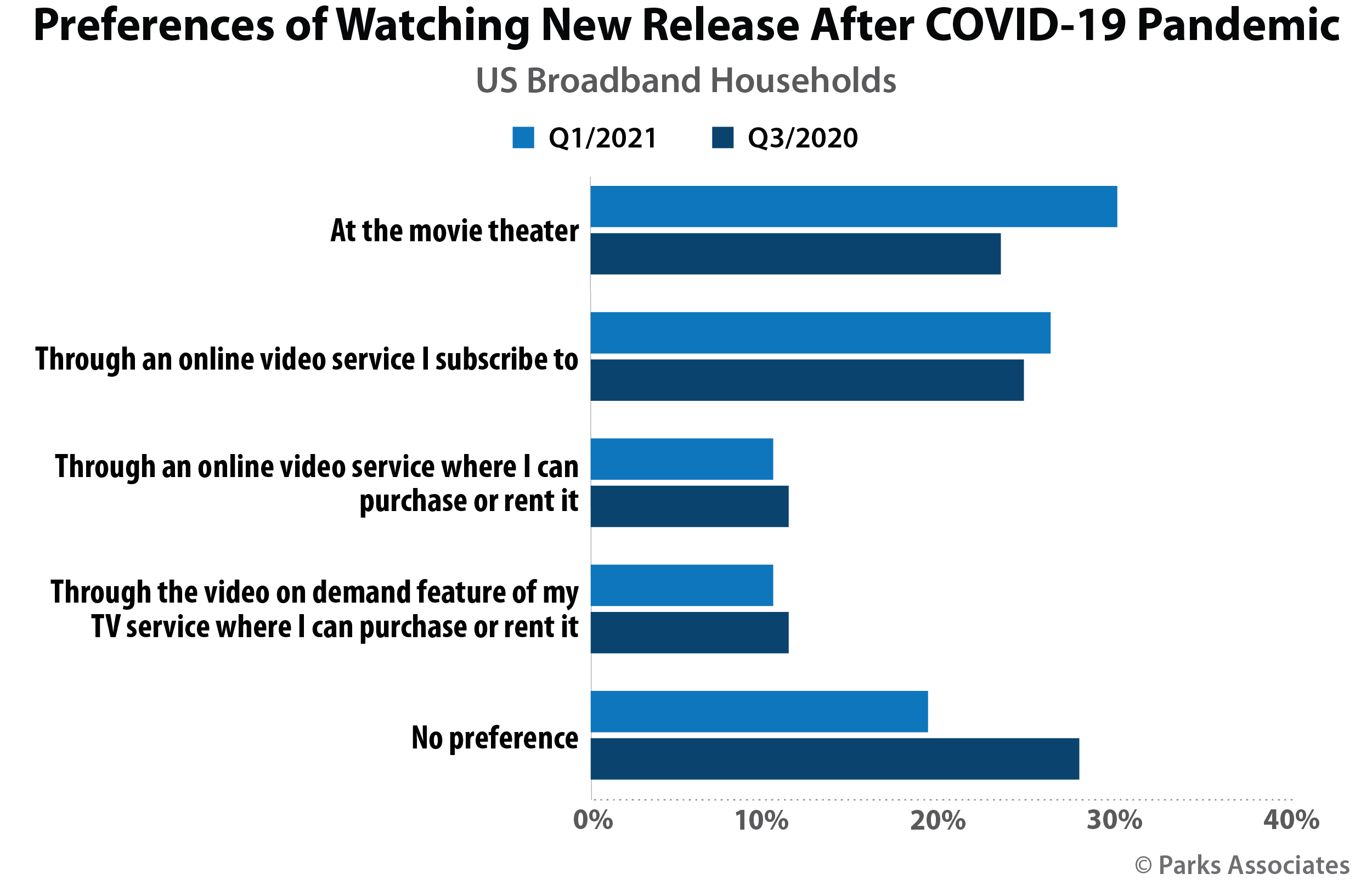 NBCUniversal won't diminish the box office potential for these anticipated titles, as many viewers prefer to watch these films in theaters. However, Peacock becoming their exclusive home during the pay-one window will appeal to viewers that prefer subscription OTT services. Peacock sees heavy interaction from traditional TV viewers with content from NBC linear channels, but the pay-one deal will broaden its appeal to users interested in these popular brands. Peacock will profit from the lucrative advertising deals that emerge as companies aim to run ads in front of titles that are bound for high viewership.
A unified distribution plan across multiple platforms will benefit NBCUniversal's overall strategy and develop a more expansive brand identity for Peacock. While Peacock has benefited from the popularity of The Office, the appeal of these popular franchises should drive viewers to the service and expose them to the service's wider content library. Peacock has yet to develop flagship titles among its original film and television offerings, and a regular inflow of exclusive titles should promote prolonged interactions.
For a deeper look at the OTT video space, please check out the Parks Associates' OTT Video Market Tracker.
For more information about Parks Associates research, visit http://www.parksassociates.com or call 972-490-1113.
Next: New Research on Latest OTT Video Market Trends, Current Players and Upcoming Services
Previous: Univision Targets Global Spanish-Language Audience With New Service

Comments
Be the first to leave a comment.
Post a Comment