Beyond the Theater: New Windowing Strategies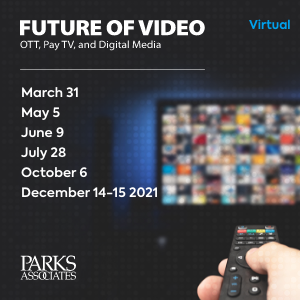 Parks Associates is hosting the next Future of Video: OTT, Pay TV, and Digital Media Conference on May 5 discussing Beyond the Theater and New Windowing Strategies. Event sponsors include: Everise, Deltatre, Brightcove, Bitmovin, and Metrological.
Prior to 2020, the traditional content windowing process for new theatrical releases had remained relatively the same for decades upon decades. Movie theaters were the primary channel for first-run movie titles and the preferred way consumers wanted to view them. However, the COVID-19 crisis and its associated impacts on the movie theater space have spawned a new preferred avenue, OTT video services. The strategic move by WarnerMedia and the similar follow-up action from Disney spell continued trouble for movie theater operators. However, the strategy is also far from an ideal scenario for studios. Film studios are looking for alternative ways to deliver new titles to consumers while attempting to recoup some of the significant box-office revenue that has been lost and also pay down significant production costs.
This Future of Video track on May 5th addresses how studios are handling distribution of high-profile, first-run theatrical titles, especially those who also operate their own direct-to-consumer OTT services and how the windowing process could evolve from here.
Interested in speaking at a future event, contact Mindi Sue Sternblitz-Rubenstein.
Upcoming 2021 event dates include: June 9, July 28, October 6, December 14 and December 15.
For more information, visit www.fov2021.com.
Next: T-Mobile Launches vMVPD Partnerships As Replacement For TVision
Previous: AT&T Aims To Shutter Pay-TV With DirecTV Deal

Comments
Be the first to leave a comment.
Post a Comment