Smart Tech in Business Spaces – Special Roundtable, Sponsored by Alarm.com
by Tam Williams | Oct. 12, 2022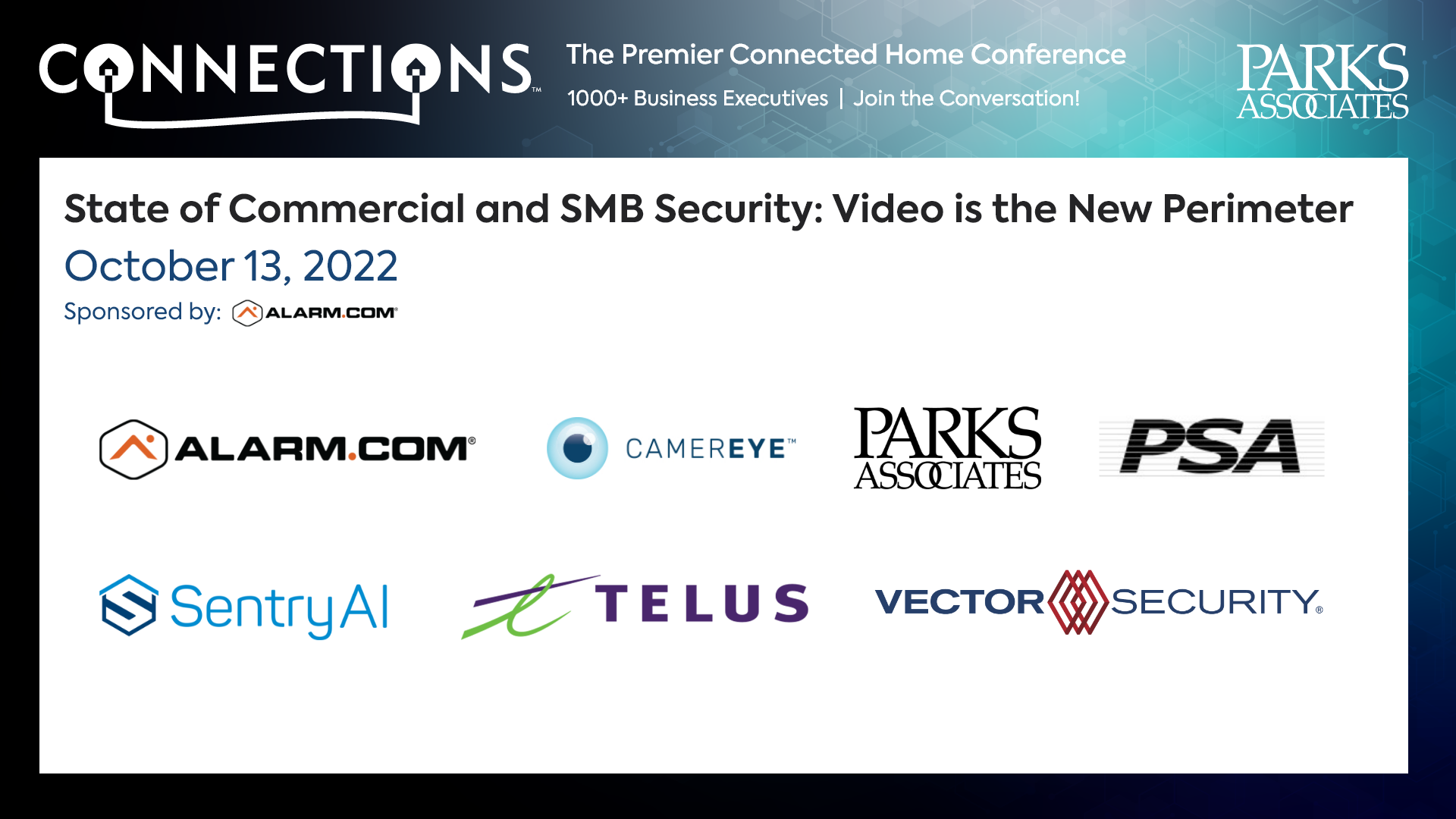 Join leading industry executives and analysts for a special virtual roundtable discussion, State of Commercial and SMB Security: Video is the New Perimeter, on Thursday, October 13, 11:00 am–12:15 pm CT, as part of the 2022 CONNECTIONS™: The Premier Connected Home Conference experience. The virtual roundtable, sponsored by Alarm.com, addresses the growing role of video verification and analytics in security solutions for commercial and small-to-medium business.
Parks Associates research finds nearly 40% of SMBs are likely to acquire security/safety products in the next six months, with cameras and professionally installed security systems as the top desired solutions.
Speakers include:
Uday Kiran Chaka, CEO, Sentry AI
Dominique Meyer, CTO, CamerEye
James Reno, VP, Commercial Sales, Alarm.com
Avery Rigg, Sales, Professional Sales Agents, Inc.
Stephen Soltis, Sales Manager, Vector Security
Matt Vallis, Consultant - Complex Solutions and Smart Buildings, TELUS

State of Commercial and SMB Security: Video is the New Perimeter is a special session in the CONNECTIONS™ conference series, with a special focus on opportunities to install and leverage smart technologies in business spaces. This session features Parks Associates research and an interactive discussion with market leaders on new security solutions, including cloud-based video verification, with insights on operational impacts and strategies to improve the user experience in smart buildings and businesses.
Visit the conference website to register and learn more about our speakers, sponsors, and sessions.

Next: Parks Associates Announces Johnson Controls as 2023 CONNECTIONS Sponsor
Previous: Smart Home Video and Audio Analytics Cloud or Local?

Comments
Be the first to leave a comment.
Post a Comment