Security Dealers still Dominate as the Purchase Channel for Home Security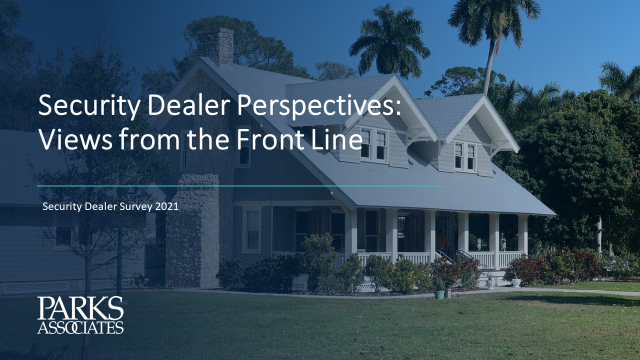 COVID-19 did inhibit security dealer sales greatly in 2020, but they have adapted quickly, developing remote tools and providing customer reassurances. Sales began to rebound in 2021 and smart home device sales increased significantly. While DIY installation options have helped expand the adoption of home security systems, security dealers still dominate the purchase channel.
Parks Associates latest research shows the majority of broadband households continue to purchase their security systems from security dealers, by phone, online, or from a company selling door to door. Online retail, though, continues to show growth as a channel for consumers as DIY system sales increase.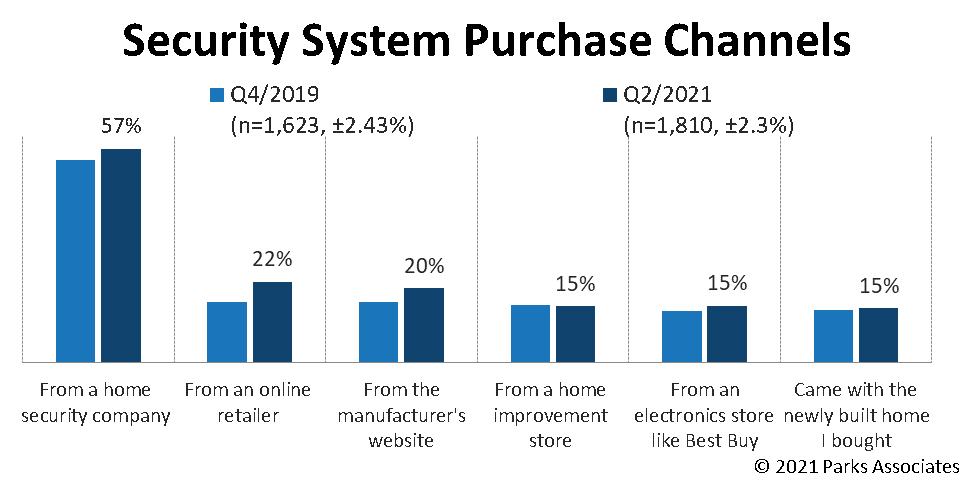 No matter where consumers buy their systems from, the role of interactive services is strong. Interactivity as a security system capability increases every year as the majority of new systems include remote access via a smartphone or computer. The installed base of interactivity increases with new sales and replacements of traditional security with interactive security systems. ~36% of all broadband households have any security system and overall, 28% of all broadband households have an interactive service.
Consumer's desire for smart home products and benefits is the top business driver reported by security dealers – followed by increasing rates of crime. Nearly ¾ of dealers report consumer desire for smart home/home automation products as important; nearly 50% report this as the "MOST" Powerful consumer driver. Consumers want added tech in their home and integrated with their security systems.
Top selling smart home devices accompanying security systems relate directly to premise security. Other smart home devices like thermostats fall below security related devices. Network video cameras are the most often owned device with a security system, followed by smart door locks. Video doorbells and garage door openers tie for 3rd and 4th. All relate to access and doors.
Video analytics, advanced A.I. capabilities, and biometric technology, like facial recognition, play a significant role in residential security video surveillance technology and require greater bandwidth, lower latency, and 24/7 connectivity. The induction of video analytics in modern video surveillance solutions can help detect and deter potential criminal activity, reduce false alarms, and accommodate touchless solutions.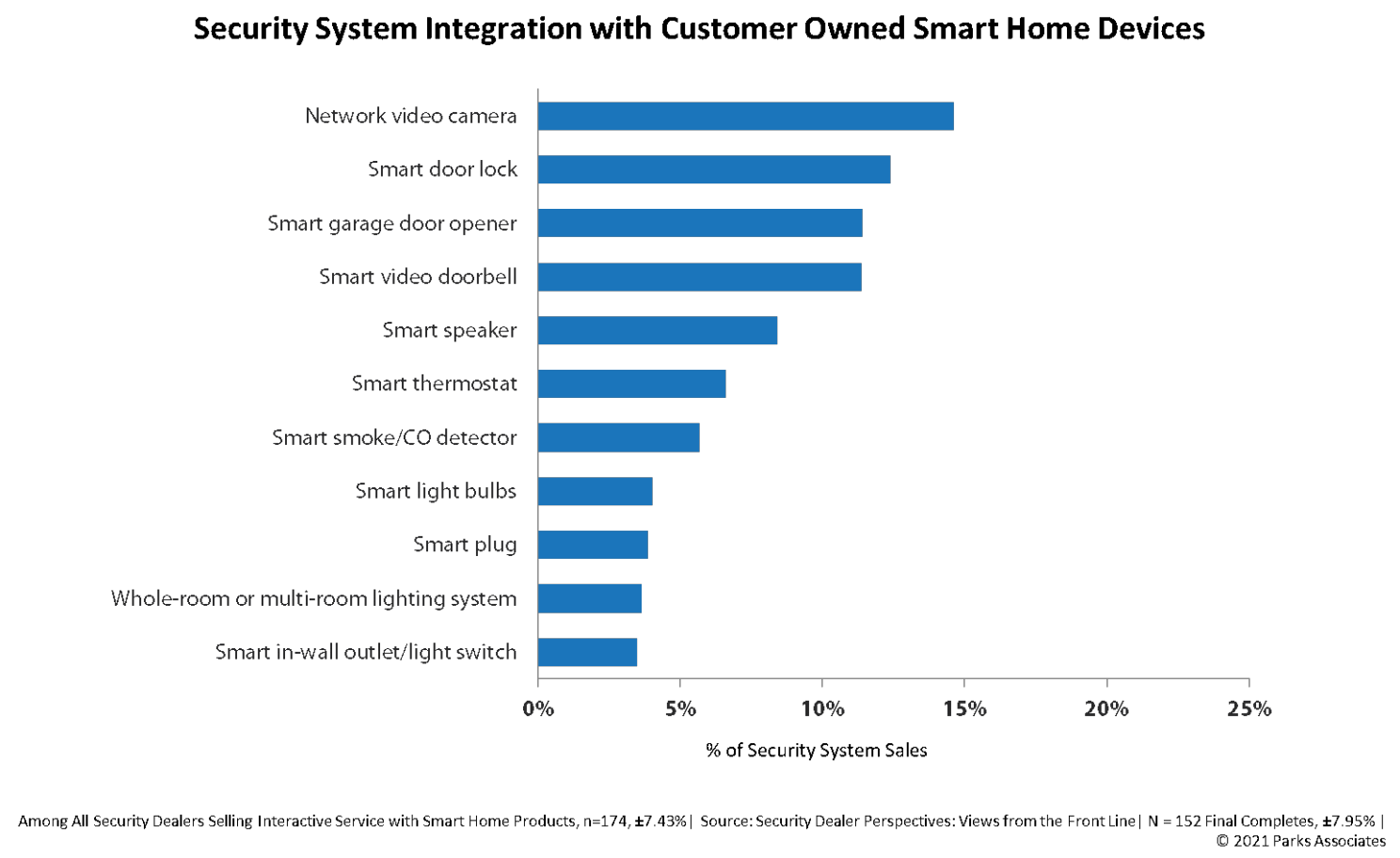 Focusing on the outside of the home is an excellent opportunity for security providers to build on their core offerings by extending security beyond the inside of the home. Protecting a home's exterior is a natural extension for an internal security system that alerts at the entrance into a home. Exterior tools allow security providers to address the yard, outdoor areas and goods, and package deliveries. Security system households often own internal security and monitoring solutions, like cameras, to smoothly transition to outdoor use cases.
Security providers expanding outside of the home highlights opportunities for residential security players to create new revenue streams.
We are excited to attend ISC West this year and check out the innovations in home security solutions. This research is an excerpt from Security Dealer Perspectives: Views from the Front Line, an annual survey of security dealers.
Parks Associates is dedicated to providing the best, most reliable data for the security and technology industries. We welcome all feedback on our research.
Next: Research Analyst discusses the State of the Market: Security & Smart Home
Previous: Consumers Want Tech that Delivers Convenience Now More than Ever: Insights from GE Lighting

Comments
Be the first to leave a comment.
Post a Comment