Parks Associates Announces 2021 Future of Video Sponsor Future Today, Inc.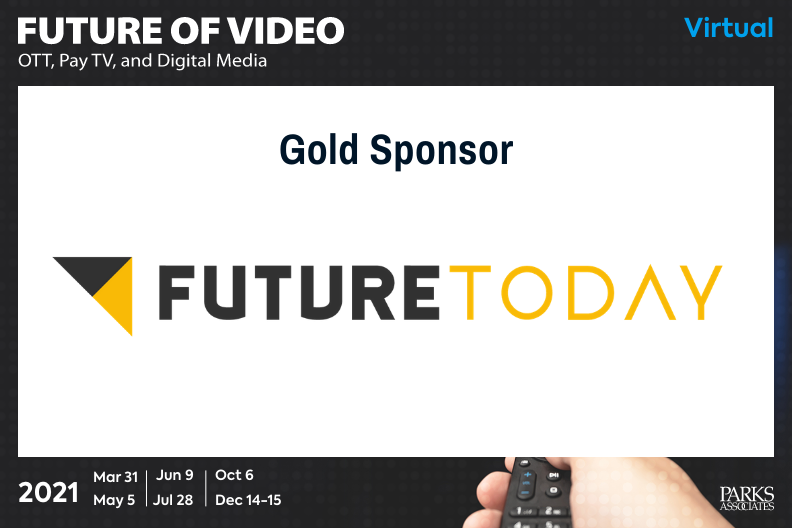 Parks Associates' 4th annual Future of Video: OTT, Pay TV, and Digital Media conference series is excited to announce Future Today as a Gold Sponsor.
Future Today is a leader in premium ad-supported video publishing platforms with over a decade of experience helping content creators distribute and monetize their video content on all major OTT platforms. The company helps brands connect with a highly-engaged OTT audience through highly-viewable and non-skippable TV ad units. Its portfolio includes hundreds of popular apps with premium, long-form movies and TV shows across categories including Entertainment, Kids & Family, Lifestyle, Food, Fitness and Travel.
Don't miss the upcoming Future of Video virtual sessions on June 9 that address customer churn, evaluation and uptake of services, and strategies for maintaining and retaining OTT subscribers, and how to maximize data-driven competitive advantage in today's crowded video services market.
Throughout 2021, the executive conference will continue providing in-depth consumer and industry research on video services; the value of digital content in driving and retaining subscribers; technology innovations that market, measure, and track video viewing; and best strategies for building successful video services.
For more information on this event or sponsorship opportunities, please visit www.FOV2021.com or contact sales@parksassociates.com

Next: Handling Voluntary Churn - Insights from TiVo
Previous: Parks Associates' Future of Video Conference Returns with Insights on How to Retain OTT Subscribers, Data-Driven Decision Making, and More.

Comments
Be the first to leave a comment.
Post a Comment