Parks Associates' Smart Energy Summit Returns with Insights on Residential Energy Management Solutions and Utility Programs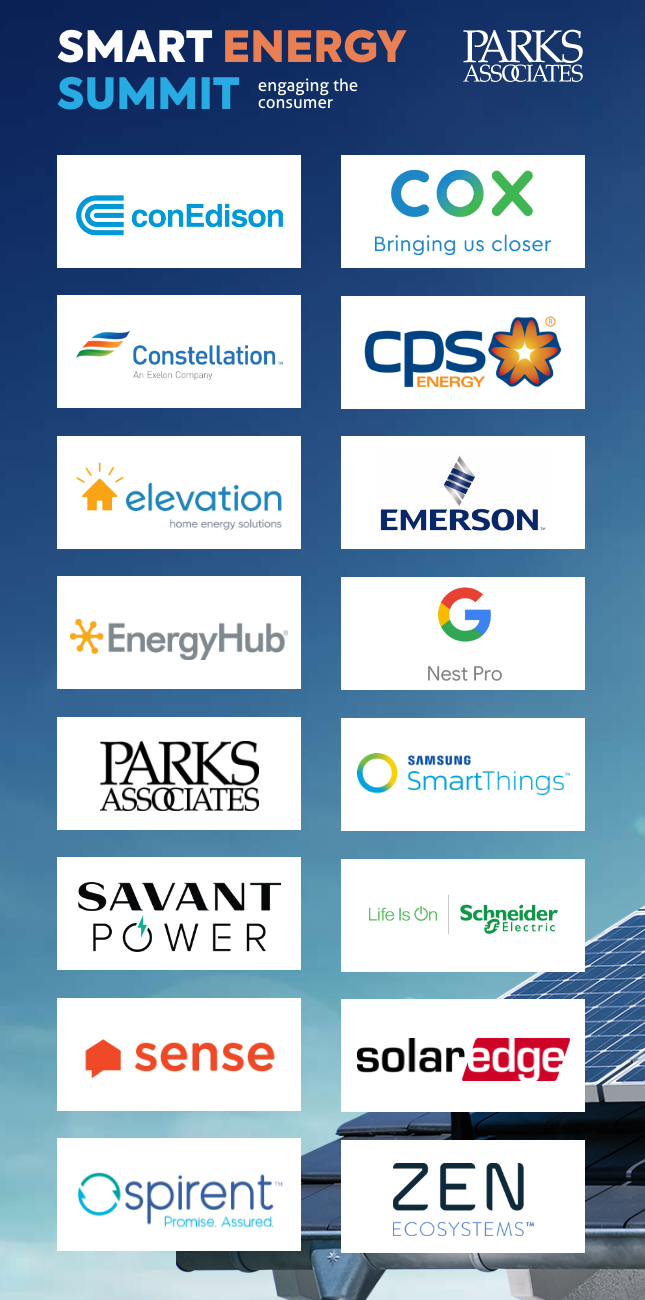 Energy savings is a key driver for adoption of smart energy products such as smart thermostats, connected HVAC systems, and solar panels. As consumers add smart products to their homes, new opportunities emerge for energy providers to provide consumers with a better user experience. Currently, only 19% of US broadband households are aware of energy monitoring and management products offered by their electricity provider.
Parks Associates' Smart Energy Summit: Engaging the Consumer returns on Wednesday, October 27 for the sessions Partnerships and Tech Advancements and Shifting Customer Behavior: Energy Efficiency and Demand Response from 11 AM to 4:15 PM CT. During these sessions, leading industry executives will tackle the disruption and impact of smart home solutions and advances on the utility markets, strategies to drive the adoption of renewable and connected energy solutions, and much more.
Register now to join interactive conversations regarding energy efficiency, options for energy-saving bundled services, and more. Parks Associates will feature exclusive research and industry experts who will share insights on the benefits of energy management and how advances such as AI and 5G affect the utility space:
Thank you to our event sponsors: Bidgely, Grid4C, Austin Energy, dcbel, Flo, American Water Homeowner Services, and Very.
Register now for year-round access to all previous and upcoming Smart Energy Summit sessions!
Next: Consumers, Distributed Energy, and the Expanded Role of Utilities
Previous: Major Announcements in Residential Energy Management Continue

Comments
Be the first to leave a comment.
Post a Comment