OTT Providers Re-evaluate Business Models - Insights from Symphony MediaAI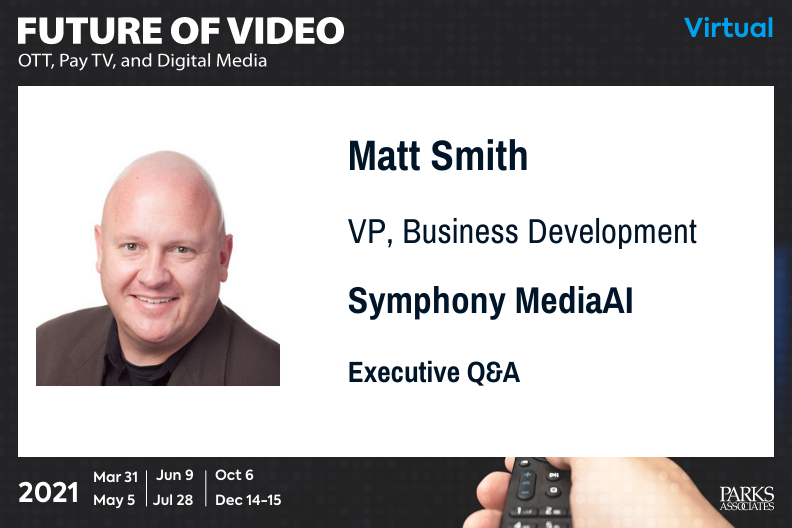 Parks Associates' Future of Video: OTT, Pay TV, and Digital Media 2021 virtual conference series continues with June 9 sessions, Retention and Churn in OTT, and Data and Decision Making in Video Services. Matt Smith, VP, Business Development, Symphony MediaAI, is featured as the Executive Spotlight during the session Retention and Churn in OTT from 11:45 to 12:15 PM CT. Prior to the session, Matt provided insights on how COVID-19 has influenced the OTT space:
How are OTT video services using data to acquire, engage, and retain customers? What are the latest use cases and technologies?
OTT providers are utilizing more sophisticated data analysis techniques enabled by AI and ML to derive audience insight that delivers greater value than we've ever seen. Unsupervised ML algorithms trained on media and entertainment industry datasets can now produce very high-quality predictive and prescriptive insights from a number of siloed data sources quickly, without extensive training and customization by data scientists and engineers. It's accelerating time-to-value for OTT service providers that adopt AI and ML. As these technologies become more widely available as user-friendly SaaS offerings, more and more non-technical employees can access their powerful capabilities – democratizing insight across marketing, finance, product, distribution, and other teams.
In the last year or two, what customer engagement and acquisition tactics are OTT service providers using to actively engaging potential and existing customers? How has COVID-19 influenced these strategies?
Personalization techniques like content recommendation are a tried and true tactic, but OTT service providers are getting more sophisticated with their algorithms. Data platforms can ingest, normalize, and process far more data points than in the past. Factors like endpoint QoE and payment layer data that might not seem relevant to the human eye are being analyzed with machine learning techniques to improve audience intelligence. The output – better quality insight – is generating highly accurate predictive churn risk models, generating prescriptive recommendations, and even informing strategies like pricing and product development.
As Covid-19 has driven high subscriber turnover, OTT providers are re-evaluating revenue models (with an increasingly crowded AVOD market), shifting KPIs (focusing on lifetime value over short-term retention), and driving SVOD re-acquisition efforts (with "comeback customers" cyclically cancelling and resubscribing to the same service). For example, an AVOD offering might draw new customers who upgrade to a premium tier, then downgrade to an ad-supported tier rather than cancelling altogether when they've finished their favorite show – increasing overall engagement and somewhat mitigating the binge-and-burn pattern that has pained executives and shareholders this last year.
Service stacking is trending up, with 25% of internet users now subscribing to at least five SVOD services. Forward-looking OTT providers are wondering when, not if, the tipping point will come – and they're turning to predictive AI and other technology to prepare. We look forward to discussing the most effective strategies to mitigate the subscriber churn challenges that the OTT market will inevitably continue to face as consumer behaviors evolve.
Data source: https://tbivision.com/2021/04/12/us-has-more-svod-subs-than-people-as-ott-contracts-hit-340m/
Join us for our Future of Video virtual series! Register Now

Next: How to Build a Sustainable Cloud TV Business With Data
Previous: Handling Voluntary Churn - Insights from TiVo

Comments
Be the first to leave a comment.
Post a Comment