Future-Ready Broadband: Ubiquitous Connectivity for MDUs
A robust network is the foundation for modern living. This is as true for residents of multi-dwelling units (MDUs) like apartments, condominiums, and dormitories as it is for single-family residences. Building on advanced connectivity services, MDU property managers and owners can leverage the benefits of smart home devices and smart property solutions to drive revenue and increase net operating income.
In collaboration with Cox Communities, Parks Associates' new complimentary whitepaper, Future-Ready Broadband: Ubiquitous Connectivity for MDUs evaluates the benefits of next-generation connectivity services for MDU property managers and residents, as well as the role of the service provider as a key partner in smart MDU living.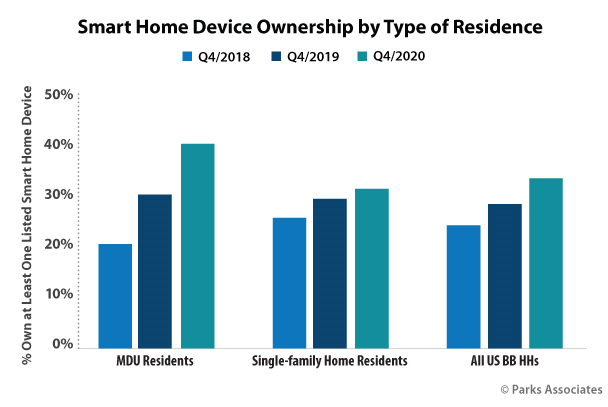 Consumers need broadband to live, work, learn, shop, and connect to healthcare, banking, and more. Social distancing during the COVID-19 pandemic has made it abundantly clear that consumer lifestyles are dependent on reliable connectivity and high-speed access. MDU residents have relied on new connected services like telehealth, video conferencing, and online fitness solutions to meet their daily needs.
Additional Data Points:
53% of consumers report they value technology more now than before COVID-19.
31% of US broadband households or 34 million households live in MDUs.
40% of MDU renters in broadband households are interested in bulk broadband internet bundled with their rent.

Download the Future-Ready Broadband: Ubiquitous Connectivity for MDUs whitepaper to gain insight on the growing demand for exceptional connectivity in MDUs.
Next: Parks Associates' CONNECTIONS Conference Returns with Insights on the Demand for Smart Home Products in the MDU space, and More
Previous: Smart Products: Building The Modern Home

Comments
Be the first to leave a comment.
Post a Comment