Demand Response and Energy Efficiency: More Education is Required
by Ekemini Usuah | Mar. 10, 2022
Rising cost of living has made households more sensitive to energy cost. This has been accompanied by increasing energy demand from existing energy infrastructures most of which are old and dilapidated. Demand response (DR) programs have been designed to ensure sustainable energy supply using existing infrastructures.
Natural disasters associated with climate change such as the 2021 winter storm in Texas has also contributed to the heightened concerns of consumers about the resilience and capacity of their power source and its capacity. But despites these heightened concerns and growing interest for renewable energy solutions, Parks Associates consumer survey reveals that only 1 in 5 US broadband households are very familiar with demand response/peak load reduction programs. In addition, just 14% of those informed about such programs are currently enrolled in the demand response program.
Parks Associates research team has identified the lack of awareness about the existence of such programs as a major barrier to enrollment. Other barriers include the unwillingness of consumers to give up control of their daily energy usage, lack of trust in energy providers running the programs, low incentives, comfort concerns and lack of smart thermostats. Energy companies have also seen a significant rate of churn among consumers who enroll on their demand response program. Such consumers are often turned off by the high frequency of demand response events and low incentives associated with the program.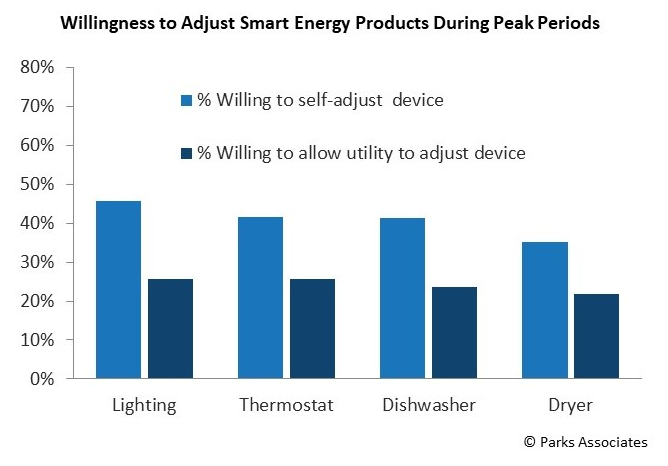 Parks Associates consumer research from 2021 shows that majority of consumers prefer to maintain control of their energy devices. Energy companies that provide consumers choice will achieve more success in their DR program by promoting the adoption of smart thermostats among residential consumers.
Energy consumers seeking to reduce cost will be sensitive to prices of each associated device, hence price reduction is also a key to the adoption of smart thermostats. Bundling services together reduces the effort required of the consumer to interact with a service and has the potential of contributing to the success of DR programs. Finally, given the number of consumers who are unaware of the existence of DR programs, consumer engagement and education are a necessity.
Higher efficiency in energy use reduces demand pressures on existing infrastructures. Modern energy saving devices such as lighting systems, high-efficiency home heating, ventilation, and air conditioning systems (HVACs), and better insulations contributes to reduce energy demand. Therefore, if the overall goal of energy demand reduction and greater efficiency is to be achieved, DR programs need to be promoted together with energy efficient devices.
Parks Associates extensively covers these topics in its research work and during its annual Smart Energy Summit: Engaging Consumers. For more information, visit www.parksassociates.com.
Next: Home Energy Management: Driving Consumer Engagement and New Revenue
Previous: How Texas Saves $1 Billion in Energy Costs a Year: Optimal Load Shaping

Comments
Be the first to leave a comment.
Post a Comment