Crackle TV Set to Launch Loyalty Program This Year
Parks Associates data from Q3 2021 shows that 34 million households watch ad-based OTT services. Advertising-based video-on-demand services (AVOD) offer a library of on-demand content users can access at any time, with advertisements interwoven at periodic intervals throughout the video stream. These ad-based models are a popular choice for consumers who are reluctant to pay for yet another OTT service. While ad-based models allow services to access a broader base of consumers than full-priced subscription services, the threat of user churn remains a concern of all OTT services regardless of business model. Crackle Plus recently outlined an innovative strategy by which the ad-based service plans to drive increased engagement and potentially minimize churn.
Crackle Plus is one of the direct-to-consumer AVOD/FAST streaming services within the Chicken Soup for the Soul Entertainment group. Viewers can watch content offered on their service immediately and for free through the ad-supported platform. Users are encouraged to create an account but are not required to do so.
During a recent panel discussion in May at the Future of Video event hosted by Parks Associates, Crackle Plus President Philippe Guelton announced a creative way the company is hoping to increase customer engagement and retention.
Crackle Plus is launching a rewards program to reward viewers for spending time on their platform. Users will be able to accumulate points from viewing their content, which can subsequently be redeemed either to watch content without advertisements (i.e., simulating an SVOD experience) or to access content that would otherwise require payment to view on other platforms.
Crackle Plus also plans to optimize relationships with advertisers by providing discounts and coupons as part of this incentive program. The company plans to implement a beta version of this program within the next few months. Eventually, the company plans to personalize the service's experience by curating and tailoring content selection and discovery for various user bases, based on audience measurement data. This is particularly important for maximizing sustained viewer engagement, in order to stave off the ever-present threat of churn in the OTT industry.
With abundant choice and no long-term contracts for streaming video services, churn across all OTT service providers is increasing amidst challenging subscriber retention. Parks Associates data indicates that OTT subscription services averaged a 48% churn rate in the first quarter of 2022, which is a ten percent increase in just two years.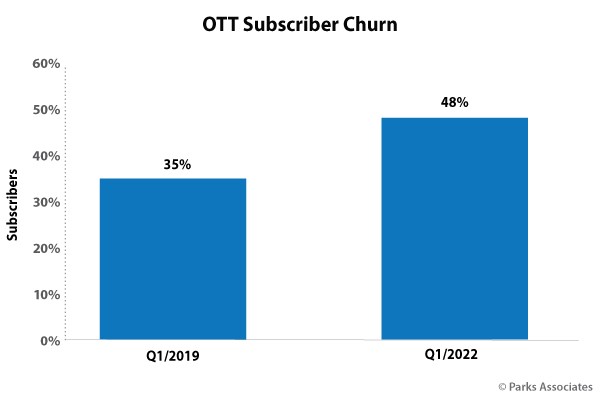 By not requiring users to create an account before accessing content, Crackle is capable of engaging users immediately. To keep this customer returning, Crackle plans to offer incentives for using the platform in the form of ad-free services and access to content typically behind a paywall, as well as coupons and other promotions. Combined with their goals for personalization, this can potentially increase customer growth and retention while minimizing subscriber churn.
Crackle Plus's efforts to innovate in their engagement strategy are indicative of the services' need to drive increased retention and minimized churn in an increasingly crowded market, regardless of business model.
For more information on Parks Associates Future of Video, visit www.fov2022.com
Contributor: Sarah Lee

Next: Sink or Stream: Should Netflix Offer Live Streaming?
Previous: Standing Out in a Saturated OTT Market

Comments
Be the first to leave a comment.
Post a Comment