COVID-19 Accelerated the Demand for Connected Health - Insights from ResMed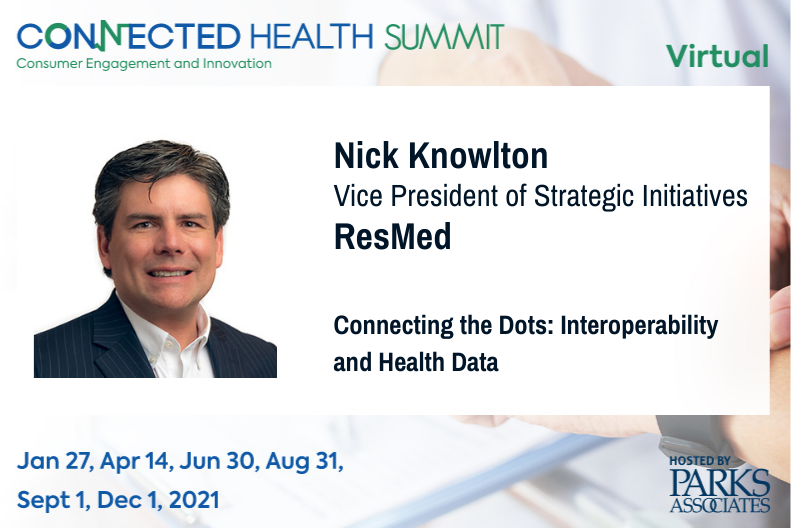 Parks Associates' Connected Health Summit: Consumer Engagement and Innovation returns for the final session of 2021 Connecting the Dots: Interoperability and Health Data this afternoon from 12:30 to 2:45 PM CT. Nick Knowlton, Vice President of Strategic Initiatives, ResMed, will be featured as an interactive panel member at 1:45 PM CT, where he and other major executives will address how digitalization is redefining the healthcare experience. Prior to the session, Nick provided insights on how the pandemic accelerated connected health solutions:
How has COVID-19 impacted the connected health market?
The COVID-19 pandemic greatly accelerated a number of technology trends, including demand and need for connected health. As care increasingly shifts toward the home and other out-of-hospital settings, interoperable and connected health solutions will be necessary to bridge the divide and foster collaboration between provider organizations, caregivers and patients themselves.
How have consumer attitudes towards connected health solutions shifted in the last year?
Connected health technologies continue to rise in popularity among consumers and I don't anticipate that slowing down any time soon. Whether it's a smart watch on their wrist or using telehealth to see a provider, consumers have come to expect a certain level of convenience, transparency and speed when it comes to health and wellness interactions and data. The pandemic accelerated the existing trend of patients thinking more like consumers and demanding experiences on par with their connected experiences in their daily lives.
Will shifts in consumer behaviors related to fitness, wellness, chronic care management, and care for senior populations outlast the COVID-19 crisis? How can solution providers keep consumers engaged over the long-term?
The shifts in consumer behavior toward convenient, transparent and fast healthcare interactions were forming before the pandemic and will certainly outlast it. Finding ways to improve and digitize the patient experience to match these expectations will be key. Healthcare solution providers can learn from other consumer-focused markets. Put simply, successful organizations invest to make the experience both valuable and easy to navigate for their audience. For healthcare, this includes patients, their care teams and often their family members.
The healthcare economy has been severely disrupted in this crisis, but regulations and reimbursement for connected health solutions are trending positive – how will these competing forces impact the growth of the connected health market?
The facility-based healthcare economy in acute and other markets was certainly disrupted by the pandemic. The accelerated shift toward delivering and receiving care at home is not slowing down and connected health is necessary to make care-at-home-first strategies successful. Patient goals and payer goals can align here and will serve to drive greater investment in this trend.
Register now to join virtual discussions regarding interoperability for health data, how AI and automation can enable new use cases and solve pain points, and more!
Next: Health + Home: The Role of Tech in Modern Living
Previous: Parks Associates' Connected Health Summit Continues with Insights on Standards and Interoperability for Health Data

Comments
Be the first to leave a comment.
Post a Comment