Consumers Seek a Unified Control Experience at Home
Nearly all home device owners are interested in a unified app, according to Parks Associates latest research of 10,000 US internet households in the US regardless if the devices are attached to security systems or are single point solutions.
Smart home security devices have similar value propositions as traditional security systems and may service as an alternative due to the low cost and easy DIY installation options. While security systems with professional monitoring provide more peace of mind and safety to consumers, smart home devices do not fall far behind.
While consumers now have more choice in security solutions, interoperability and installation issues continue to be a problem for consumers. As of Q2 2021, 36% of U.S. broadband households owned at least one core smart home device, and 25% owned three or more. The vast majority of smart home devices are self-installed, but almost one-third of consumers have these devices professionally installed. 36% of all households own a home security system and 50% of those purchased in the last year were self-installed.
Overall, acquisition of smart home devices is typically incremental rather than all at once. As consumers add devices, they are actively seeking products that will work together and are controlled by one app. Eighty-six percent of smart home device owners indicate they want a unified app to control their devices. This will become an increasingly important point as consumers continue to add devices to their network.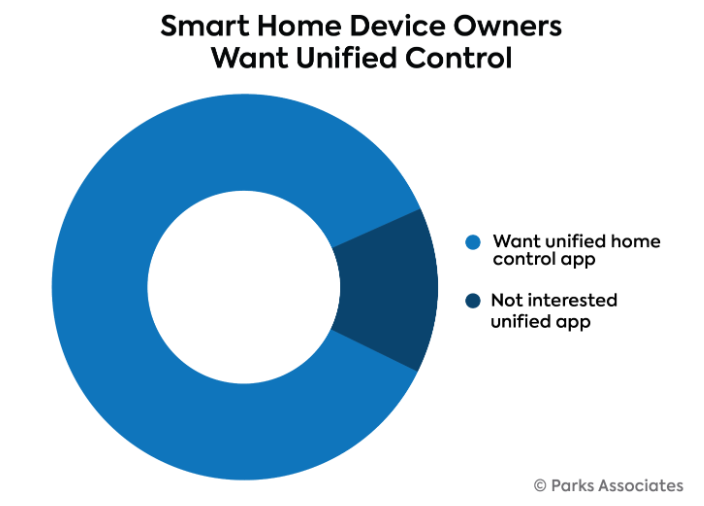 Consumer preference for the provider of a unified app is fragmented, indicating the critical role of home control provider is still anyone's game. The user experience for smart home systems is strongly influenced by the consumer's choice of purchase channel. Consumers acquiring their devices through the home security channel are more likely to experience the value of device integration and potentially have a much smoother path to integrating additional devices in the future.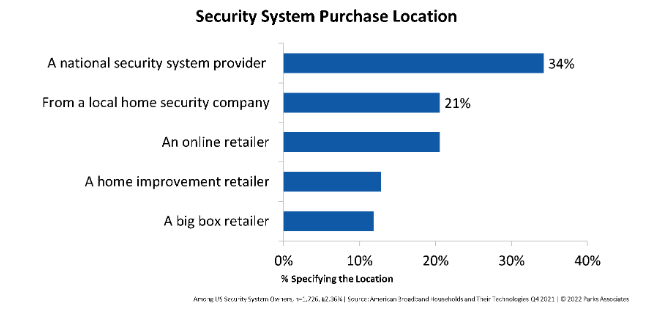 In 2010, Parks Associates predicted that the traditional security industry, as it was known then, would transform itself to a smart home based-on-security industry. It appears that transformation is on track. Examples include ADT with its Google Nest partnership, Ring with its many compatible devices, and Brinks Home Security changing its name to Brinks Home. The transformation is not complete, however. Furthermore, not all security and smart home providers will evolve in the same way.
Time and technology will exacerbate these differences. Home security and smart home players are currently very much focused on differentiation, product development, messaging, partnerships, and channel expansion in the near term future to capture the next security seeking consumer.
Next: Demand for Intelligence and Automation in Buildings: Defining Smart Spaces
Previous: Access Control Ecosystem: Expanding Value

Comments
Be the first to leave a comment.
Post a Comment