Parks Associates' Connected Health Summit Returns with Insights on IoT Sensor Data and Connected Health Devices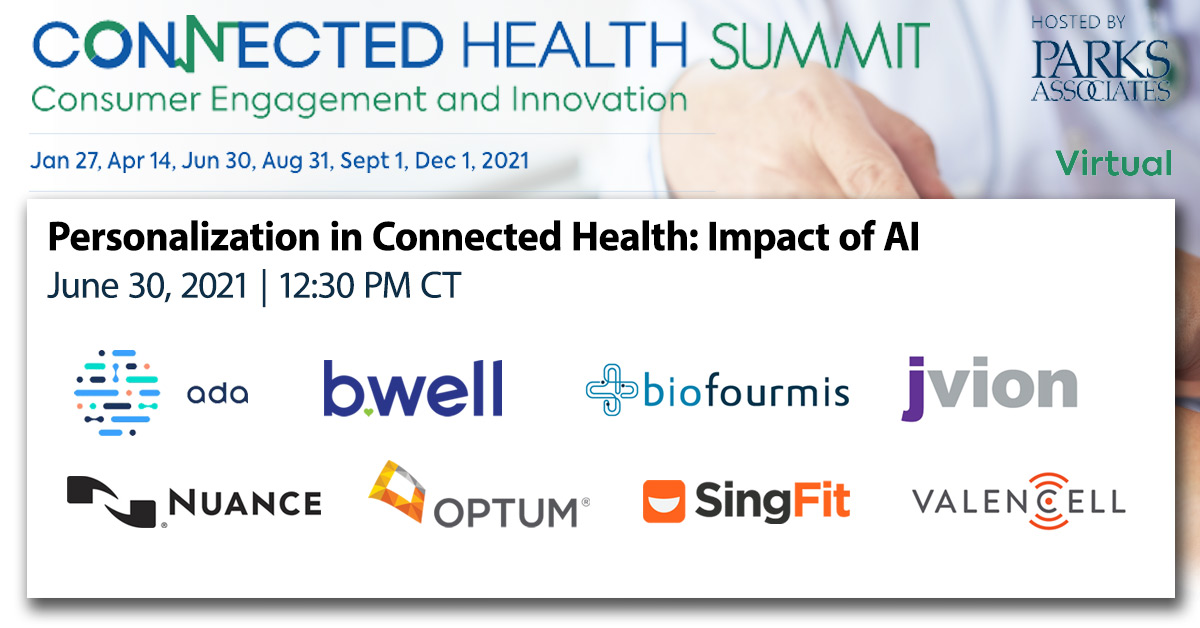 Consumer ownership of health IoT products has risen dramatically in the past few years, driven by booming wearables adoption and consumer health concerns during the COVID-19 pandemic. Connected health device ownership has increased to where 46% of U.S. broadband households own at least one product and 19% own at least two. AI is figuring prominently in the apps that support these devices whether it is used for applying machine learning to behavioral activity and personal health data, for supporting voice and text bot interactions, or for delivering more personalized and predictive services.
Don't miss Parks Associates' Connected Health Summit: Consumer Engagement and Innovation as it continues its virtual series with the upcoming session Personalization in Connected Health: Impact of AI on June 30 from 12:30 PM to 2:45 PM CT. During the session, leading industry executives will address how IoT sensor data and connected health and related devices add a new layer of critical, real-time data that can transform healthcare functions into data-driven services to improve health outcomes, enable remote diagnostics, and deliver healthcare more efficiently.
Throughout the event, the research firm will highlight exclusive data from their recent report, COVID-19: Impact on Seniors, Caregivers, and Independent Living Solutions, which addresses the impact of the COVID-19 crisis had on seniors and family caregivers, assessing concerns, pain points, and demand for technology products and services.
Register now to join interactive conversations regarding AI and personalization in medicine, consumer trends in telecare and connected health, and more. Parks Associates will feature exclusive research and industry experts Musical Health Technologies, b.well Connected Health, Ada Health, Optum, Nuance, Valencell, JVION, Biofourmis will share their insights on data-driven services to improve health outcome.
Register today to join upcoming sessions on June 30, August 31, September 1, and December 1!

Next: Lanebreak: Peloton's Ambitious Next Step in Connected Home Fitness
Previous: Scaling Music as Medicine - Insights from Musical Health Technologies

Comments
Be the first to leave a comment.
Post a Comment