Parks Associates Announces 2021 CONNECTIONS Sponsor Xfinity Home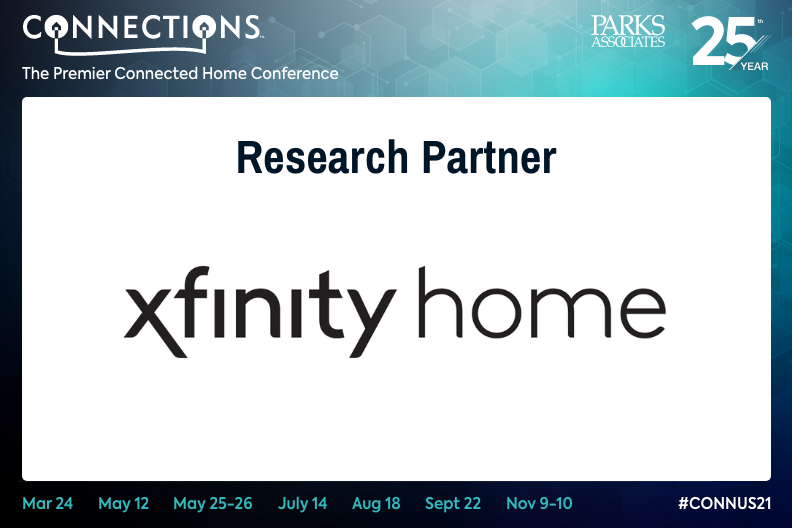 Parks Associates' 25th annual CONNECTIONS: The Premier Connected Home Conference series is excited to announce Xfinity Home as a Research Partner Sponsor.
Xfinity Home is a global media and technology company that is principally focused on broadband, aggregation, and streaming with over 56 million customer relationships across the United States and Europe. They deliver broadband, wireless, and video through our Xfinity, Comcast Business, and Sky brands; create, distribute, and stream leading entertainment, sports, and news through Universal Filmed Entertainment Group, Universal Studio Group, Sky Studios, the NBC and Telemundo broadcast networks, multiple cable networks, Peacock, NBCUniversal News Group, NBC Sports, Sky News, and Sky Sports; and provide memorable experiences at Universal Parks and Resorts in the United States and Asia.
Don't miss the upcoming CONNECTIONS virtual session, State of Home Security Market on Wednesday, August 18, featuring industry executives who will assess the state of the residential security market, critical trends impacting industry stakeholders, and the top opportunities for revenues growth.
For more information on this event or sponsorship opportunities, please visit www.connectionsus.com or contact sales@parksassociates.com

Next: Parks Associates' CONNECTIONS Conference Continues with Insights on Trends of the Residential Security Market
Previous: The Smart Home in 2031

Comments
Be the first to leave a comment.
Post a Comment