New Market Segments: Consumers and the Smart Home
The smart home market is rapidly evolving, and consumers are expecting more from technology that can provide convenience, safety/security, and energy management solutions. This session, "New Market Segments: Consumers and the Smart Home," at Parks Associates CONNECTIONS™ conference, brought together leaders in the industry to discuss the next generation of smart home buyers and where the market is expanding.
The event featured speakers from
Trinity Wiring & Security Solutions, Alarm.com, Nomo Hub, GreenMarbles, Kaadas Smart Door Locks
,
Pepper IoT, Alula,
Brilliant, Silicon Labs,
Z-Wave Alliance LLC, Kwikset, Athom, maker of Homey and Ivani.
The virtual session started with a discussion on how solar and storage are driving energy management solutions in the smart home. The speakers discussed strategies that integrate solar, security, and smart home technologies, and how this combination can deliver short- and long-term energy savings and keep consumers engaged with positive experiences across all home systems.
The panel then shifted to the importance of marketing strategies, incentives, and educational information about smart home solutions. Speakers revealed that with consumers researching and purchasing products in vastly different ways from just a few years ago, companies must focus on capturing the attention of new consumer segments to continue growing in the smart home market.
The session wrapped up with a deep dive into channel expansion and where growth is coming from in the market. Energy, insurance, retailers, security dealers, and custom home systems providers are all selling smart home solutions, leading to market fragmentation. The speakers discussed what companies are doing to integrate across product ecosystems in the home to create a more seamless, unified experience for consumers.
Overall, the "New Market Segments: Consumers and the Smart Home" session provided valuable insights into the future of the smart home market and how companies can continue to capture the attention of new consumer segments while integrating across different product ecosystems. As the smart home market continues to evolve, companies that can deliver convenience, safety, security, and energy management solutions that are easy to use and integrate seamlessly will be poised for success.
CONNECTIONS™ 2023 features an in-person conference May 23-25, 2023, with virtual sessions on March 2, July 20, and October 5, focusing on the smart home market, home security, and new services for the home. Additionally, the research firm announced the co-location of the tenth annual Connected Health Summit and the 27th annual CONNECTIONS: The Premier Connected Home Conference on May 23-25, 2023, at the Omni Frisco Hotel in Frisco, Texas.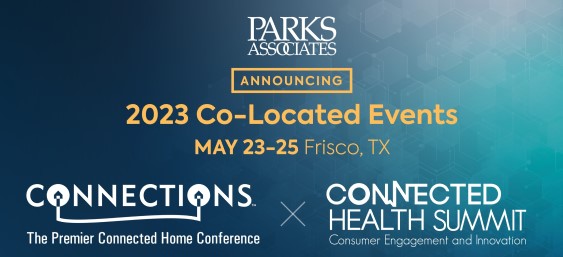 CONNECTIONS™ sponsors
are Cox Communications, Nice, Ubiety Technologies, Alarm.com, Connectivity Standards Alliance (CSA), Johnson Controls, Rapid Response Monitoring, Schneider Electric, Xailient, Ivani, Nimbio, Becklar, Bitdefender, and Origin.
Next: Smart Spaces: Apartments, Hospitality, and Community Living 2023 - Keynote Spotlight Robert Grosz
Previous: My Top Takeaways from CES 2023 - Chris White, Research Director, Parks Associates

Comments
Be the first to leave a comment.
Post a Comment