Peacock Finally Lands on Amazon Ahead of Olympics
by Liam Gaughan | Jun. 25, 2021
The launch of NBCUniversal's OTT streaming service Peacock last year was hampered by its unavailability on key leading platforms. Parks Associates data from our OTT research shows Peacock's position: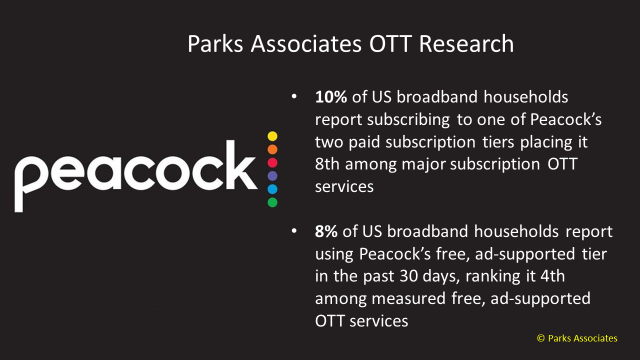 Peacock reached a deal with Roku in September, and NBCUniversal announced this week that the streaming service will launch on Amazon devices starting June 24. Peacock will be compatible on all Fire TV devices, including Fire TV Stick 4K, Fire TV Stick Lite, Fire TV Smart TV, and newer Fire tablets. Fire TV was one of the last major platforms Peacock needed, as the service is already available on Roku, Apple TV, Android TV, Chromecast, Xbox, PlayStation 4, Vizio SmartCast, and LG Smart TVs.
The deal has been anticipated since Peacock's debut, but the dispute over including the service within the Prime Video Channel hub stalled negotiations. NBCUniversal didn't want to add the service to the channel aggregator, wanting to control billing and user data by having users sign up through the service directly. The new deal yields in NBCUniversal's favor given Peacock's service still absent from the Amazon channel store.
Peacock's social media team has recently prompted frustrated Fire TV users to load the app onto their device through alternatives outside of the Amazon framework. The longstanding dispute cooled ahead of the Tokyo Olympic Games coverage in late July. NBCUniversal see the Olympics as a major draw for viewers and was originally intended as a major launch point for Peacock in 2020 before getting pushed back due to COVID-19.
Peacock has steadily risen within the ranks of the leading OTT players, and has the novelty of being the only "freemium" service with both free and subscription tiers among the leaderboard of online video subscription services. The service appeals to both OTT users versed in on-demand content and traditional pay-TV households with its "lean back" linear channels featuring in-house NBC Universal content and programming from third-party providers.
Data from Parks Associates indicates that 42% of broadband households use an Amazon streaming media device. Access to this significant portion of users will significantly bolster Peacock's market exposure as the services continues to add content desirable to viewers, such as the recent deal with World Wrestling Entertainment to bring WWE's library to the service.
Fire TV availability may have been the last barrier major in Peacock's way in order to unlock its full potential within the market. If the international appeal of the Olympics and Peacock's growing output of original content successfully reaches all potential viewers, NBCUniversal's flagship service could see its most sizeable growth period since entering the market.
For a deeper look at the OTT video space, please check out the Parks Associates' OTT Video Market Tracker and Quantified Consumer studies.
For more information about Parks Associates research, visit http://www.parksassociates.com or call 972-490-1113.
Next: Univision Targets Global Spanish-Language Audience With New Service
Previous: Symphony MediaAI Sponsors Future of Video Executive Conference

Comments
Be the first to leave a comment.
Post a Comment