Disney Unveils Shortened Theatrical Window With Marvel Blockbuster
by Liam Gaughan | Sep. 2, 2021
In 2020, Disney+ unveiled a three-pronged hybrid strategy that includes theatrically exclusive films, simultaneous releases in theaters and on transactional services, and streaming exclusives. Disney unveiled the transactional "Premier Access" tier on Disney+ with Mulan in September 2020, which required subscribers to pay an additional $30 fee in addition to their monthly recurring charges that already cost $7 per month.
While the July release of Jungle Cruise was intended to be the last film offered through "Premier Access," CEO Bob Chapek indicated that Disney will continue to experiment with content windowing strategies for its upcoming slate. The September 2021 release of Marvel Studios film Shang Chi and the Legend of the Ten Rings will be the first Marvel Studios film with a shortened 45-day theatrical window, halving the traditional 90-day window.
Experimentation allows Disney to understand viewing trends. Data from Parks Associates indicates that 44% of viewers are unlikely to subscribe to an online video service for access to an in-demand title.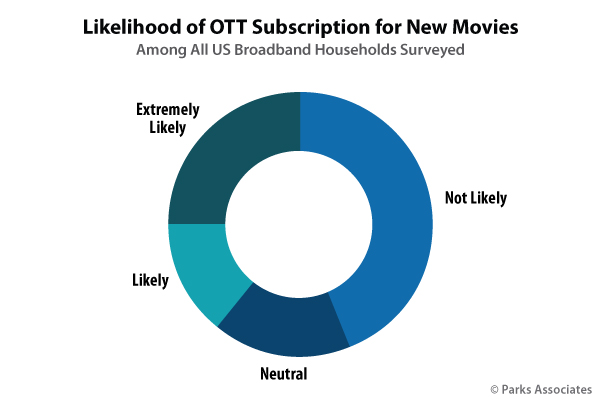 Debuting new releases on streaming cuts off potential viewers who aren't current subscribers and don't pick up the service and pay the additional fees. While Black Widow earned $367 million in worldwide box-office receipts and became the highest-grossing films of the year domestically, it earned an additional $125 million in streaming and download retail receipts. While the day-and-date release offers viewers more flexibility in their viewing options, the revenue loss is still not clear. Multiple viewers who could have purchased individual movie tickets may have ended up watching Black Widow together at home, depleting the potential box office revenue. Black Widow is currently one of the lowest grossing Marvel Studios films released by Disney.
Disney is wise to use their streaming arm to experiment with audience preferences, and a shortened window should curb potential profit cuts for Shang Chi without sacrificing the novelty of the Disney+ exclusivity. Shang Chi should increase revenue from both anticipating viewers and casual moviegoers. Disney+'s high retention among viewers won't be threatened due to the developed brand loyalty.
Disney will likely continue to adjust the release strategy for its intended theatrical films. While titles unlikely to succeed theatrically are better suited as supplemental library titles on Disney+, Disney will be more sensitive with highly anticipated projects. A diversified approach allows Disney to continue experimenting with theatrical and transactional windowing as it observes changing viewing habits.
For a deeper look at the OTT video space, please check out the Parks Associates' OTT Video Market Tracker.
For more information about Parks Associates research, visit http://www.parksassociates.com or call 972-490-1113.
Next: Broadband "Switchers": Better Alternative, Impact of COVID-19, and Poor Speeds Driving Changes
Previous: OTT Customer Acquisition: Opportunities and Challenges – Webinar co-hosted by Parks Associates and Brightcove

Comments
Be the first to leave a comment.
Post a Comment