Defining the Video Market: New Services and New Terminology
Over the last few years, US consumers have shifted their viewing preferences away from traditional providers such as cable and satellite TV toward online sources. According to Parks Associates most recent research:
57% subscribe to a traditional pay-TV service
72% own at least one streaming video product connected to the internet.
29% subscribe directly via an OTT provider's website, dropping from 41% in a year.
57% subscribe to three or more OTT services.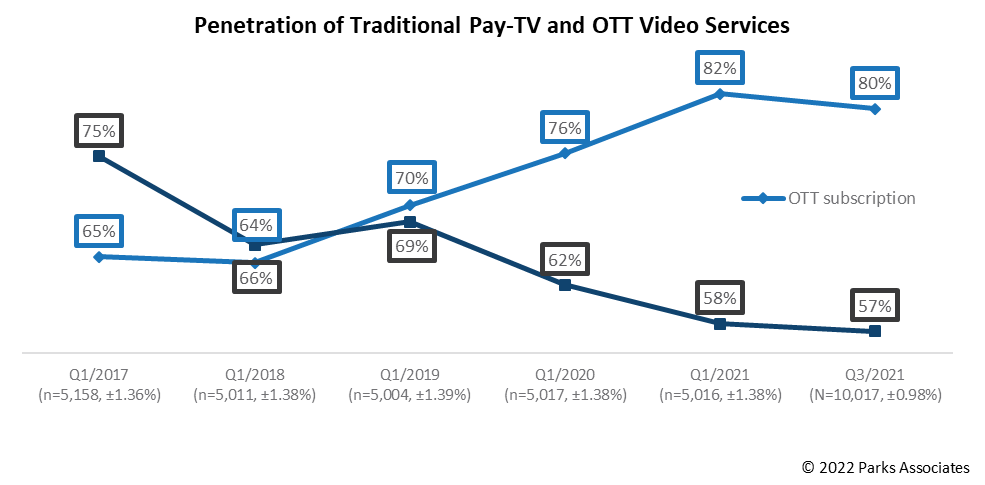 Understanding the terminology in the market is critical so I wanted to share some of the terms as Parks Associates defines them. Over almost 4 decades, we have worked hard to define and categorize the video market in the best and most reliable views, driven by our quarterly research of 10,000 internet households.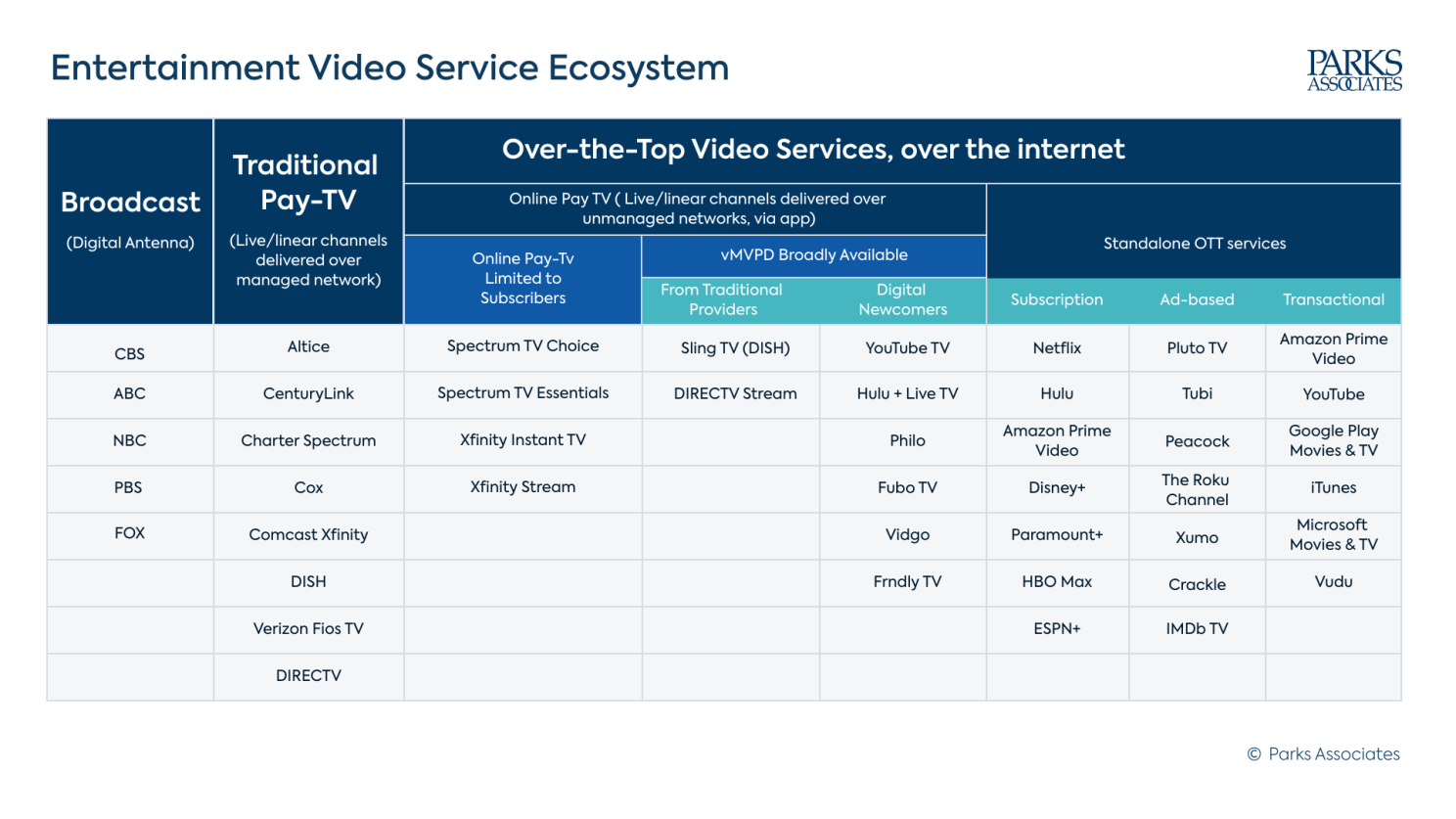 Addressable advertising: Advertising that is displayed to consumers or households based on their behaviors or interests. Also referred to as targeted advertising.
App-based services: Parks Associates sometimes refers to online pay-TV and vMVPD services as app-based services. This is to delineate these service types from IP-based traditional pay-TV services offered by telcos. IPTV offered via telcos traditionally is served to these telcos' own CPE, and services are not designed to be primarily available via apps on third-party devices.
AVOD (Advertising-based Video On Demand: A business model for video services where a consumer has access to a library of on-demand video content that includes embedded advertising.
FAST (Free Ad-Supported Television): A business model for video services that are available at no charge but include advertisements that viewers cannot fast-forward or otherwise skip. Content may be linear, on-demand, or a combination of both.
"Hoppers": Service "hoppers" are defined as OTT subscribers who frequently switch between services and re-subscribe to services multiple times. Currently, one-quarter of OTT subscribers, or 23 million households are categorized as "hoppers".
MVPD (Multichannel Video Programming Distributor): These are traditional pay-TV providers that aggregate multiple channels of television programming and distribute them to consumers as a packaged monthly service.
NPS (Net Promoter Score): A quantitative index of consumers' willingness to recommend a product or service to others. This metric is often used to compare consumer satisfaction or enthusiasm.
Online Pay-TV: Increasingly, pay-TV providers have begun offering over-the-top app-based pay-TV services to current subscribers of their other existing services–most commonly broadband or even mobile subscribers. Unlike TV Everywhere apps, online pay-TV apps are designed and maintained by pay-TV providers and provide users with a single portal to access all or most of the pay-TV channels and content that they receive in their home.
OTT (Over the Top): Accessing online content over a broadband connection without the need for a cable, wireless phone, or satellite TV subscription. Most traditional MVPDs provide their service through a dedicated, managed network designed for that purpose.
Pay-TV Services: Subscription-based services providing access to a bundle of live, linear channels of professionally produced content. Sometimes this is also called "live TV", however, as many other services also offer live content–including non-professionally produced livestreamed content, real-time content, and other linear content–without requiring a subscription, Parks Associates prefers the term "pay-TV."
PII (Personally-Identifying Information): Data, either as a single unit or when collected together, that allows identification of a specific consumer or household.
SVOD (Subscription Video On Demand): A business model for video services wherein a consumer pays a regular fee in order to gain access to a library of video-on-demand content for a specified period of time.
Traditional Pay-TV Services: These are traditional players in the pay-TV market such as telephone, cable TV, and satellite providers that serve specific geographic footprints via a network that they manage and control. Historically, pay-TV has been delivered to customer premise equipment (CPE), such as a cable box, that is specifically configured for use with the network.
TV Everywhere is an initiative introduced in the US by Comcast in 2009, whereby pay-TV subscribers can authenticate themselves to access pay-TV content from mobile apps that are designed and controlled by participating major networks and content providers.
Virtual Multichannel Video Distributors (vMVPDs): These are separate from traditional pay-TV, and a subset of online pay-TV and offer over-the-top subscriptions for bundles of live, linear channels of professionally produced content. What makes these services distinct from other online pay-TV offerings is that they are available to consumers at large–subject to content licensing agreements–and are not restricted to a company's existing broadband or other subscribers. vMVPDs often include access to the users' major local television stations as part of the subscription package.
Next: Increasing Customer Retention – Insights from WarnerMedia
Previous: Netflix Challenged: Rising Competition & Disruption in Video Services

Comments
Be the first to leave a comment.
Post a Comment