Can IoT Help Climate Change?
Parks Associates' Connected Consumer Podcast just released a new episode where hosts Chris White and Rosey Ulpino dive into hot topics about IoT and Climate Change with guest speaker Rob Conant, VP of Software and Ecosystem for Infineon Technologies.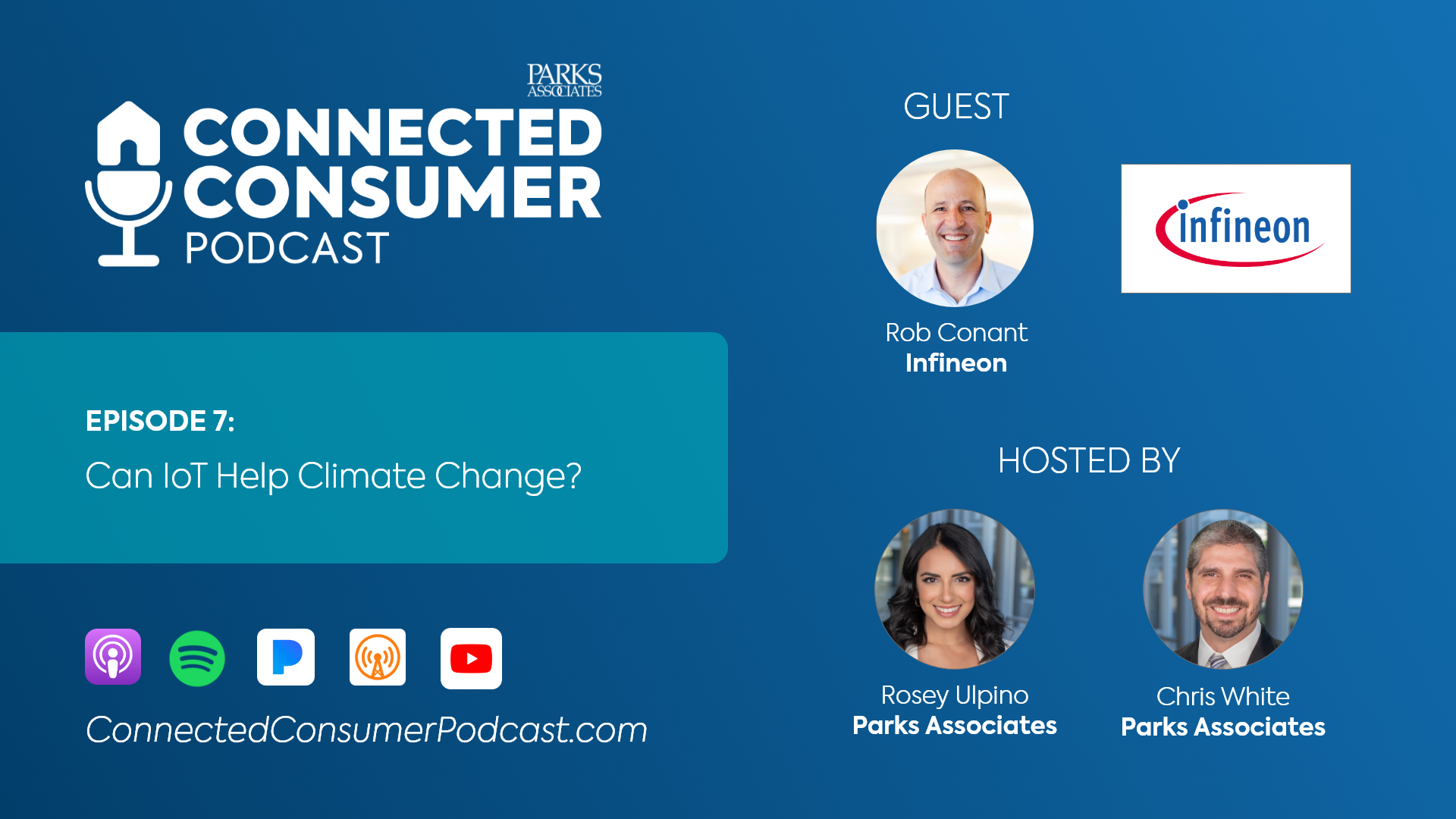 Throughout the episode, they covered the latest tech innovations happening in the sensor and energy efficiency space within the smart home, MDUs, transportation, and so much more:
Infineon's stated mission is to make life easier, safer and greener for the world and for consumers. Our research indicates that roughly half of broadband households state "being green is important to me." So this is obviously a subject that resonates with our audience as well as an important topic for us to study. Could you tell us a little more about the solutions you guys have going on with IoT in the energy space?
Yeah, sure! Infineon is a big global semiconductor company. We make a lot of the chips that power a lot of the products that are used in the consumer space, the energy space and automotive as well. So we supply across a bunch of different industries. I've been in IoT space for a long time and so there's obviously a lot of different markets that contribute to climate change. Companies like Infineon are really at the base of enabling innovation that can transform a bunch of different industries, and I'm excited to talk to you all about it today.
As you said, our mission is to make life greener and safer for consumers. And greener is a big part of that. The company focuses a lot of attention on climate change not only in our operations, but also in the technology that we develop. A lot of it is really used across different sectors to help reduce climate change.
For the past three years, about one-third of broadband households have made energy-saving home improvements each year. And so, could you expand more on your solutions in that area? Talk more about your CO2 sensors and smart buildings. And then how do they work to save energy in addition to if you have any solutions for residential homes?
Commercial buildings are a big part of energy consumption. Almost 7% of carbon emissions come from commercial buildings. That's probably a lot less over the course of the past year. I don't know about you all, but I've been out of the office here. So a lot of energy consumption is residential, but the energy consumption and commercial buildings will come back and the companies that operate those buildings want to reduce energy consumption not only for economic reasons but also to reduce carbon emissions. The way to do that is to provide the right level of comfort, but to provide it in a smarter way. It all really comes down to understanding where people are and understanding what level of cooling or airflow is needed, then delivering that cooling or heating or air flow into the right place. And that's all about sensing.
One of the things that we're excited about is you mentioned the CO2 sensors. People, in general, are a little bit concerned about the Privacy aspect of that. So we see a lot of a lot of companies that are more interested in using either radar for people counting, or another one that's actually even more effective is using CO2 sensors to see when people are in the room. But in addition to that, with COVID, there's been a lot of interest in making sure that the airflow happens the right way inside those rooms. So when you have a lot of people in a room, you might need additional heating or cooling, and maybe you also need to have more airflow in that place just to keep the room safe for people. So we're seeing a lot of activity in the smart building space to make these systems smarter, to deliver the right cooling and heating and airflow for people. We've all been in commercial buildings where it's clear the building just doesn't know we're there and I'm happy to say that with the new technologies coming out, a lot of those problems are going to be solved.
To continue the conversation join the Connected Consumer community and listen to the podcast's latest episode today: www.connectedconsumerpodcast.com
For more information about Infineon and their latest solutions, please visit http://www.infineon.com.
Next: Consumers, Distributed Energy, and the Expanded Role of Utilities
Previous: Major Announcements in Residential Energy Management Continue

Comments
Be the first to leave a comment.
Post a Comment