Access Control Ecosystem: Expanding Value
As the smart home industry looks to extend beyond early adopters and general tech enthusiasts, integrations and partnerships are critical for smart home products to move to mass-market adoption.
As of Q4 2021, 37% of US broadband households own a smart home device and smart home device-owning households now own an average of eight devices in their home. The smart home ultimately starts at the front door, with devices like smart door locks, smart garage door openers, networked cameras, and video doorbells representing the access point for a future world of services.
In the access control ecosystem, integrations and partnerships enable a new world of home services, including in-home and in-garage delivery for package safeguarding, health and wellness solutions for independent living, improved home rental experiences for owners and renters, and much more.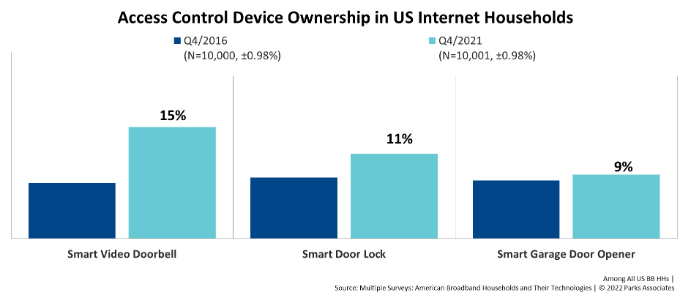 Companies vying for ecosystem control of access points into the home can leverage these home services to generate additional hardware revenue from current and future complementary devices. They can also leverage these enabled services to generate recurring revenue, increase consumer awareness of smart home products and services, and drive greater adoption of the key access control devices.
Parks Associates research shows video doorbells lead in adoption among the three primary access control devices. At the end of 2021, 15% of US broadband households own a video doorbell, 11% own a smart door lock, and 9% own a smart garage door opener. Further, 14% own a networked camera, with fixed outdoor cameras playing an increasing role in the access control ecosystem.
These collective devices maintain a detailed record of who has entered the home, which doors were accessed and when, and even how long they stayed. These applications are allowing players in the access control ecosystem to evaluate key strategies toward home services. As device adoption continues to increase, the potential for other home services like in-home and in-garage delivery, cleaning services, health and wellness solutions, and others will become more ubiquitous in the smart home.
Fueling device adoption in this category has been the expansion of DIY options, as well as professional installation alternatives that help cover all consumer segments looking to enter the space.
Parks Associates provides the following recommendations for players competing in the access control ecosystem:
Integration and partnerships are vital for access control players. Smart locks, video doorbells, and smart garage door openers are more useful when integrated into a complete access control solution. Not only can consumers fully automate these devices to make sure their homes are safe, but home services can be utilized to bring greater convenience and peace of mind — two factors that drive device adoption and consumer satisfaction. By ensuring these devices are integrated with complementary access control devices, companies in this space can generate recurring revenue by guaranteeing safe package delivery, allowing landlords and property managers to grant temporary and revocable permissions to renters, expanding independent living solutions, and much more.
Access control devices may ultimately require professional installation to reach mainstream consumers. To lure early adopters, the nascent smart home market used the DIY label as an effective marketing tool. However, access control devices rank towards the bottom of all smart home devices in self-installation. Further, a large percentage of current device owners are tech enthusiasts and early adopters who are more inclined to self-install. Business models that offer installation choice allow industry players to cover all consumer segments, including the DIY and the do-it-for-me segments. These business models can reach various consumers with different needs and different preferences.
Consumer privacy concerns must be addressed. Companies must keep consumer privacy and security concerns top of mind. Data privacy and security concerns persistently deter about a third of non-owners of smart home devices The combination of an increased number of devices and security breaches causes consumer concerns of unauthorized access. Data privacy and security ranks as a leading purchase consideration among smart home device purchase intenders. Given that manufacturers' data security and privacy claims tend to be similar, attention can be given to truly making data security and privacy a core brand attribute.
MDUs and home builders represent significant expansion opportunity for the access control market. While much of the smart home industry has focused on single-family homes to date, the MDU space is ripe for exploration. Access control use cases typically involve smart home solutions installed in common and public areas, including smart locks, smart garage door openers, and smart video doorbells. For MDU owners and managers, the highest valued use case is the ability, via networked smart cameras, to monitor the safety and security of residents in public areas.
Improvements in access management through smart access solutions enable multiple benefits:
Self-guided tours, which can be enhanced to offer a unique experience for prospective residents
Reset locks for units with no extensive or in-person rekeying needed
Monitor of contractor labor time
Improved maintenance processes
Independent living and aging-in-place solutions are still in their infancy. Despite awareness of the country's aging population and the forthcoming demands this segment will require, no dominant player has captured the independent living market to date. Companies who can implement a successful health platform that incorporates seniors' wants and needs may find much more market opportunity with these services than any other home service enabled by access control devices.
Next: Consumers Seek a Unified Control Experience at Home
Previous: Home Security: More & More Value for Consumers

Comments
Be the first to leave a comment.
Post a Comment