Parks Associates' Future of Video Returns with Insights on Trends in the Streaming Video Market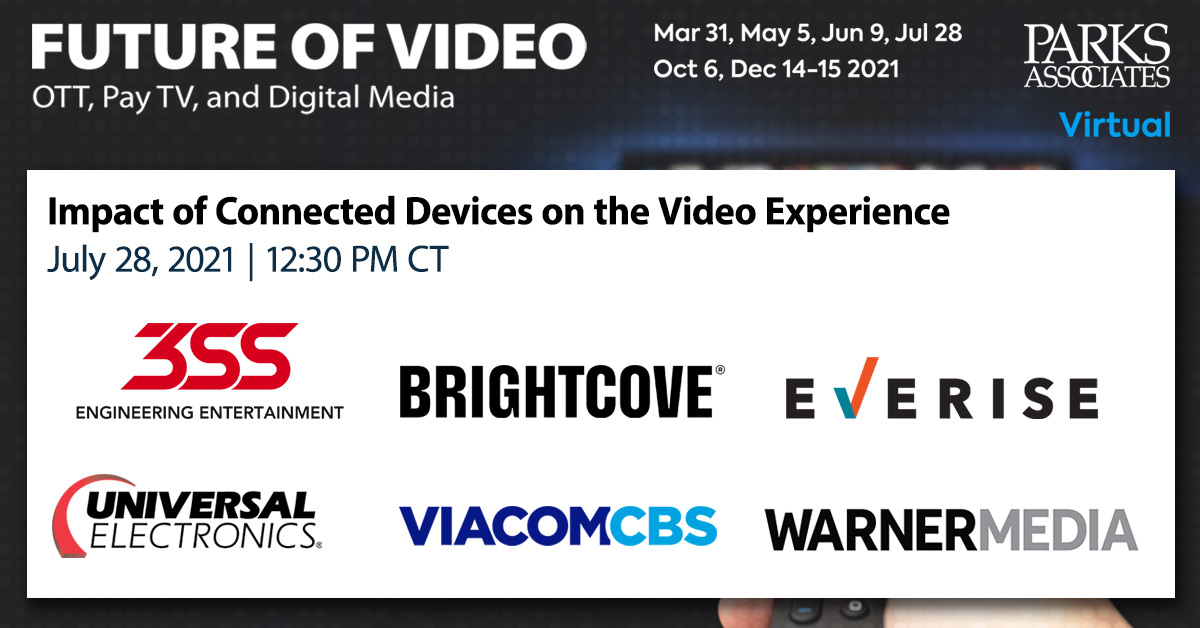 The overall use of ad-based OTT video continues to dramatically rise, with no single service leader. More than 30 million (or 31%) of US broadband households use free ad-based OTT services, which is a six-point increase from Q1 of 2020. Without a leading service, providers with unique offerings have the ability to climb to the top in the OTT space.
Don't miss Parks Associates' Future of Video: OTT, Pay TV, and Digital Media as it continues its virtual series next week with the upcoming session Impact of Connected Devices on the Video Experience on July 28 from 12:30 PM to 2:45 PM CT. Throughout the session, leading industry executives will examine how the streaming video product market will benefit from OTT services and impact subscription revenues.
During the event, Parks Associates will highlight exclusive research from their recent report, The Rise of Ad-Based OTT, which identifies overall usage of ad-supported OTT video, uptake across individual services, and which components of the user experience drive consumption.
Register now to join interactive conversations regarding video streaming services, trends in the OTT space, and more. The firm will feature major industry players Pierre Donath, Chief Product Officer & Chief Marketing Officer, 3 Screen Solutions; Arsham Hatambeiki, SVP Product & Technology, Universal Electronics Inc.; Lexie Knauer, Senior Product Marketing Manger, Brightcove; Nic Lamb, VP of Distribution, Streaming, ViacomCBS; Melissa de la Rama, VP, Distribution, WarnerMedia; Nate Scott, Systematic Insights Program Lead, Everise, will share their insights on how OTT services can surge subscription revenues.
Thank you to our event sponsors: Everise, Symphony MediaAI, Deltatre, Brightcove, Future Today, Bitmovin, and Metrological.
Register today to join upcoming sessions on July 28, October 6, and December 14-15!
Next: Parks Associates Announces 2021 Future of Video Session Sponsor Comcast Technology Solutions
Previous: Using Personalization to Retain OTT Customers - Insights from ThinkAnalytics

Comments
Be the first to leave a comment.
Post a Comment