Apple Leans into the Smart Home with WWDC Announcements
Apple announced several new additions to its smart home platform at the Worldwide Developers Conference (WWDC) this week. In addition to product updates to the Apple Watch and HomeKit, Apple also unveiled concrete plans to boost overall connected living capabilities. Siri will now be compatible with third-party smart home devices ­– previously, consumers could only use Siri on Apple Devices. Ecobee's smart thermostat will be among the first of these third-party devices to be compatible with Siri. This news highlights Apple's growing commitment to wider industry integration, alongside its support of Matter, the successor to Project CHIP, a collaborative effort between Google, Amazon, and Apple to streamline smart devices to work more efficiently for the user. While no plans for a comprehensive home operating system have been mentioned, Apple continues to release useful updates across its smart home offerings.
SharePlay is a new feature to FaceTime that will allow users to enjoy shared streaming experiences in a group setting. It will work in conjunction with the Apple TV app to filter show and movie recommendations based on the group's viewing preferences. With SharePlay, individuals can also view what others are watching.
The HomePod mini will now be able to differentiate between voices in the house, and can double up as a background speaker for users who own an Apple TV 4K system. Additionally, the HomePod will feature lossless audio support for Apple Music. This announcement follows in the footsteps of last month's Apple Music update, which saw all 75 million+ songs available on the service gain lossless audio capability.
An update to the Apple Watch will allow users to access video feeds from HomeKit-enabled smart security cameras with a simple voice command. The Watch will also notify users when packages arrive at the door, and can be programmed along with the iPhone to work with smart locks. In addition to smart cameras and locks, the smartwatch will now be able to connect to smart speakers. Users who are away from the home can use the Apple Watch to leave audio messages to be played by connected HomePod speaker(s).
Siri's newfound compatibility with third-party smart devices and Apple's commitment to Matter indicates a much more inclusive smart home use experience is coming to iOS users. While Apple's footprint in the smart home market is substantially smaller than Amazon and Google from a product offering and voice assistant perspective, iOS users are ahead of the curve. 43% of iPhone users report owning at least one core smart home device (smart locks, lights, cameras, etc.) – a significantly higher rate than Android smartphone users. With iPhone users already leaning into the smart home concept, Apple's efforts at broader industry cooperation are likely to lift the entire ecosystem.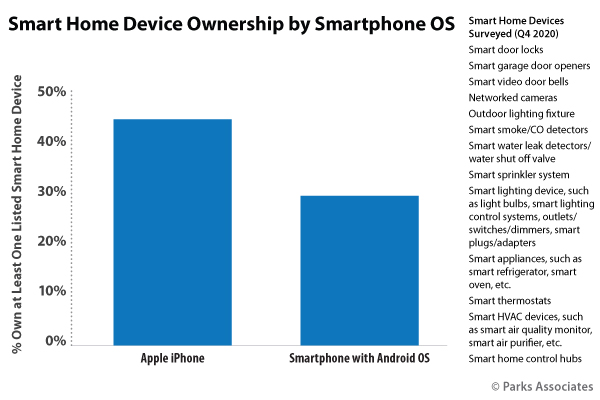 Next: Smart Products: Building The Modern Home
Previous: Parks Associates' CONNECTIONS Conference Continues with Executive Insights on New Services, Smart Home Use Cases, and More.

Comments
Be the first to leave a comment.
Post a Comment