Univision Targets Global Spanish-Language Audience With New Service
by Liam Gaughan | Jun. 30, 2021
In March, the debut of Univision Communications' free ad-supported OTT service Prende TV marked one of the most significant streaming launches of 2021. A major service featuring Spanish-language films, TV shows, and nonfiction content was unprecedented within the US market. Univision aims to be the dominant content provider for Spanish-language content, and the corporation has its eyes on global expansion with the announcement of a new streaming service.
Univision will launch a new global OTT service in 2022 with an initial debut in the US and Latin America. The 2022 launch date follows Univision's acquisition of the Latin American media giant Televisa for $4.8 billion in April that is set to close by the end of 2021. The merger will give Univision access to Televisa's IP properties to include within the new global service. Details such as brand, pricing, and the official launch date will be announced once the deal closes.
The new service will bundle content from the existing Prende TV, Vix, and Univision Now services under a comprehensive global brand and produce a robust slate of original content. The currently untitled service will have a hybrid business model with both a paid subscription and free ad-supported tiers. The free tier is set to include 100 linear channels and 40,000 hours of on-demand content including originals, studio films, live sports, and 24-hour news. An additional 6,000 hours of content will be accessible to subscribers at the paid tier.
A diversified content distribution plan utilizing different streaming business models indicates that Univision can attract viewers from all corners of the market. Data from Parks Associates indicates that each model has seen significant growth in the past year. 58% of broadband households use an OTT subscription service, 25% use an ad-based service, 17% use a TV Everywhere service, and 18% use a freemium service.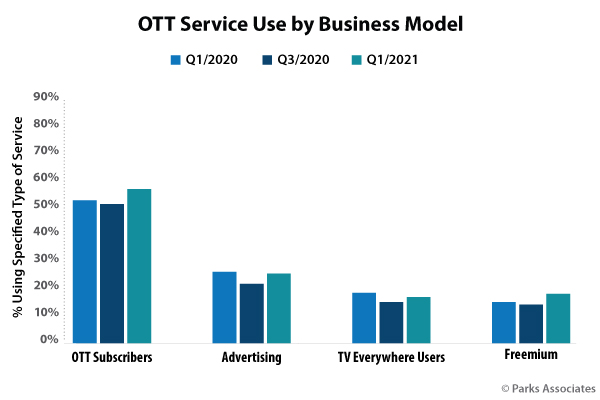 The global service has the potential to dramatically shake up the Spanish-language OTT market with the benefits of the unified brands. Univision leads the Spanish-language content and will likely be able to get get existing users of its individual services to sign up. The expanded content offerings and new original programming from leading Spanish-language content creators should give Prende TV, Univision Now, and Vix users' incentive to subscribe. The new service will feature select content from these standalone services, but not their entire libraries, so Univision won't risk users cancelling their other subscriptions.
The Latin American market has become a key battleground for OTT and there will be anticipation among viewers for a new service that produces content specialized for their interests. Netflix and Amazon Prime Video have increased their output of Spanish language programming with licensed content and new originals, and both HBO Max and Paramount+ recently launched in Latin America. The potential of the Spanish-language market has not yet been fully realized, and the performance of Univision's service could challenge preconceived notions about the potential of a non-English language service as a market leader.
For a deeper look at the OTT video space, please check out the Parks Associates' OTT Video Market Tracker and Parks Associates research on video services.
For more information about Parks Associates research, visit http://www.parksassociates.com or call 972-490-1113.
Next: Universal-Peacock Deal Disrupts Pay-One Content Windowing
Previous: Peacock Finally Lands on Amazon Ahead of Olympics

Comments
Be the first to leave a comment.
Post a Comment