Four Trends in Retention and Churn Among OTT Services
by Liam Gaughan | Jun. 14, 2021
With a more competitive landscape in the OTT market, viewer retention is a commodity. As new and established entrants maximize retention and minimize churn, several key trends have emerged.
The Big 3 Leads in Subscription Retention
The "Big 3" in OTT services — Netflix, Amazon Prime Video, and Hulu — lead in subscriber retention with the longest average subscription lengths. While this can be partially attributed to their establishment within the market, these services also have developed loyalty among subscribers, making them more likely to cancel a newer service that they have recently adopted. The Big 3 are seen as essential services. Rivals will look to become mainstays as they vie for viewer attention.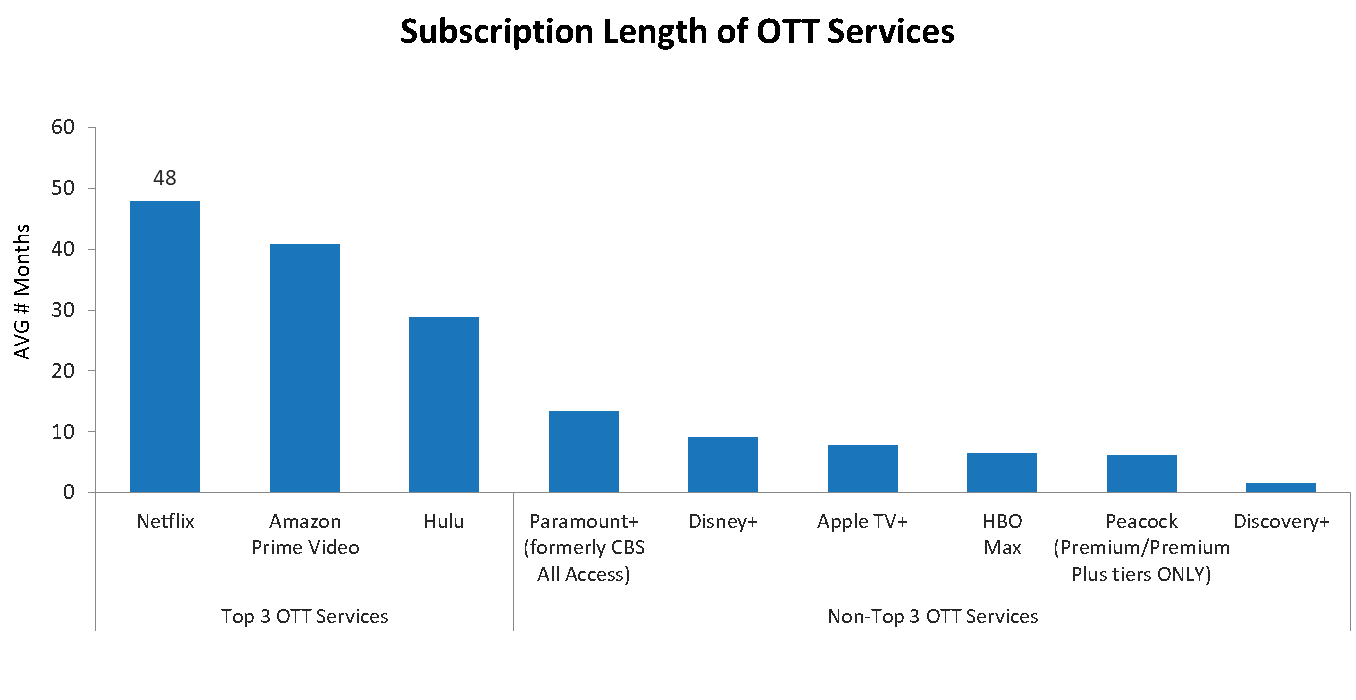 Consumers Unlikely to Subscribe on Impulse
Sixty-one percent of OTT subscribers say they never subscribe to a service on impulse, and 50% report they never subscribe to a service with plans to cancel shortly thereafter. With services like Netflix and Disney+ dropping their free trials, viewers look for OTT services that are worth a long-term investment. For service providers, this means their content must be appealing enough to generate that interest. Thirty percent of subscribers say they often subscribe to a service to watch a specific program. The search for desirable content holds the greatest importance.
Streamers Look to Brands and Personalities to Drive Retention
Not only does desirable content from popular franchises and personalities prompt retention, but viewers are unlikely to churn from a service that they have a strong brand affinity for.
WarnerMedia's HBO Max expanded the lineup of HBO shows with marquee properties, including DC Entertainment and recently produced Max originals. WarnerMedia hoped that targeting a wide variety of interest groups would unify niche audiences under one service. The recently launched Paramount Plus has emulated this strategy, featuring its key properties and personalities heavily within the marketing that promises a "mountain of entertainment."
Disney, Pixar, Marvel, Lucasfilm, and National Geographic exclusively distinguish Disney+ as their online home, allowing Disney+ to rise quickly within the OTT ranks and become a real contender to the Big 3.
Bundles Offer Providers Retention Opportunities
The shared advantages of bundling provide bundling partners the ability to target different markets with combined benefits, including lucrative retention opportunities.
Last summer, a bundling deal offered subscribers Apple TV+, CBS All-Access, and Showtime for a monthly price of $9.99. Including appealing content from two leading services allows Apple users maximum subscription benefits and prompts them for longer use. This was also a strategic move from ViacomCBS, who was able to introduce CBS All-Access content to Apple users prior to the launch of the rebranded Paramount Plus.
Conglomerates have also bundled their OTT services together, with the most popular being the "Disney bundle" of Disney+, ESPN+, and Hulu. The deal markets to different demographics, allowing Disney+ to offer diversified content to a larger number of subscribers.
For more insights on OTT trends and developments, see Parks Associates' recent Quantified Consumer report: Subscription and Churn in OTT Video.


Next: Big Acquisitions Mark this Week in the Smart Home
Previous: Amazon Adds Key IP for Prime Video with $8.45 Billion Deal with MGM

Comments
Be the first to leave a comment.
Post a Comment