What is causing the decline in TV antenna usage?
There's been an ongoing shift by the local news industry towards taking advantage of OTT/streaming opportunities when it comes to distribution and reach. It recently started gaining critical mass in 2020 and particularly during 2021 as streaming became normative and even a necessity for information dissemination.
Pay-TV subscribers are much less likely to own and use a TV antenna than non-subscribers. As of Q3 2021, Parks Associates' consumer survey of 10,000 US internet households found that 16% of pay-TV subscribers own and use a TV antenna compared to 31% of non-subscribers. Overall, an estimated 23M+ US broadband households regularly use TV antennas to view OTA content.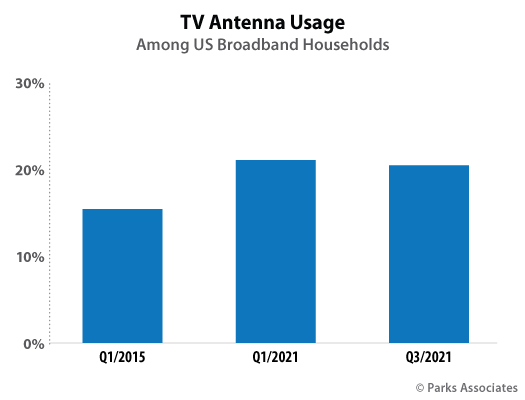 There are numerous examples of local news stations/affiliates being added to the existing news coverage available from NewsOn (avail on most streaming devices), the news access already built into devices (for example Amazon's Fire TV below), and the news channels already available from free ad-supporting streaming TV services like Tubi and similar. So, it may not be "the" reason for a drop in antenna demand, but the increased availability of local news via all manner of OTT devices/services/aggregators these last two years is definitely contributory.
To learn more about consumer adoption of OTT video, traditional pay-TV, and online pay-TV services click here or attend Parks Associates' Future of Video Conference hosting both virtual and in-person sessions throughout 2022.
Next: The Disruptive Potential of Managed Wi-Fi
Previous: Smart TVs: A Treasure Trove of Data

Comments
Be the first to leave a comment.
Post a Comment