Value Beyond Home Security – New Whitepaper Developed with Alarm.com
by Tam Williams | Mar. 21, 2022
Parks Associates' consumer surveys consistently find that "peace of mind" consistently ranks in the top three smart home benefits that most influence purchasing. Thirty-one percent of recent buyers report "peace of mind" as the top benefit influencing their purchases. Security service providers can build on consumers' desire for this value and develop other offerings that address peace of mind.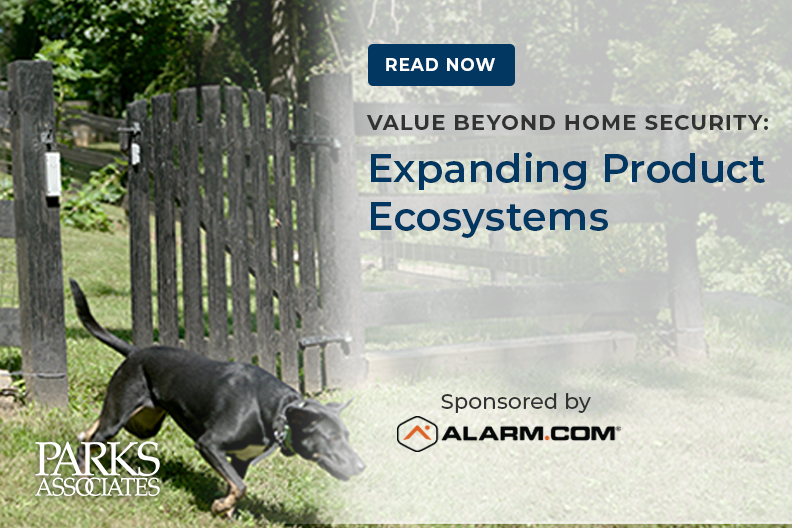 Released ahead of this week's ISC West, Parks Associates' new whitepaper Value Beyond Home Security: Expanding Product Ecosystems, developed in partnership with Alarm.com, addresses the expansion of professional services beyond home security—driven by the growth of connected devices, new technology, and unified offerings from professional service providers and DIY solutions.
These factors have influenced traditional residential security players to continue to integrate advanced technologies—especially around AI and video analytics—to create new service offerings, address new customer segments, and integrate with Google and Amazon. These new advances and innovative products are helping redefine residential security services and expanding them into new areas.
As product capabilities expand, new monitoring services beyond security are increasing, including proactive defense through video analytics, personal emergency response systems (PERS) enhancements, energy usage monitoring, and securing valuable assets such as vehicles and yard equipment. Integration between video, access control, and home automation services will continue to grow in the years to come. And an empathetic approach to innovation will help the security industry deliver the benefits consumers value most.
Download Value Beyond Home Security: Expanding Product Ecosystems to explore further the expansion of professional services to deliver peace of mind to consumers in all aspects of their lives.
Follow the latest news and updates at ISC West (#iscwest, #iscwest2022), or contact Rosey Sera to request an interview with Parks Associates' President & CMO Elizabeth Parks at ISC West this week.

Next: Impact of Remote Work and the Long-Term Threat on Business
Previous: Smart Energy Summit 2022 Research Analyst Recap

Comments
Be the first to leave a comment.
Post a Comment