The NFL Debuts New Streaming Service NFL Plus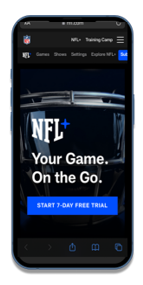 The NFL Debuts New Streaming Service NFL+
The NFL launched its streaming service, NFL+, at the end of July at $4.99/month and $29.99/year (Consumers save 50% if they sign up now). The service offers subscribers access to live local and prime time games, NFL Network shows on-demand, and access to the NFL Films archives. A premium tier, at $9.99 month and $79.99/year, comes with full game replays and other premium offerings. While NFL+ is available to stream on phones and mobile tablets, subscribers will not be able to stream content from the platform to TVs.
Market Impact
The NFL is the most widely watched sport in America. According to a recent poll conducted by Parks Associates, 68% of internet households watch NFL games throughout the season.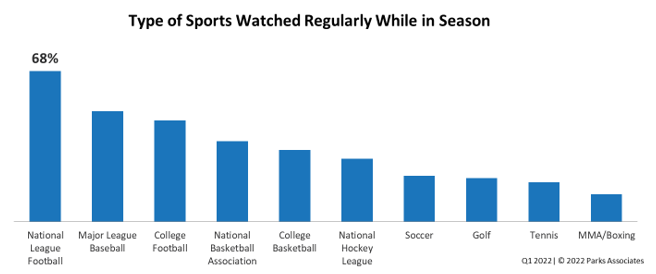 The business model for sports rights is easy to comprehend: maximum exposure for the highest possible price. However, understanding distribution platforms are complicated and challenging for fans. The National Football League has various broadcast partners with varying exclusivity requirements across all platforms, making it a daily routine for football fans to check the television schedule online or ask Alexa, "What channel is the game on?"
While the new NFL+ service includes out-of-market preseason games in real-time, these games are only viewable on mobile devices and not on televisions. On NFL+, fans can watch live local teams' regular season and postseason games through mobile only. The premium package includes replays, condensed games, and coach's shows. The NFL+ package as it exists today is a pure mobile play for the NFL.
What has yet to be determined is which OTT service or traditional broadcaster will get the NFL Sunday Ticket, whereby consumers can watch games on their TV. In 2014, the NFL signed an eight-year, $12 billion contract with DIRECTV. Next year, these rights will expire, and Apple (Apple+), Google (YouTube TV), Amazon (Amazon Prime Video), ESPN (ESPN+), and likely a few others are currently in a bidding war for the rights. Whoever gets the broadcasting rights for NFL Sunday Ticket is expected to pay between $1.5 and $3 billion annually.
The streaming players understand the value that America's most popular sport would deliver to their service. If the Sunday Ticket does arrive on a streaming service, it would not only legitimize the service, but also the streaming industry as a valid destination for live sports content and contribute to the further demise of traditional pay TV. The NFL+ platform does provide the league with potential negotiating power for rights in the future. Having a built platform could be leveraged by the NFL to take back the rights if the asking price is not met.
Local and primetime rights agreements are secured for the next seven to eleven years, and Sunday Ticket will land somewhere this fall. Below is a partial list of who has what NFL game each week for the 2022 season:
Amazon has Thursday night games exclusively. CNBC reported that Amazon is paying $1 billion per season.
CBS will be the primary broadcaster for AFC Sunday afternoon games, which will also be streamed on Paramount+. Deal worth $2.1 billion every season.
On Sunday afternoons, FOX broadcasts AFC and NFC games. As part of the increased yearly commitment of $2.2 billion, it extended its digital rights to include additional NFL content on Tubi.
NBC Universal has the Sunday night game and pays $2 billion each season for exclusive rights. Peacock will also get exclusive coverage of some games during the duration of the arrangement.
ESPN and ABC have the Monday night game. According to CNBC, Disney is paying around $2.7 billion each season. As part of the agreement, ABC will carry three solo "MNF" games annually, and ESPN/ABC will simulcast a Saturday doubleheader during the last weekend of the regular season. The games broadcast on either network will also be streamed on ESPN+. Additionally, ESPN+ subscribers get unique access to one international match every season.

The current state of NFL's distribution rights is very fragmented which makes it difficult for fans to locate games without checking the weekly TV broadcast schedule. The newly minted NFL+ App opens the possibility that all games could be streamed direct-to-consumer in the future, but the long-term nature of rights deals means an aggregated fan experience is unlikely in the near term.
For more coverage of the many players and moves in the streaming video space, as well as subscriber estimates, see Parks Associates OTT Video Market Tracker.
Contributor: Tam Williams
Next: Netflix Enters the Gaming Market, But Only 1% Participate Daily
Previous: TikTok Now Available on VIZIO Smart TVs

Comments
Be the first to leave a comment.
Post a Comment