Smart Home and Risk Assessment: Insurance as a Channel
In the age of the Internet of Things (IoT), a tsunami of new information is coming from connected devices. Insurers, intent on securing the deepest level of insight, will need a way to tap into the source. Traditional insurance practices for data acquisition through third parties may not work; IoT data will be a source of competitive advantage and, therefore, not readily shared. The companies deploying smart home solutions, not the insurer, will have control of the relationship and leverage the data collected to give their customers attractive new value-added services that make homes safer, more energy efficient, and easier to manage.
Recognition of the importance of data has driven huge investments in the smart home with the tech giants such as Amazon, Apple, and Google joining most major consumer channels to enter the market. While the market is in the early stages of growth, the various participants are already working to add more value, and bundling insurance products is an attractive option. This will challenge traditional insurance business models and disenfranchise carriers. However, insurers could offer smart home products and services with their core products and compete in this new market. It would create opportunities for new revenue growth and could create a paradigm shift with carriers moving from being reactive and simply insuring against loss, to becoming proactive and helping prevent it.
Connectivity has already opened the floodgates to a wave of new products, but it is the data from devices that will be a game-changer.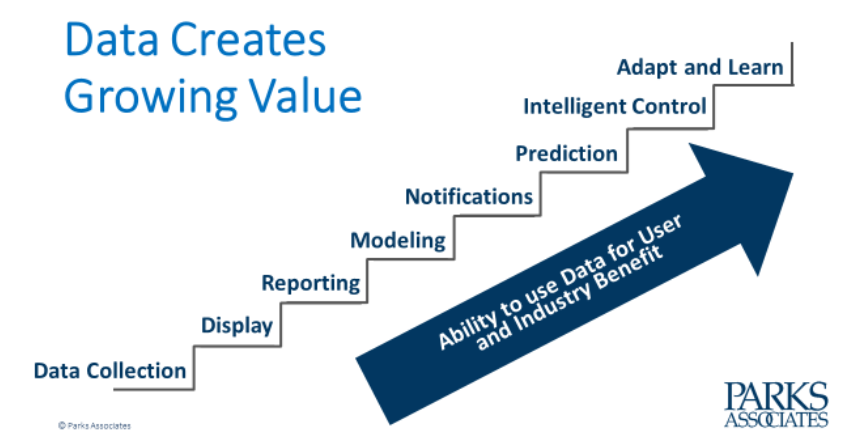 Connected devices will reshape the way consumers think about many traditional products and services as well as how they interact with devices within the home. In the future, the sale of a product will not be transactional and driven by physical attributes; sales will be driven by the features and services enabled by connectivity and, ultimately, the way it interoperates within the wider ecosystem. This change in consumer expectations and behavior will push many industries to make a fundamental shift from selling products for margin to selling services.
Similar to telemetry systems in cars, smart home solutions will increase safety and reduce claims risk for insurers. Additionally, smart home solutions enable insurers to help their customers protect what matters most. Consequently, while there is the potential for reduced claims, the bigger gains could come from improved customer engagement, new insights, and the opportunity to drive new product and service revenue.
Data from the smart home can also have a fundamental impact on how insurers assess consumer risk. Mashing traditional data used to assess commercial risk, such as credit rating, with almost real-time data on consumer behavior from connected devices could help generate better risk profiles.
Insurers, seeking to access new risk-related information, typically derive greater value from data sources that have been able to capture the most significant market share. As demand for data from the vast connected home market grows, solutions that provide data from a broad range of devices and vendors could become a critical component of property insurers' future smart home strategies.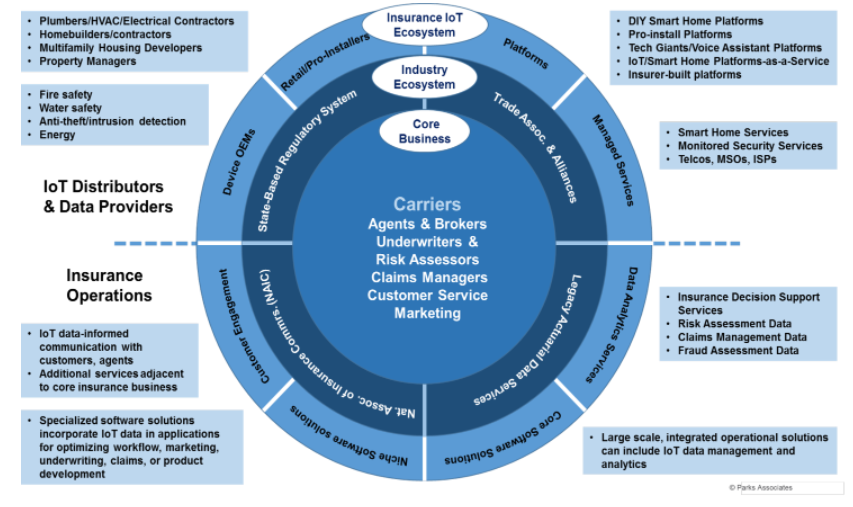 However, the significant business and technical complexity of managing multiple integrations among the large number of insurers and the highly fragmented smart home market can be costly and challenging. To date, the smart home market is mostly characterized by what are considered point-to-point (P2P) devices; these are single devices linked to a cloud platform and managed using a mobile app. Early examples that have driven the adoption outlined earlier were the Nest thermostat, August and Schlage door locks, Canary camera, and more recently, the Ring video doorbell.
Alongside P2P devices are smart systems best described as curated—a defined group of devices that work together in a managed environment. Large U.S. service providers such as AT&T and Comcast were the first to offer curated solutions, but their offerings used traditional monitored security business models with professional installers, which led to high operational costs and required monthly fees and long-term, fixed contracts.
In the U.S., the residential security industry is the leading channel for smart home platforms, and now 36% of households have a home security system and 33% of those have professional monitoring services. Improvements in the technology, and greater standardization, are paving the way for simpler, low-cost, DIY smart home solutions for both P2P and curated offerings. These are starting to make a significant contribution to market growth through a broad range of consumer channels, and new business models are emerging.
Insurance as a Channel
Consumer drivers for smart home adoption and usage are well aligned with the interests of an insurance company, and that is good news for an industry that has changed little in 300 years. Although technology has helped insurers to improve their business processes, success or failure in the insurance business still relies largely on robust pricing algorithms that use traditional datasets.
More significantly, the transactional nature of insurance has not changed over the years. Customers consider insurance a necessary purchase, and the relationship with their insurer usually involves an annual interaction that focuses on price and concludes with the purchase of a product both parties hope they never use.
The smart home can change these dynamics by enabling consumers and insurers to partner to protect what matters most – the family and the home. 60% of households that are likely to purchase a smart home product would want some insurance-related features with that product, according to Parks Associates data. Smart home tech can also act as a springboard for a range of new services, which could catapult insurance companies into a position as home concierge that delivers a broad range of value-added services linked through a digital platform. For example, a smart home can automatically alert a plumber to help with a water leak or send out seasonal alerts to trigger maintenance activities.
There consumer channel for smart home products is fragmented: retailers, security dealers, ISPs, utility companies, and others are working to position themselves as the best place to purchase these products. We expect to continue to see the rise in adoption of virtually all connected products in the home in the years to come.
Next: Privacy and Security: Insights from Trend Micro
Previous: Parks Associates Welcomes 2022 CONNECTIONS™ Sponsor Resideo

Comments
Be the first to leave a comment.
Post a Comment