Smart Energy Summit Insights from the Industry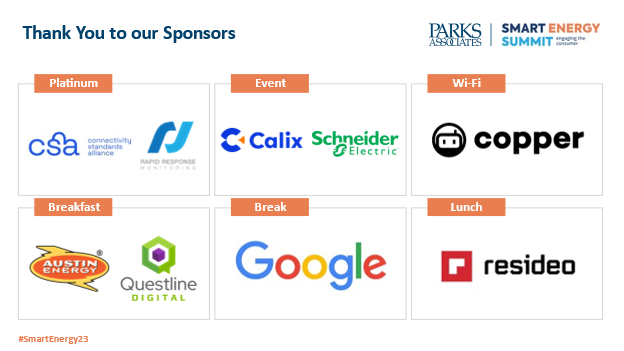 Parks Associates hosted its 14th annual Smart Energy Summit this week in Austin, TX bringing the best of the best in the energy and smart home industries together. We had an amazing line up of speakers and leaders in the audience. I wanted to share some of the key insights we captured from the sessions. Thank you to our speakers, supporters, sponsors, and attendees for making the event so insightful.
There is so much work to do as we shift to a world of renewable energy and the electrification of everything. Smart Energy Summit is sponsored by CSA - Connectivity Standards Alliance, Rapid Response Monitoring, Calix, Google, Schneider Electric, Austin Energy, Questline Digital, Resideo, and Copper Labs.

Enjoy these insights and shout out to Angela Boeke, Parks Associates capturing the moments throughout the sessions we hosted!

An insightful recap from our panel session this afternoon, Optimizing Control with Energy Data, highlighted by Copper Labs!
Energy monitoring and management services create clear value for consumers, and #DataAnalytics is driving new value-added services and opportunities for new business models. As solutions move from monitoring and reporting to providing recommendations and automation, consumer interest increases. This session examines new opportunities for utilities and energy providers around next-generation #EnergyMonitoring and #EnergyManagement solutions.
"If consumers don't understand the units of measurement like kWh, they won't be able to understand a chart no matter how good it is. A lot of our customers also don't consider engagement positive, they don't want to have to worry about their energy. Automation is key. Not everyone is the same, so we like to use an onion approach to make sure people can access the layers of data they want to look at." Aimee Gotway Bailey, PhD, Director, Innovation & Portfolio Management, National Grid Partners
"Consumers need direction on what steps they need to take to manage their energy better. Getting a quick push notification to tell them to take action is much more effective than making consumers proactively login to a dashboard." Joel Berntsen, MBA, Vice President of Strategy and Partnerships, Vutility
"I think the idea of ecobee being a part of the whole-home ecosystem to interact with devices and act on the customer's behalf is very important and exciting. At the end of the day, it needs to be a customer-first approach that provides real value for them." Shawn Peterson, Sales Manager, Energy, ecobee
"Customers are very interested in getting their data initially, but it can fade away. Using an app to enable customers to engage continually with their data is very effective. Actionable insights and automation is essential." Essie Snell, Head of Product Marketing, Copper Labs
"The fundamental question is who needs the data, who processes data, and how is the data viewed? We need to use #automation with elements of #ArtificialIntelligence to provide a solution to consumers. How data is presented is essential to be effective." Kenneth Wacks, President, Home, Building, and Utility Systems
A recap of the panel, Home Services Revenue Opportunities, highlighted by Calix!
Key to the future progress of the home energy management market is the ability of players across many industries to deliver a unified experience through new #services. Accomplishing that goal requires complex integration, extensive #partnerships, and a focus on the consumer experience.
INDUSTRY INSIGHTS
"Utility companies are not in the business of finding savings across different plans. We can personalize data and provide insight that benefits consumers. We have to speak the same language the consumer speaks and translate data into a dollar amount," David Chang, Chief Digital Officer, eIQdigital
"Wi-fi is a very important play in security, as well as energy. There's a reason why I'm here. All of the players in your home don't talk nicely to each other. Even though they can, they don't. What's important is who the end user trusts to share the data, promote the data, and provide the actions," Jennifer Doctor, Senior Director, Product Management, Johnson Controls
"The reason our internet works across the board is because we have standards. For IoTs that's not the situation. Until we get to a standard, we're going to be stuck. We need standardization for APIs." Nadav Liebermann, VP Innovation and Data, SAM Seamless Network
"We have #acquisitions, but they never quite come together. The main challenge is that the companies have different types of consumers. There hasn't been a significant crossover yet," David Oberholzer, General Manager, Energy Management, Resideo
Check out insights from the session: Building Energy-Efficient Homes: What Builders Want industry panel!
For home builders, #SmartTechnology delivers multiple benefits—financially and through market differentiation. Both builders and home buyers alike are appreciative of energy-saving rebates as well as the longer-term benefits of lower energy bills. From a sales and marketing perspective, newer smart homes offer additional lifestyle benefits such as built-in security, energy management, and entertainment control.
INDUSTRY INSIGHTS
"Water has become one of the most talked about resources that needs to be filtered and managed throughout the home. If it's not in front of you, you're not involved. If you're water quality, changes you don't usually know. We're working on an app that can alert people when their water is hard to reduce load consumption and energy costs. We want to give consumers awareness of their water and their air," Erik Bernal J. Bernal, CEO, Elite Water Systems
"We want to make sure from the start that everyone understands the technology, starting with construction all the way to the buyer. We put an infrastructure in place that can support any system in the entire house," Kendall Goshorn, Director of Business Development, Homepro
"We're using technology in an innovative way to make sure our homes are better. Builders can use HVAC products in innovative ways to create the conditions they want in the home. Like using pressure to create a cool dry environment in homes," Anwar Khalifa, President, Pyramid Homes
"There's a duality between energy efficiency and load flexibility. #GEB is a new acronym in the energy space, Grid-Interactive Efficient Building. The question is how energy is controlled and how energy is metered, and how can we align those two things," David Klatt, COO, Logical Buildings
"The diverse mix of folks that are moving to #WhisperValley, some are new to technology, while others are mining #bitcoin. All of them have an interest in handling their energy independence, saving money, and want to make use of their #sustainable living," Greg Wolfson, CTO, EcoSmart Solution
A look into the Smart Energy Summit industry panel, Solar: Renewable, Resilient, Communal
The #utility industry is moving aggressively towards building its #RenewableEnergy portfolio, and consumers are gaining interest in renewable sources of #energy and #EnergyManagement. This session addresses the opportunities for growth in the #solar industry, including downward pricing pressure on #SolarPanels, #batteries, and #SmartHome devices, and emergence of the "smart energy consumer."
INDUSTRY INSIGHTS
"It's the expectation versus the outcome. Sales representatives are asked to sell the product without actually knowing the product and training involved. It's hard to find people who understand the electrical components, plethora of technologies, and the cost barriers. We need to be very transparent with the customer," Shankar A., Vice President of Products, Sunnova Energy
"We go to market through #roofers. We are certified as a roof and a solar product, and offer something that is familiar to the marketplace. We've taken a design focused approach that consumers love and are excited about. We actually had a customer dancing in their lawn while their Timberline Solar panels were being installed," Keally DeWitt, Vice President, Marketing & Public Policy, GAF Energy
"Most people want to do solar and storage, but don't know how. We procure services from installers. Instead of having batteries operating in the wild, we have a single entity we work with to provide value. We also do a program for our cities as a central buyer," JP Ross, VP, Local Development, Electrification and Innovation, East Bay Community Energy (EBCE)
"If we are able to enable these technologies starting from electricity, we can grow into the home. We want to ensure we can enable the foundation for solar. We are focusing on building a digital backbone to simplify the interface to the user. People don't want to be the facilities manager of their own home," Will Shippee, Manager - Strategic Solar Accounts, Schneider Electric
"We want to make sure that our lineman are safe, and the interconnection in the home is safe. We discovered that a family had a battery in their daughter's closet, which is very unsafe. The utility has a responsibility to the consumer and contractors to help inform them along the way," Eamonn Urey, Product Manager, Salt River Project
If you are interested in our research in the energy management area or more information on our executive conferences, please contact me or Ashton Gambrell for more information.
Next: Thank You for Attending the 2023 Smart Energy Summit, Austin
Previous: Personalized Virtual Channels: Maximizing FAST Engagement - Quickplay

Comments
Be the first to leave a comment.
Post a Comment