Parks Associates Announces 2022 Connected Health Summit Sponsor EarlySense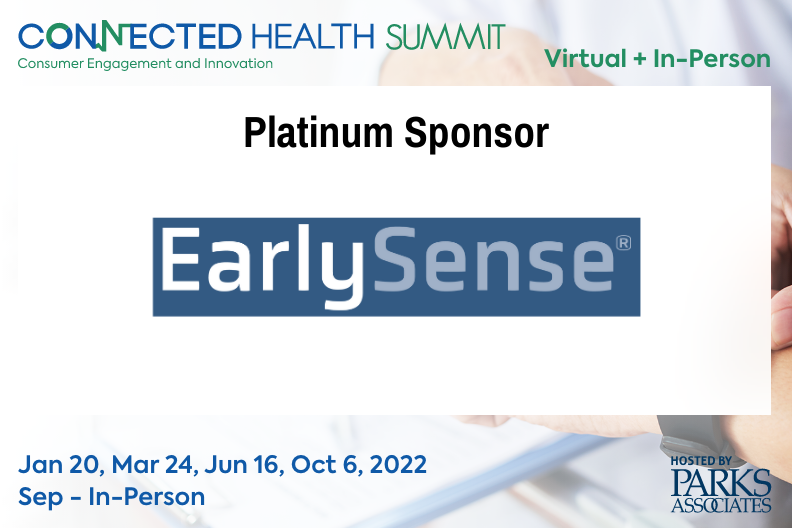 Parks Associates' Connected Health Summit: Consumer Engagement and Innovation conference series is excited to announce EarlySense as a 2022 Platinum Sponsor.
EarlySense® is the global leader in 100-percent contact-free, continuous monitoring solutions. Used worldwide in hospitals, post-acute care facilities, virtual care and remote patient monitoring applications, EarlySense technology delivers reliable and comprehensive multi-vital, motion, and sleep data. When paired with the company's predictive data science applications, EarlySense solutions empower providers, clinicians, and patients with continuous multi-vital data and actionable insights that improve quality of life and patient outcomes across the care continuum. The company has partnered with leading global technology companies, including Samsung, Welch Allyn, iFit, and Beurer. EarlySense is based in Ramat Gan, Israel, and Woburn, Massachusetts. For more information, visit www.earlysense.com.
Parks Associates is hosting the 2022 events virtually and in-person, with sessions and networking taking place throughout the year. The Connected Health Summit addresses opportunities for new solutions, including smart home platforms, telehealth services, voice assistants, and wearables to empower consumers, caregivers, and providers with new insight into patient health.
Join us for the final Connected Health Summit session of 2021 on December 1, and upcoming 2022 sessions on January 20, March 24, June 16, October 6, and an in-person event in September!
For more information on event sponsorship opportunities, don't hesitate to get in touch with sales@parksassociates.com

Next: Virtual Care Changes Consumer Expectations: Two-thirds of Likely Wearables Buyers Would Pay More for Health Features
Previous: Industry Executives from Samsung, Rock Health, VeeMed and more Address Massive Investments and Growth in Digital Health Sector

Comments
Be the first to leave a comment.
Post a Comment