Looking at Ray-Ban Stories through Smart Home Glasses
Facebook and Ray-Ban are rolling out their new Ray-Ban Stories ($299), and everyone is talking about it. These sunglasses look like typical Ray-Bans while featuring hidden cameras and microphones that allow users to make hands-free POV videos. My colleagues in connected health or connected entertainment will have thoughts on these devices as wearables, but reading first impressions and early reviews of the Ray-Ban Stories brought to my mind the following smart home industry trends and consumer preferences:
Brand Partnerships – A traditional manufacturer is paired with a tech company analogous to Chamberlain working with Nest on smart garage doors or Schlage working with Ring on smart access control where each brand benefits from the other's strength. Consumers have a strong association between brands and categories and feel more comfortable with brands that have a history. Also, established brands have secure and prominent placement in retail locations and are more commonly searched on online marketplaces. The retail and online retail channels are increasingly important in the smart home space, so partnering can be a sound strategy.
Multiple cameras and microphones – As camera and microphone arrays become common in smart home devices, consumers come to expect them. I wrote in a recent report, Context is King: Smart Home Video and Audio Analytics, about how this trend has facilitated a rise in video and audio analytics capabilities, but it also increases consumer expectations and enhances the consumer experience of core functions of these components — namely, creating high-quality images and recording sounds with high clarity. Our latest research shows that sales of networked cameras, video doorbells, and smart speakers/smart displays will exceed 250 million units in 2022-2024. Consumers want the often difficult combination of peace of mind, privacy, and convenience with monitoring and even emerging independent living solutions. With video and audio analytics, standard devices such as video doorbells and networked cameras have expanded capabilities, providing more value and context to consumers.
Aiming at mass-market while also appealing to enthusiasts – Perhaps the Ray-Ban Stories will be a huge hit and become a ubiquitous source of sun protection and point-of-view pictures, or perhaps they won't. We know that connected products are welcomed by consumers these days. These sunglasses have great brand recognition and potential reach to a core of connected device lovers who will add these to their collections. Indeed, we saw this trend driving growth in smart home space throughout 2020. Our recently published Consumer Purchases and Preferences report goes into greater depth of this trend of connected device owners adding more and different devices, allowing for new use cases and enhancing existing ones where multiples devices can work together. This latest research data shows the number of homes with one or two smart home devices was roughly equal to 2019, but now 23% of US broadband households own three or more smart home devices.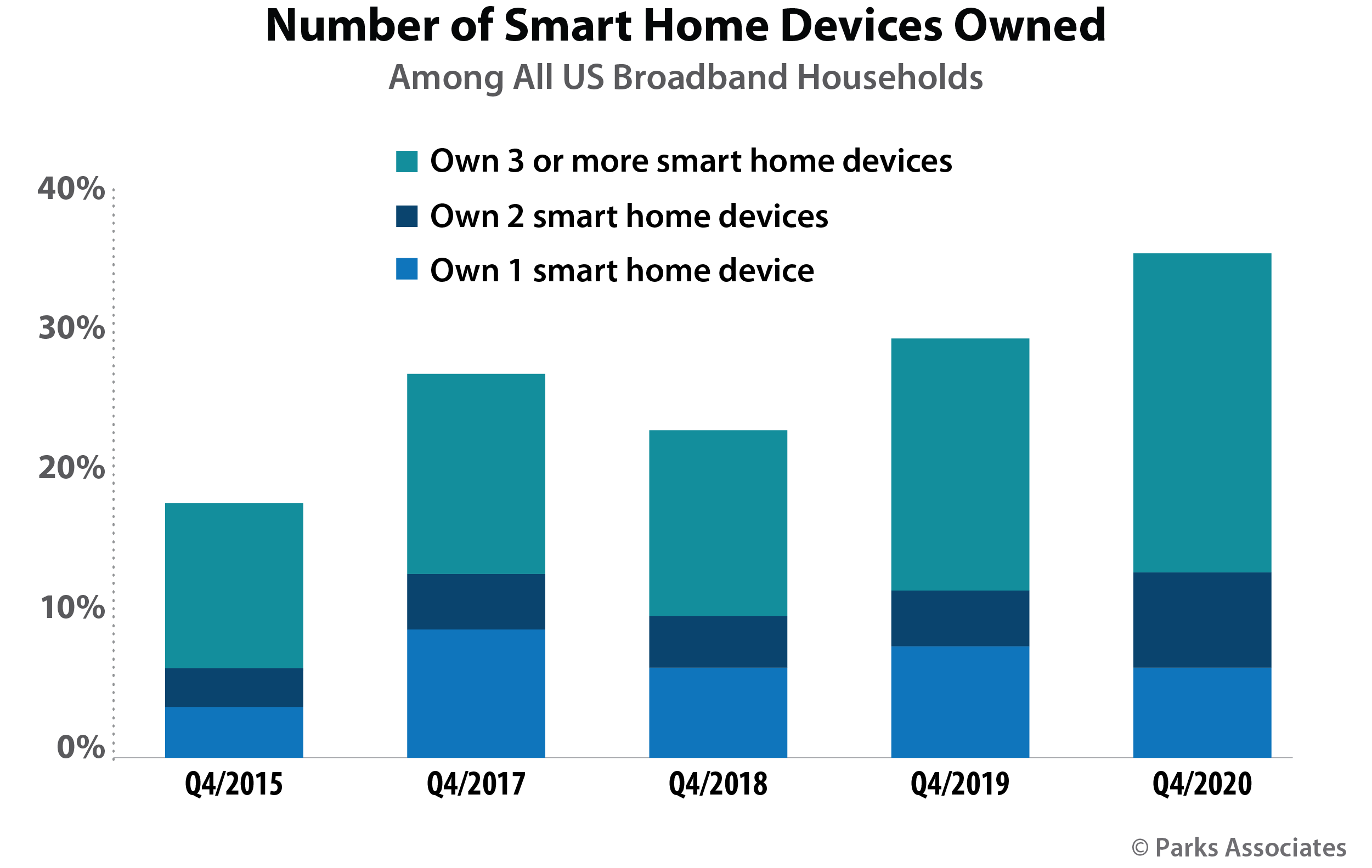 It's interesting that one smart home category that saw an increase in adoption was smart light bulbs, where reported purchases joined smart video doorbells among the fastest growing. That might point to potential success for other light-control and video devices…
For more information about Parks Associates smart home research, view our reports page.
Next: Parks Associates' CONNECTIONS Conference Continues with Executive Insights on the Latest Home Networking and WiFi Solutions
Previous: Parks Associates' CONNECTIONS Conference Continues with Insights on Trends of the Residential Security Market

Comments
Be the first to leave a comment.
Post a Comment