Join us for CONNECTIONS™ Summit at CES! This event will take place on January 5th at the Venetian Hotel, Lando 4304.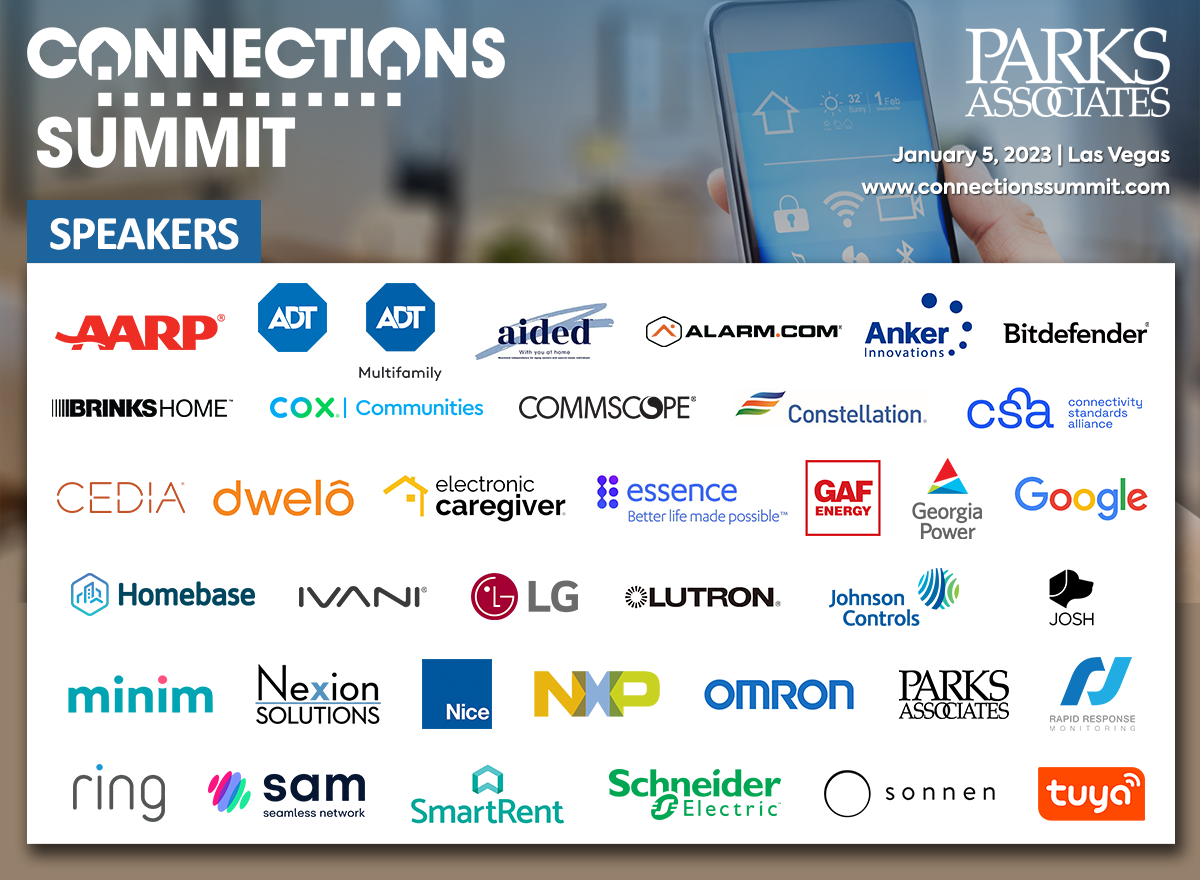 CONNECTIONS™ Summit at CES 2023 is an annual research and industry event hosted by international research firm Parks Associates at CES.
CONNECTIONS™ Summit features in-person sessions during CES 2023 on January 5, 2023, in Las Vegas and focuses on the rapid deployment of connected products for consumers including the new business models, technologies, partnerships, trends, and key issues impacting the rapidly changing landscape of the connected home.
The executive event features panel discussions on the smart home, Internet of Things (IoT), and connected entertainment, analyzing trends and implications for connected consumers and opportunities for companies to build new revenues and innovative business models.
CONNECTIONS™ Summit sessions feature commentary, insight, and debate on consumer and industry trends, new business models and technologies, growth opportunities, and successful market strategies.
Our 2023 sponsors include Johnson Controls, Connectivity Standards Alliance, Alarm.com, Electronic Caregiver, Homebase, Ivani, Nice Group, and Rapid Response Monitoring.
Our 2023 supporters include Construction Business Revenue, Construction Tech Review, Energy Tech Review, HomeGrid Forum, ioXt Alliance, and The Monitoring Association.
The event will begin at 9 AM PT and the panels and speakers are the following:
9:00 AM Value-Added Services – Expanding Broadband
This session addresses issues driving home networking technology, legacy, and emerging usage models, how the industry addresses fragmentation, privacy and security, and value-added services.
· Jeff Holleran, VP Product, SAM Seamless Network
· Mehul Patel, CEO, Minim, Inc.
· Kevin Po, Group Product Manager, Google
· Razvan Todor, VP, Product Management, Bitdefender
· Ian Wheelock, Engineering Fellow, CTO Office, CommScope
· Moderator: Jennifer Kent, VP, Research, Parks Associates
10:00 AM Scaling Smart Home: Smart Apartments and Smart Spaces
Consumer demand for tech in apartments continues to increase. This session addresses the growth of proptech and new opportunities to serve the consumer in multifamily environments.
· John Butrim, Vice President - Multifamily, HOA & Builder, ADT Multifamily
· Mitch Karren, Executive Vice President, Corporate Development, SmartRent
· Blake Miller, CEO, Homebase.ai
· Vickie Rodgers, VP and General Manager, Cox Communities, Cox Communications
· Michael Rovito, President, Level Home and Dwelo
· Moderator: Kristen Hanich, Director of Research, Parks Associates
11:00 AM New Era of Home Energy: EVs, Solar, Storage
This session highlights the growth of energy management solutions including energy devices, systems, and analytics in the home.
· Martin DeBono, President, GAF Energy
· Chris Keefe, Director of Product Management, Schneider Electric
· Tray Leslie, Renewables & Resiliency Manager, Georgia Power Company
· Aaron Warren, Principal, Channel Development, Constellation
· Adam Weinstein, Executive Sales Manager, sonnen
· Moderator: Chris White, Director of Research, Parks Associates
1:00 PM Smart Home Security: Automation, Response, and New Value
This session addresses the expansion of home security devices and systems, including the blurred lines between DIY and pro security creating the ultimate in choice for consumers.
· Jennifer Doctor, Senior Director, Product Management, Johnson Controls
· Liz Kohler, Founder, Nexion Solutions
· Akash Sah, Chief Strategy Officer, Brinks Home
· Jen Theobald, Director of Strategic Partnerships, Rapid Response Monitoring Services
· Eric Villines, Head of Global Communications, Anker / eufy
· Andrew Vloyanetes, GM, Ring, an Amazon Company
· Moderator: Elizabeth Parks, President and CMO, Parks Associates
2:00 PM Smart Home Platforms: Interoperability and Partnerships
This session addresses partnerships, technology developments, interoperability challenges, and new applications and experiences for consumers as smart adoption continues to move to achieve mass-market adoption.
· Abe Kinney, Senior Director, Product Management, Alarm.com
· Michelle Mindala-Freeman, Head of Marketing & Member Services, CSA - Connectivity Standards Alliance
· Sujata Neidig, Marketing Director, NXP Semiconductors
· Leah Page, Senior Vice President, Product Strategy & Innovation, ADT
· Paul Williams, Chief Product Officer, Nice North America
· Moderator: Chris White, Director of Research, Parks Associates
3:00 PM Virtual Care and Independent Living: Keeping Seniors Safe
This session addresses the senior and caretaker market, highlighting the role of PERs and independent living solutions.
· Yaniv Amir, President, Essence USA Inc
· Steve Burger, President and Co-Founder, Aided, Inc
· Joshua Di Francis, Head of Incubation, LG Electronics
· Daniel McCaffrey, VP of Digital Health and Software, OMRON Healthcare
· Charlotte Yeh, Chief Medical Officer, AARP Services, Inc
· Moderator: Kristen Hanich, Director of Research, Parks Associates
4:00 PM The Whole Home Experience: Use Cases, Services, and Support
This session addresses the whole home vision for tech across the various ecosystem, including new use cases and support for the complex network at home.
· Melissa Andresko, Chief Corporate Brand Ambassador, Lutron Electronics
· Alex Capecelatro, CEO, Josh.ai
· Mark Francis, Chief Product Officer, Electronic Caregiver
· Justin McKinney, CEO & Co-Founder, IVANI
· Giles Sutton, SVP of Product & Business Development, CEDIA
· Moderator: Jennifer Kent, VP, Research, Parks Associates
5:30 PM Networking Reception, sponsored by Johnson Controls
For more information, visit www.connectionssummit.com
Next: Upcoming Webinar | How Broadband Providers Win Managed Services with Exceptional Experiences
Previous: Energy Management is Emerging as a Key Driver for Tech in the Home

Comments
Be the first to leave a comment.
Post a Comment