First Change in Top 3 SVOD Service Ranks Noted in Parks Associates Top 10 OTT Subscribers List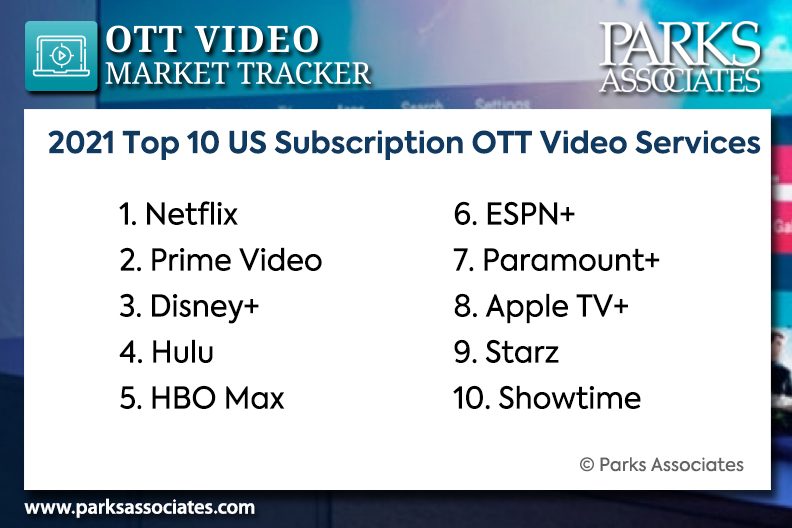 Parks Associates revealed the Q3 2021 top ten subscription over-the-top (OTT) video services based on number of subscribers, with Netflix as the reigning top subscriber service and Disney+ moving into the top three, pulling ahead of Hulu in number of subscribers. This is the first change in the top three services since the firm started tracking these OTT providers in 2015.
"While the Disney+ content portfolio may have allowed it to leapfrog stablemate Hulu in 2021 rankings, its position reaffirms the collective power of the Disney Bundle triumvirate: Hulu, Disney+, and ESPN+," said Paul Erickson, Director of Research, Parks Associates.
Parks Associates' top 10 OTT services by subscriber volume are based upon reported figures and estimates from Parks Associates' OTT Video Market Tracker using multiple consumer surveys, network traffic data, and service provider information. The Tracker, an annual service from Parks Associates, features monthly updates on trends and market activities in the OTT video space including comprehensive tracking of existing and emerging players and quarterly subscriber estimates.
The top 10 list of subscription OTT video services for the U.S. market is as follows:
1. Netflix
2. Amazon Prime Video
3. Disney+
4. Hulu
5. HBO Max
6. ESPN+
7. Paramount+
8. Apple TV+
9. Starz
10. Showtime
HBO Max moved into the top five, and Paramount+ (rebranded from CBS All Access) moved to number seven. Last year, CBS All Access held the eighth spot on Parks Associates' list. Not shown is new entrant, Discovery+, which is closely behind Showtime in the eleventh position. "ViacomCBS's successful rebrand and content-fueled reformulation of CBS All Access into Paramount+ have allowed it to leapfrog Apple TV+ into seventh place behind ESPN+, "Erickson said," and time will tell if the service will break into the Top 5."
Other research recently released by Parks Associates includes:
• Nearly 50% of US broadband households have four or more OTT video service subscriptions
• 19% of all broadband households now have a vMVPD service
• 72% of US broadband households view video on multiple platforms, and 40% view video on all device platforms
• 46% of US broadband households subscribe to four or more OTT video services
• OTT video service subscriptions jumped to 82% of US broadband households, up from 76% in Q1 2020
Parks Associates recently explored the video service market, including use of data and AI solutions to improve OTT retention, at Future of Video: OTT, Pay TV, and Digital Media. Visit www.futureofvideo.us for more information on how to access sessions.
Next: The Future of Consumer Tech – 10 Key Trends to Watch in 2022
Previous: Big Acquisitions Mark this Week in the Smart Home

Comments
Be the first to leave a comment.
Post a Comment