Cybersecurity in the Smart Home: Earning Consumer's Trust
During the Protecting Consumers at Home: Security and Privacy Matters panel discussion at the recent CONNECTIONS: Connected Home Conference hosted by Parks Associates, it was revealed that 54% of consumers are concerned about identity theft but are unsure about how to protect their data and privacy.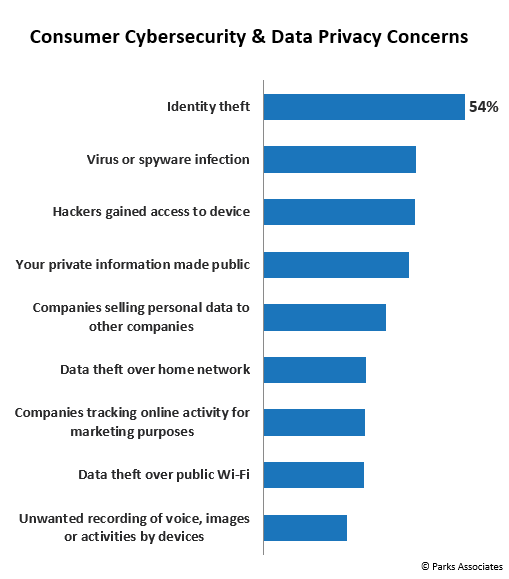 Consumers are concerned about cybersecurity and data privacy threats but are also confused about the nature of these threats and how to protect themselves against them. In addition to the data above:
62% of consumers in US internet households feel that it is impossible to keep data completely private.
Only 37% of trust the companies that have access to their personal data.
Only 26% feel that they get value in return for sharing access to their personal data.

These are sobering numbers.
When the panel was asked about the biggest privacy and security vulnerabilities that consumers are facing in the connected home market today, Razvan Todor, Senior Director of Product Management at Bitdefender, confirmed that weak, old passwords make an individual an easy target —but he added that the shift to work-from-home has resulted in people bringing more and more devices into the home, increasing the ways in which hackers can attack.
Jeff Elbaum, VP of Global Sales at Iris Powered by Generali, further stated that traditional identity theft has increased from 10 to 15 million Americans in the last year. This may be at least partly due to the fact that more people are going online to make purchases and connect with others socially, but also, they are bringing more connected online devices into the home, reiterating that more devices increase vulnerability by offering a greater opportunity for attack.
The interconnectivity that smart devices bring to the home doesn't only increase convenience. These devices can also help consumers more efficiently manage their energy consumption, remotely check in on loved ones, and even help mitigate water damage from leaks (among others). Unfortunately, the cybersecurity integrated within these devices has not always kept up with the innovations of the technology industry. This means that with the added benefits smart home technology brings to consumers, it also brings opportunities to those interested in stealing information.
Interestingly, both internet service providers and residential security providers are well positioned to be part of the solution. Consumers with smart home devices, for instance, indicate they are interested in a unified smart home app experience from a residential security provider over other provider types because they trust them with their data. At the same time, 29% of US internet households interested in data security services want a home network router that has built-in protection for all of the devices on the home network, and this preference rises with age.
Data privacy and security is a persistent problem for the smart home device space, but consumers are open to solutions from companies that earn their trust. Transparency regarding partnerships and communicating who has access to customer data will be an important differentiator, and services offering advanced cybersecurity protection is an opportunity for new revenue.
For more insight into shifting consumer perspectives around data privacy, including desire for privacy controls and preferences for how companies collect and manage their data, see Parks Associates' Quantified Consumer study: Data Privacy and Security in the Connected Home.
Next: Building Brand Loyalty across the Smart Home – Webinar Cohosted by Parks Associates and RouteThis
Previous: Parks Associates Welcomes CONNECTIONS™ Sponsor Midea

Comments
Be the first to leave a comment.
Post a Comment