Consumers, Distributed Energy, and the Expanded Role of Utilities
Utilities are in a unique position as their customers span multi-generations, income and education segments, renters, homeowners, and individuals, in addition to families. In traditional, non-retail markets, which represent the majority of households, their relationship is long-term. They are a trusted advisor in their communities even though many consumers only interact with their utility when moving to a new residence, paying a monthly bill or when an outage occurs.
Energy management is a key component of the connected home, and utilities are a key distribution point—23% of U.S. broadband households that bought a smart home device in the past 12 months made the purchase due to an incentive, discount, or rebate from their energy provider.
New business models and technology provide opportunities to change the customer relationship, drive engagement and participation in utility programs that optimize energy usage, and incentivize consumers to be more energy efficient. Progress over the past few years includes new partnerships that enable utilities to integrate with different platforms to provide consumers with a more personalized/interactive experience with their utility provider.
Partnerships with 3rd parties are critical to optimizing available opportunities, whether those partners are retailers, device manufacturers, or other service providers that can expand offerings capabilities or improve customer satisfaction.
However, while most consumers value having a high-efficiency home, most also have a low bill. The Energy Information Administration (EIA) reported an average monthly energy bill of $111.67 in 2017 in the United States, with a third of households having an average utility bill of less than $100. Parks Associates latest research of 10,000 internet households shows that the average spending on electricity is $146 per month.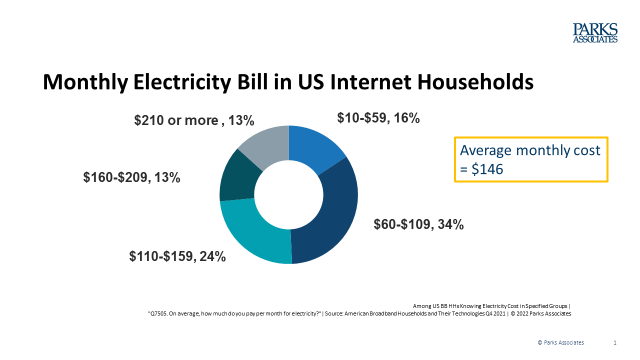 The use of renewable energy is changing consumers' mindsets to a more energy-conservative concept. Utility providers and technology companies are currently implementing solutions that give consumers the means to monitor and set energy usage in their homes with the rollout of smart meters across the U.S. According to the U.S. Energy Information Administration, "U.S. electric utilities had about 102.9 million advanced (smart) metering infrastructure (AMI) installations and about 88% of them were residential customer installations".
Our latest data shows that 44% of internet households or almost 50 million households say they are taking active steps to reduce their energy consumption at home. Utility seeking to fulfill the goals of energy efficiency programs are introducing new home energy management programs (HEMS). These programs utilize energy monitoring and data services to allow customers to view their energy usage. Usage feedback and tips may take the form of a bill insert, web application, or mobile app.
Utilities have been the primary providers of HEMS tools and have helped attract and retain customers and meet energy efficiency goals. As more home automation platforms include energy monitoring features, bundling of services will likely disrupt the position of utilities as integrated services offer consumers convenience through centralized control, data dashboards, and communications. The challenge of HEMS services is in keeping consumers engaged over time after the initial novelty wears off.
To date, U.S. household adoption of smart home products is driven by security and safety use cases, but energy-related use cases are helping push the smart home market beyond early adoptions to reach the more cost-conscious mass market. Behavior modification, i.e., adjusting lifestyle patterns to realize greater efficiencies, is key to effective home resource management. The intelligence and automation offered by these smart energy and water devices can free the consumer from the daily choices required to manage energy or water resources better.
Making life better, simpler, and more efficient is the promise of the smart home. Parks Associates is excited to address the future of energy and the consumer at home at the 13th annual Smart Energy Summit: Engaging the Consumer on February 28-March 2 at the Omni Hotel in Frisco, TX.
Smart Energy Summit, a three-day conference sponsored by Schneider Electric, Rapid Response Monitoring, Zen Ecosystems, and Particle.io, features Mike Wajsgras, Executive Director Innovation, Growth, and Digital & Managing Director Constellation Connect, Constellation Energy.
Sessions are focused on strategies to expand smart energy adoption and solutions to integrate these products and services into the expanding connected home ecosystem.
Next: Parks Associates Announces Particle as 2022 Smart Energy Summit Sponsor
Previous: Parks Associates' Smart Energy Summit Returns with Insights on Residential Energy Management Solutions and Utility Programs

Comments
Be the first to leave a comment.
Post a Comment