Apple Announces Landmark Deal with Major League Soccer – with focus on The Consumer Experience and Growing Global Soccer Audience
Apple's announcement today regarding its deal with MLS (Major League Soccer) reveals a huge partnership that will play out over 10 years, valued at $2.5 billion.
Launching Feb 1, the MLS Season Pass from Apple will offer MLS fans every live match plus access to all postseason games, with no blackout dates for $14.99 a month or $99 per season. For Apple+ subscribers, the discounted rate of $12.99 a month and $79 per season is offered.
Prior to the 2020 OTT streaming boom, the bulk of major sports viewing was available on traditional television. Sports on linear TV is one of the few reasons why people continue to subscribe to cable television. Livestreamed content though is now the new source for online video growth. According to Parks Associates consumer survey of 10,000 households, over 40% of broadband households have watched a live event online and sporting events are, by far, the most popular type of live-streamed content.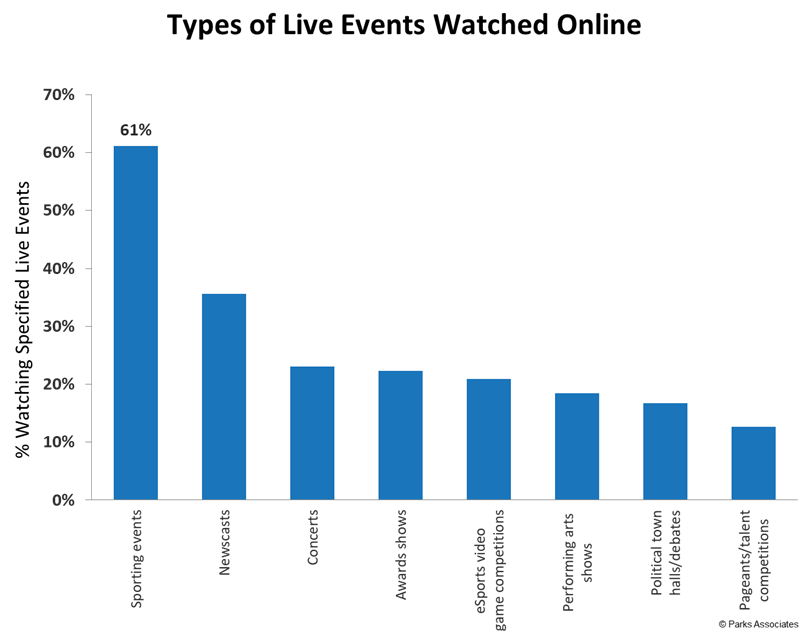 Sporting events are driving the livestream market, as nearly two-thirds of livestreaming viewers watch sports. Data from Parks Associates Q1 2022 survey indicates that sports content consumers are dedicated viewers and willing to pay for sports streaming services. Almost half (49%) of sports fans are willing to pay $20.00 per month for a service that provides access to all their favorite teams' games.
Parks Associates research offers strong evidence that soccer fans will find this offer appealing: 62% of soccer viewers said they would be highly likely to pay $20 per month to access all of the games of their favorite team. More soccer fans are willing to subscribe to a premium sports service than any other fan segment tested.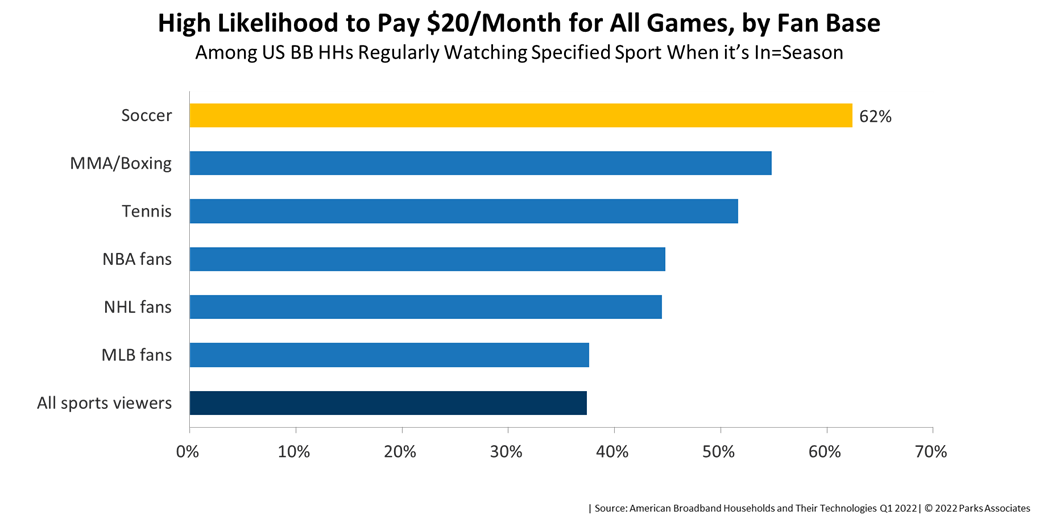 Apple/MLS is a landmark sports agreement because it is the first time a major sports league has made all programming available on a single platform. For sports offered through streaming services, the existing discovery process is like finding the most recent episode of an entertainment show but a bit more complicated. When looking for sports-related content, most fans search for their favorite team rather than a specific genre.
A byproduct of the fragmentation of media rights online is that consumers need to complete multiple steps before discovering his/her content choice. The Apple agreement offers access to all Major League Soccer, League Cup, and select MLS NEXT Pro and MLS NEXT matches without local broadcast bans or the need for a pay-TV package. In addition to a new weekly whip-around show, subscribers will receive game replays, highlights, commentary, and other content. Apple and MLS will provide further information on pricing, streaming schedules, postgame and pregame programming throughout the rest of 2022.
Apple's huge investment into MLS follows where Apple's focus has always been – on meeting demand how and when the consumer wants it. This deal is about the experience of watching the games; Apple indicates that it will provide broadcast crews in both Spanish and English. Viewers will have the option to switch to their local broadcast as well.
The implications are enormous for the future. New sports programming will drive new options for advertising dollars with technology enabling new revenue generating activities including interactive, shoppable viewing, sports betting, partnerships with specific brands and players, advertising through multiplatform devices and new ways to feature ads within sports programming content. While other sports leagues are focused on splitting up rights to individual games or matches to diverse bidders in order to maximize licensing revenues, MLS and Apple are putting the consumer experience first.
Next: The time is now: Fight pirates with Digital Watermarking - Insights from Friend MTS
Previous: Netflix Experiencing Backlash in Latin America

Comments
Be the first to leave a comment.
Post a Comment