Parks Associates Announces 2022 CONNECTIONS Summit Sponsor EarlySense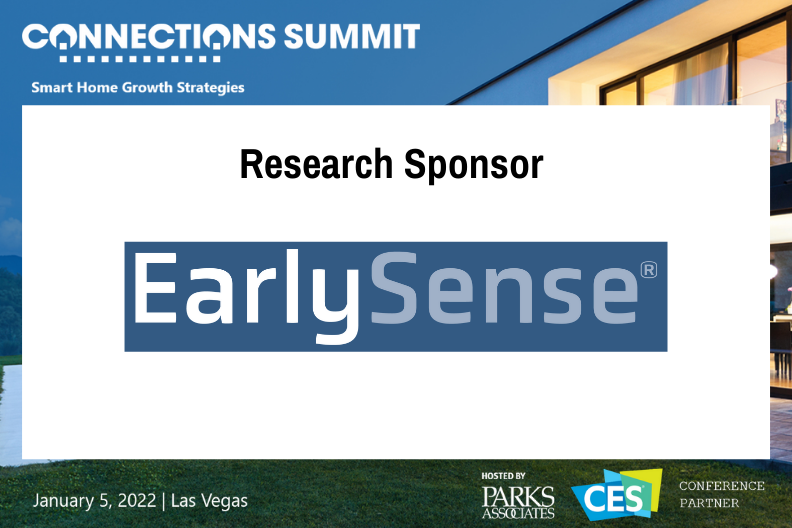 Parks Associates' CONNECTIONS™ Summit: Smart Home Growth Strategies conference series is excited to announce EarlySense as a Research Sponsor.
EarlySense® is the global leader in 100-percent contact-free, continuous monitoring solutions. Used worldwide in hospitals, post-acute care facilities, virtual care and remote patient monitoring applications, EarlySense technology delivers reliable and comprehensive multi-vital, motion, and sleep data. When paired with the company's predictive data science applications, EarlySense solutions empower providers, clinicians, and patients with continuous multi-vital data and actionable insights that improve quality of life and patient outcomes across the care continuum. The company has partnered with leading global technology companies, including Samsung, Welch Allyn, iFit, and Beurer. EarlySense is based in Ramat Gan, Israel, and Woburn, Massachusetts. For more information, visit www.earlysense.com.
Don't miss the upcoming CONNECTIONS™ Summit sessions during CES 2022 on January 5, 2022, in Las Vegas, focusing on the rapid deployment of connected products for consumers, including the new business models, technologies, partnerships, trends, and key issues impacting the rapidly changing landscape of the connected home. The executive event features panel discussions on the smart home, Internet of Things (IoT), and connected entertainment, analyzing trends and implications for connected consumers and opportunities for companies to build new revenues and innovative business models.
For more information on event sponsorship opportunities, don't hesitate to get in touch with sales@parksassociates.com.
Next: Smart Home Devices Can Increase Rental Fees for Multifamily Housing by 5%-30%
Previous: Parks Associates' CONNECTIONS Conference Continues with Executive Insights on the Latest Home Networking and WiFi Solutions

Comments
Be the first to leave a comment.
Post a Comment