Using Personalization to Retain OTT Customers - Insights from ThinkAnalytics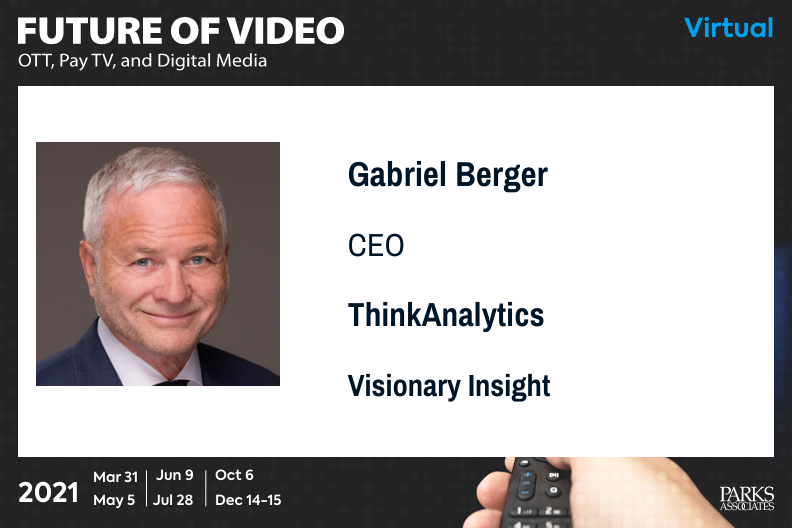 Parks Associates' Future of Video: OTT, Pay TV, and Digital Media 2021 virtual conference series continued with June 9 sessions, Retention and Churn in OTT, and Data and Decision Making in Video Services. Gabriel Berger, CEO, ThinkAnalytics, was featured as the visionary keynote speaker during the session Data and Decision Making in Video Services, where he discussed the best practices in data-driven decision making and how to maximize a competitive advantage in today's crowded video services market. Following the session, Gabriel provided insights on how OTT video services use data to acquire and retain customers:
How are OTT video services using data to acquire, engage, and retain customers? What are the latest use cases and technologies?
We see enhancements in personalization as critical, particularly to more effectively engage and retain customers. One of the more exciting use cases is personalized images. By applying advanced AI techniques and information science, the process of selecting the best and most appealing image for each viewer is automated.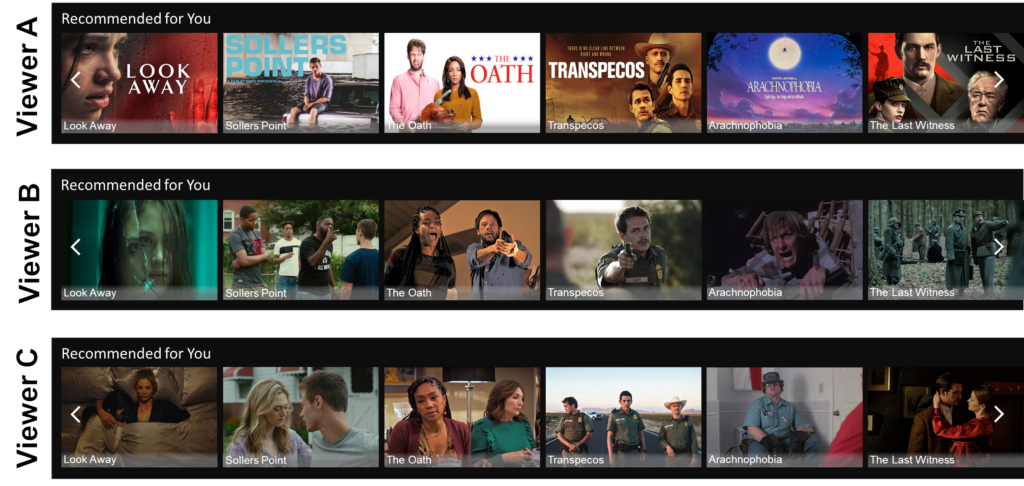 Results from early customer deployments have produced impressive and consistent uplifts of 10-15% compared to displaying a single standard image. By dynamically selecting program images, personalized images help increase viewership, monetize content and increase the number of titles and hours watched per viewer.
When you adopt true personalization right down to the individual viewer you start to gain an incredibly rich profile that can be used not just for content recommendations, but also other facets such as targeted advertising. Although much has been said about targeted advertising over the years, it is only now that it is really coming into its own.
What are the advantages and disadvantages of OTT video aggregation? What industry drivers and consumer trends are driving the market back towards aggregated content distribution, consumption, and subscription?
The idea of superaggregation from within a pay-TV service appeals to consumers because they can easily access content from multiple subscription services in one place. This liberates them from having to browse, search and navigate content on each platform individually, and from having to switch cables on the main screen.
By giving subscribers a fantastic experience across all TV, catch up and streaming services in a one stop shop, service providers can boost that all important viewer engagement.
Key to a successful superaggregation service is the need to shield viewers from the siloed and complex underbelly of multiple content sources/catalogs so that they can quickly discover compelling content to watch. For this to work, providers need massive scalability in the cloud, operational efficiencies to control cloud costs, and a frictionless way to discover content across vast and growing catalogues of previously siloed content.
A scalability breakthrough means that service providers can now offer superaggregation services powered by personalized recommendations and universal search, across unlimited, siloed home-grown and third-party OTT apps, as well as linear, VOD, catch-up and DVR content (both STB and cloud recordings), and in multiple languages.
In the last year or two, what customer engagement and acquisition tactics are OTT service providers using to actively engaging potential and existing customers? How has COVID-19 influenced these strategies?
During COVID-19, we were faced with the issue of if you recommend all of the obvious content over time, how do you introduce new and compelling search and recommendation choices to that customer? We needed to find a way to make the suggestions not feel forced, but rather proceed in a logical way with a well thought out process. We refer to this technique as "spreading." Spreading is the process of recommending content that is slightly vectored off of what viewers ordinarily consume and taking them out of their comfort zone to explore new content.
Join us for our 2021 Future of Video virtual sessions! Register Now

Next: Parks Associates' Future of Video Returns with Insights on Trends in the Streaming Video Market
Previous: Video Services Dashboard: Q2 2021

Comments
Be the first to leave a comment.
Post a Comment