The Pandemic Forced an Increase in Telehealth Adoption - Insights from Amwell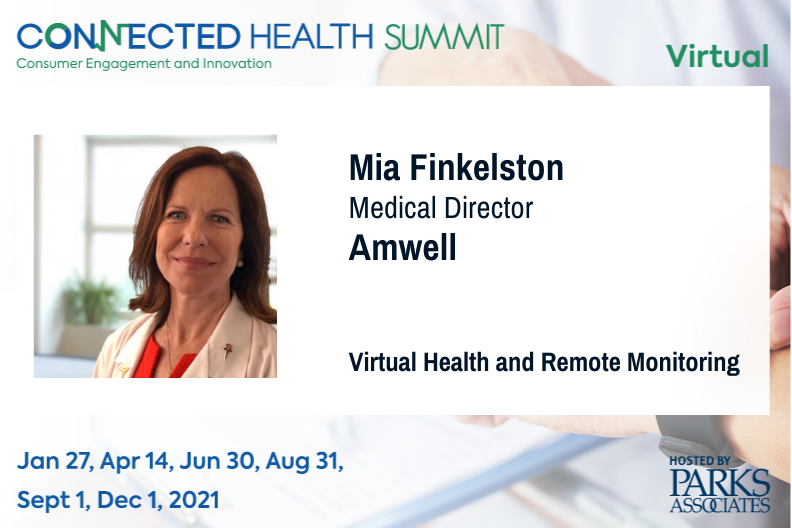 Parks Associates' Connected Health Summit: Consumer Engagement and Innovation 2021 virtual conference series continues on Tuesday, August 31 with sessions Virtual Health and Remote Monitoring and Connected Health Business Models from 11 AM to 1:15 PM CT. Mia Finkelston, Medical Director, Amwell is featured as an interactive panel member during the session Virtual Health and Remote Monitoring 12:15 PM CT and will evaluate the user experience with telehealth services and investigate consumer appetite for virtual care as a standard offering, outside of crisis conditions. Prior to the session, Mia provided insights on how telehealth adoption has shifted as a result of COVID-19:
How have consumer attitudes towards connected health solutions shifted in the last year?
The pandemic served as a forcing function for increased telehealth adoption. Amwell's 2020 Physician and Consumer Survey found that the number of consumers who had a virtual visit nearly tripled since 2019 and that 59% of the consumers who had a video visit had their first one during the pandemic. Typically, the biggest hurdle is getting patients to use telehealth for the first time – once they use it they love it and understand that it can be a more convenient alternative to quality care. With more patients experiencing virtual care over the past year we're seeing a greater willingness to use it moving forward, and for a greater number of use cases.
Will shifts in consumer behaviors related to fitness, wellness, chronic care management, and care for senior populations outlast the COVID-19 crisis? How can solution providers keep consumers engaged over the long-term?
With many patients trying telehealth during the pandemic, they are becoming increasingly comfortable using it for more care going forward. We expect this trend to continue, and see the future of care taking shape in a hybrid model that seamlessly combines physical, digital and automated interactions. Having said that, providers will play a key role in keeping consumers engaged in using telehealth going forward. Patients will listen to their doctors so the more providers who use telehealth and recommend it to their patients, the more patients will continue to use it in the future.
Join the virtual discussion during our 2021 Connected Health Summit sessions! Register Now

Next: Telehealth is Here to Stay - Insights from Scripps Health
Previous: New Consumer Trends in Telecare and Connected Health

Comments
Be the first to leave a comment.
Post a Comment