Telehealth is Here to Stay - Insights from Scripps Health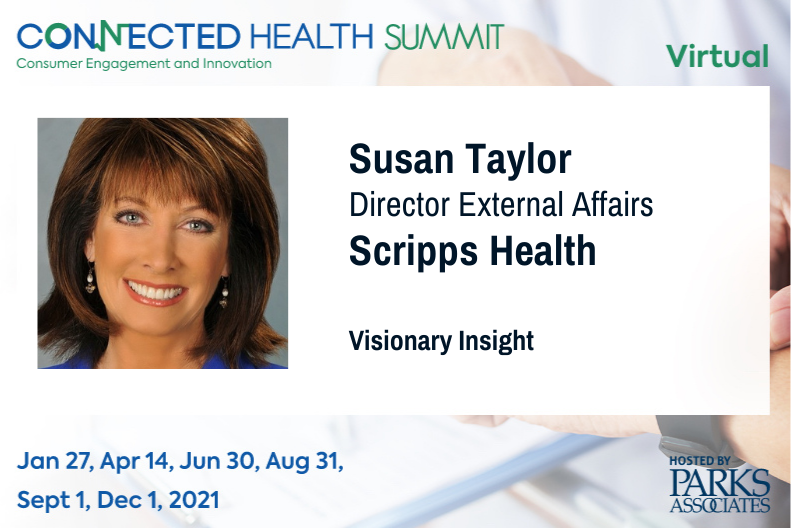 Parks Associates' Connected Health Summit: Consumer Engagement and Innovation 2021 virtual conference series continues on Tuesday, August 31 with sessions Virtual Health and Remote Monitoring and Connected Health Business Models from 11 AM to 4:15 PM CT. Susan Taylor, Director External Affairs, Scripps Health, is featured as the Visionary Insight during the session Virtual Health and Remote Monitoring at 11:15 AM CT and will evaluate the user experience with telehealth services and investigate consumer appetite for virtual care as a standard offering, outside of crisis conditions. Prior to the session, Susan provided insights on how COVID-19 has impacted the Scripps Health system:
During Covid, we had more than 500 thousand virtual visits across the Scripps Health system. At the height of the pandemic, 71% of our total visit volume was being seen as a virtual visit. We were seeing roughly 2600 patients a day virtually at our 29 clinics. During just the month of April 2020, we conducted 60 thousand virtual visits. The highest percentage of telemedicine visits were for diabetes and endocrinology. But we also saw a lot of patients virtually for internal medicine, gastrointestinal and integrative medicine. Our virtual visits were attractive to many demographics including our seniors who have been most concerned about leaving their homes during the pandemic.
Now, as Covid is winding down, 25% of our daily patient visits are still being done virtually, so this technology is here to stay.
ABOUT SCRIPPS HEALTH
Founded in 1924 by philanthropist Ellen Browning Scripps, Scripps Health is a nonprofit integrated health care delivery system based in San Diego, Calif. Scripps treats more than 600,000 patients annually through the dedication of 3,000 affiliated physicians and more than 15,000 employees among its five acute-care hospital campuses, home health care services, 28 outpatient centers and clinics, and hundreds of affiliated physician offices throughout the region.
Recognized as a leader in disease and injury prevention, diagnosis and treatment, Scripps is also at the forefront of clinical research. With three highly respected graduate medical education programs, Scripps is a longstanding member of the Association of American Medical Colleges. Scripps has been ranked five times as one of the nation's best health care systems by Truven Health Analytics. Its hospitals are ranked No. 1 in San Diego County and among the best in the nation by U.S. News & World Report. Scripps also is recognized by Advisory Board, Fortune and Working Mother magazine as one of the best places in the nation to work. More information can be found at www.scripps.org.
Join the virtual discussion during our 2021 Connected Health Summit sessions! Register Now

Next: Parks Associates' Connected Health Summit Returns with Insights on Telehealth Services and the User Experience
Previous: The Pandemic Forced an Increase in Telehealth Adoption - Insights from Amwell

Comments
Be the first to leave a comment.
Post a Comment