Sink or Stream: Should Netflix Offer Live Streaming?
Historically, live sports programming has driven viewership and ratings for linear networks. Live sports programming continues to migrate online as more sports media rights become available. Numerous streaming providers continue to outbid one another for the coveted sports media rights. Sports consumers do not want to miss "water cooler" moments with their favorite sports teams. Live programming has been viewed by 78% of sports streaming subscribers. Even if news is not as popular in live streaming, breaking news given through live streaming OTT subscription services still drives audience engagement.
Hulu with Live TV, Amazon Prime Video, and Disney+ are key providers that now offer live streaming that are challenging Netflix's leadership position in the OTT ecosystem. Offering live streaming content is not just a chance for Netflix to acquire new subscribers, but also to retain existing ones. 64% of Netflix subscribers currently live stream content on other services. By doing so they could retain longer engagement with their service. This is particularly important in light of Netflix's recent earnings call announcing their expectation that they will lose millions of subscribers in 2022. There are several opportunities for a service like Netflix to provide e-gaming, esports, and red-carpet premiere events as live streaming entertainment, in addition to sports and news.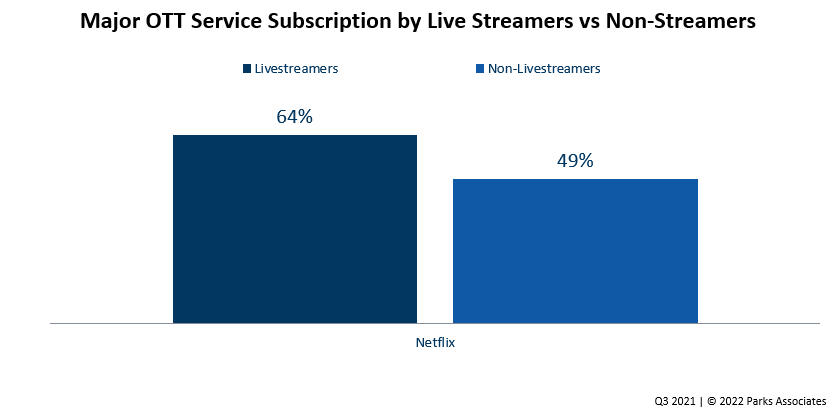 Traditionally, live sports programming has performed well. Shoulder, pre- and post-event programming does not perform nearly as well in terms of ratings as the actual event itself. These facts apply to both linear television and live streaming platforms. The gamification of sports content, interaction, and betting and wagering all contribute to the popularity of sports content as live streaming video.
For a more exhaustive analysis of market trends and profiles of the nearly 100 over-the-top video service providers in the U.S. and Canada, such as Netflix, HBO, YouTube, and Amazon, please check out the OTT Video Market Tracker or register for our upcoming Future of Video conference series virtual session on July 21!
Next: TikTok Now Available on VIZIO Smart TVs
Previous: Crackle TV Set to Launch Loyalty Program This Year

Comments
Be the first to leave a comment.
Post a Comment