Parks Associates Welcomes 2022 CONNECTIONS Summit Sponsor GE Lighting, a Savant Company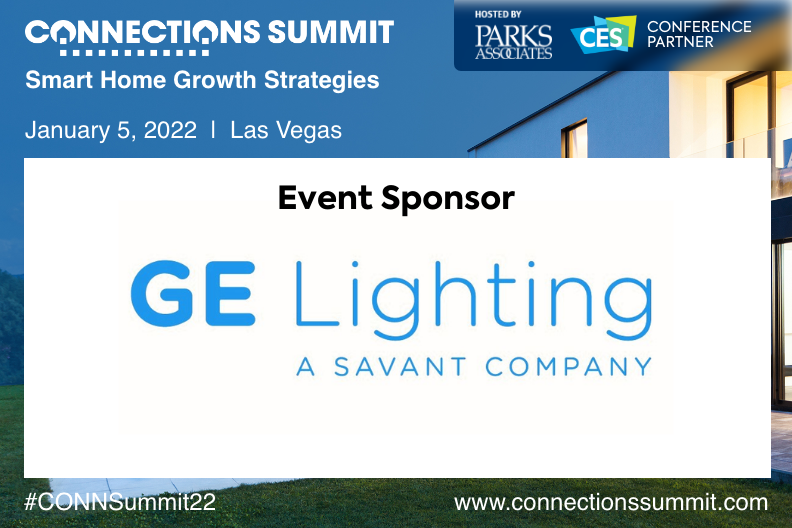 Parks Associates' CONNECTIONS Summit: Smart Home Growth Strategies conference series is excited to announce GE Lighting, a Savant Company as an Event Sponsor.
Headquartered at historic NELA Park in East Cleveland, Ohio, our roots date back nearly 130 years to Thomas Edison and the invention of the world's first light bulb. Today, as part of Savant Systems Inc. we're bringing the future to light by ensuring brighter lives and a more sustainable world through innovation and energy efficiency in lamps, switches, fixtures and so much more. We're also unleashing the ultimate personalized living experience through a growing suite of smart home products that help consumers connect with confidence and experience the comfort, quality and security for which GE branded products are known. Learn more at gelighting.com
Don't miss the upcoming CONNECTIONS™ Summit sessions during CES 2022 on January 5, 2022, in Las Vegas, focusing on the rapid deployment of connected products for consumers, including the new business models, technologies, partnerships, trends, and key issues impacting the rapidly changing landscape of the connected home. The executive event features panel discussions on the smart home, Internet of Things (IoT), and connected entertainment, analyzing trends and implications for connected consumers and opportunities for companies to build new revenues and innovative business models. Register today!
For more information on event sponsorship opportunities, don't hesitate to get in touch with sales@parksassociates.com.

Next: Consumers Are Embracing Smart Appliances - Energy Management is Highly Valued
Previous: What are the Key Drivers in Europe? - Insights from ASSA ABLOY

Comments
Be the first to leave a comment.
Post a Comment