Parks Associates' CONNECTIONS Conference Returns with Insights on the Demand for Smart Home Products in the MDU space, and More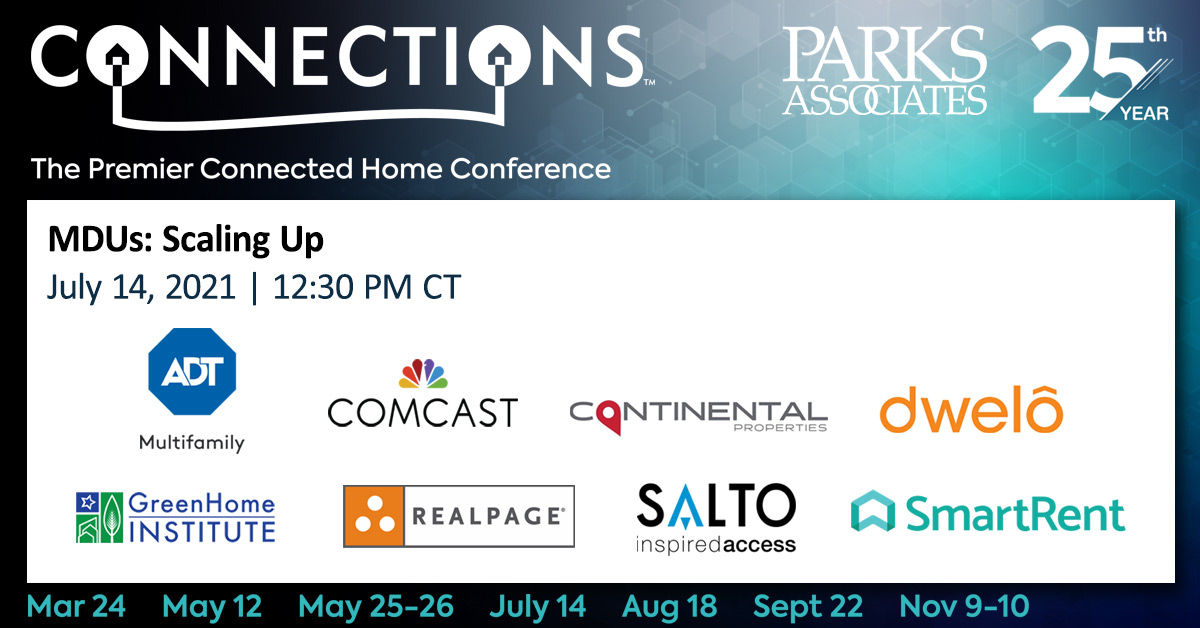 Parks Associates continues its 25th annual CONNECTIONS: The Premier Connected Home Conference virtual series with the upcoming session MDUs: Scaling Up on July 14 from 12:30 PM to 2:45 PM CT. During this session, leading industry executives will address the demand for smart home products and services in the multifamily housing market and the unique opportunities and challenges this market provides. Throughout the event, Parks Associates will highlight exclusive research data from their service Smart Home & MDUs: The Property Manager View which provides an ongoing analysis of latest perspectives from property tech managers and developers on smart products.
Additional Research Data:
• 43% of MDU residents owned a smart home device in 2020, compared to 30% in 2019
• 65% of MDU builders leverage smart home technology to add value and differentiate properties.
• 65% of multifamily builders report using smart home technology to modify their properties.
Register now to join interactive conversations regarding how device manufacturers seek to drive adoption of smart home products, multifamily rental properties, and more. Parks Associates will feature exclusive research and industry experts Henry Pye, Vice President, Residential Technology Services, RealPage; Demetrios Barnes, COO and Co-Founder, SmartRent; Marshall Friday, Director of Sales - Multifamily IoT & Smart Home, ADT; Preston Grutzmacher, Vertical Business Leader for Multifamily Housing, Salto Systems; Brett Little, Program Manager, GreenHome Institute; Michael Rovito, CEO, Dwelo; Andy Schnack, Senior Manager - Xfinity Communities, Comcast; and Steve Yahnke, Director of IT, Continental Properties will share their insights on the opportunities for consumers and service providers within the video services space.
Thank you to our event sponsors: Alarm.Com, Calix, COX Communities, SmartRent, Comcast, Bitdefender, Tuya, Ayla Networks, Plume, and Airties.
Register today to join upcoming sessions on August 18, September 22, and November 9-10!
Next: SmartThings Hits Milestone in Transition Away from Hardware
Previous: Future-Ready Broadband: Ubiquitous Connectivity for MDUs

Comments
Be the first to leave a comment.
Post a Comment