Health + Home: The Role of Tech in Modern Living
This article is compiled from a presentation by Jennifer Kent, VP of Research at Parks Associates, during the firm's 8th annual Connected Health Summit.
Today there are at least four main models developing for care that happens from home, including telehealth, virtual visits – typically for check-ups, primary care, or urgent-care type condition; remote patient monitoring to diagnose a specific condition, often cardiac issues or sleep disorders; ongoing remote patient monitoring programs for those with chronic conditions or for a limited period after someone has been discharged from the hospital; and finally, a hospital at home concept that brings hospital-level care into a patient's home, including not only monitoring devices but staff to the home as well. This last one is particularly interesting as healthcare systems take advantage of CMS's Acute Hospital Care at Home waiver, providing reimbursement for hospital-level care delivered at the patient's home under certain conditions. As of August 9, CMS counts 69 systems and 148 hospitals in 32 states approved for acute hospital care at home.
The vast majority of consumers will experience virtual care – through a telehealth visit, conversation, or chat service. And, Parks Associates data tracks the incredible growth of engagement with telehealth services over the past two years. In April of 2021, 64% of consumers reported that they had participated in a virtual visit of some sort in the prior 12 months, up from just 15% in 2019. There are similar jumps in familiarity, where 49% of adults now consider themselves "highly familiar" with telehealth, compared to 30% at the same time last year. The appeal of telehealth services has risen, as has the likelihood that consumers will use a telehealth service the next time they or their children are sick.
If we're looking for indications that telehealth services are here to stay, Parks Associates data absolutely indicates that consumers want and likely will expect telehealth to be available to them going forward.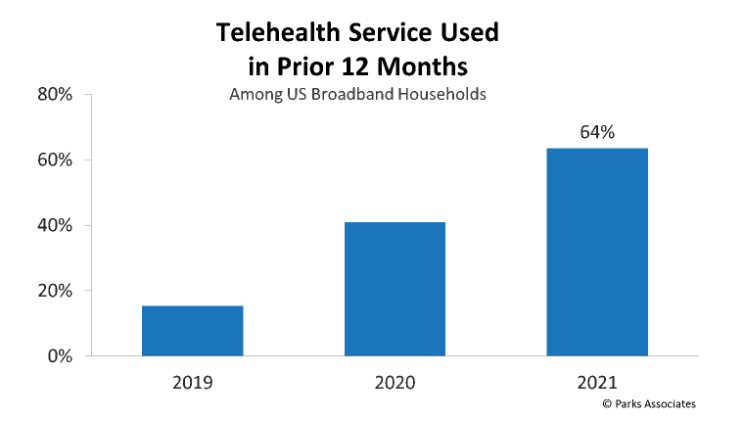 Over the past two years, one of the major shifts in telehealth models has been the route by which services are accessed and delivered. In 2019, 40% of those who had participated in a telehealth visit did so through a telehealth service with a nationwide network of doctors. This is not the primary delivery model today. Today local providers, mental health specialists, and hospital systems are the primary channel for telehealth and the face of the service to consumers. This is a great development. In the past, Parks Associates data has shown that consumers prefer telehealth services not to visit with ANY doctor but to visit with THEIR doctor. For many, this is now the reality, and consumer willingness to use telehealth has grown exponentially.
One of the main limiting factors for virtual visits today is simply the amount and type, and quality of data collected via a phone call or video visit, or chat service. And, it's all consumer-reported, likely qualitative, subjective data. In a facility setting, clinicians have access to real-time vital sign data from the various devices at hand.
These devices are provided in an RPM setting or hospital at home. But what about the growing number of devices that consumers have at home? How can providers make use of that data? Should they?
There is no doubt that more and more consumers have connected health devices in their homes. In 2021, 55% of US broadband households report owning at least one connected health device, including devices like Wi-Fi weight scales, smart thermometers, and Wi-Fi blood pressure cuffs. It also includes connected medical devices like CPAP machines, glucometers, and pulse oximeters. It also includes wellness-focused devices like smartwatches and fitness trackers. This is a huge jump from Q2 2020 – we typically do NOT see this type of jump in adoption in any category of products in a single year.
Looking at individual product categories, the more general-purpose devices, like smartwatches and weight scales, lead the pack and 27% of respondents report they personally use a smartwatch – a rate double that of just two years ago.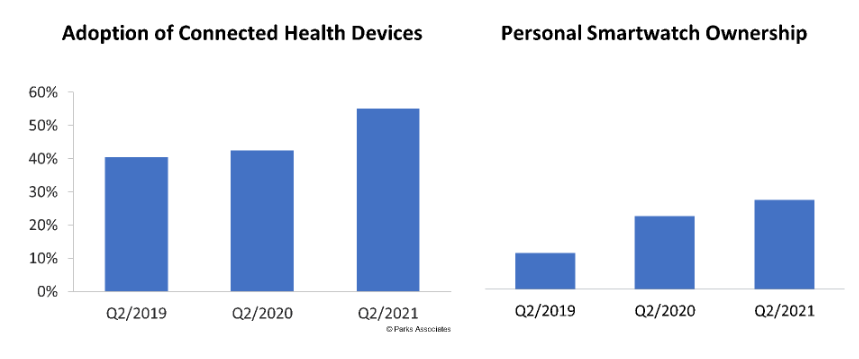 Consumer-grade devices – particularly smartwatches – have been adding capabilities with each new generation that make them more functional, more valuable to the user, and greater real help for health management. The Apple Watch is undoubtedly the best adopted and one of the most advanced smartwatches in this regard, but when we also consider devices from Omron, Fitbit, and others, the innovation out there is pretty incredible.
Today's smartwatches offer:
Heart rate monitoring
Irregular rhythm notification
ECG app to record symptoms as they happen
Blood pressure detection
Blood oxygen detection
Automatic fall detection and SOS calling
Stress monitoring
Medical ID
Physical activity monitoring
There are accuracy concerns and the devices do not YET replicate or replace traditional, regulated medical devices. However, just as the smartphone – in its multifunctionality – replaced any number of different devices we used to use for various roles in our lives – the smartwatch is increasingly becoming an even more personal multi-functional platform that can give users insights about themselves.
But, again, smartwatches are not the only devices consumers are interested in acquiring for personal or household use. Intentions to purchase connected weight scales, blood pressure cuffs, and thermometers have doubled year-over-year. Consumers want better insight into their health, a better ability to care for their family, and they are looking for solutions to help them do so at home.
This shift in consumer mindset – this jump in demand for connected health products and services – absolutely impacts care providers. We asked consumers what impact a variety of connected health products and services would have on their decision to select care providers in the future. One-third report that having the ability to share data from a connected health device with their provider would make them MORE likely to select that provider for themselves and their family. This jumps to over 50% among households with children.
Next: Telehealth Services are Here to Stay: Insights from EarlySense
Previous: COVID-19 Accelerated the Demand for Connected Health - Insights from ResMed

Comments
Be the first to leave a comment.
Post a Comment