Google Gives Cancelled Products a Second Chance at I/O
by Frank Saldaña | Jun. 22, 2022
Google's annual I/O event, which took place from May 11-12, revealed a handful of new releases and updates to its range of hardware and software. Google also shared that a few previously discontinued and canceled products would be revived, including Android tablets and watches, the latter of which will feature a partnership with Samsung. Android 13 was also debuted and is slated for release in August alongside the new Pixel 7 and 7 Pro. Key points of emphasis for Android 13 include enhancing user privacy and experience while also building out support for protocols such as Bluetooth LE.
Google expressed interest in recommitting to tablet and tablet app development with the announcement of the new Pixel Tablet, as well as new tablet interfaces for up to 20 Google applications. Recent tablet releases from the company have been scarce; the company last released tablet hardware (Pixel C) in 2015. Following a one-off return in 2018, the company again exited the tablet space for three years. Some applications receiving tablet integrations included Google Play, YouTube, Chrome, and Google Maps. It is very possible that Google is aiming to have its latest iteration of the Pixel Tablet double up as a smart hub/display, as attendees of I/O noted that the tablet keynote ended with a sneak peek of various pins, potentially indicating a display dock for connected devices.
Parks Associates latest research shows that smart speakers/displays are currently adopted in 54% of Internet households. Even further, our research reveals a strong correlation between smart speaker and smart home device ownership—60% of smart speaker owners and/or smart display owners own at least one smart home device, versus 34% of US broadband households overall. They represent an affordable option for a command-and-control center for a home's smart home and entertainment devices. Google in particular has been successful in tying its smart speaker/smart display products to the Google and Nest ecosystems—76% of Google smart speaker/smart display owners also own smart home devices.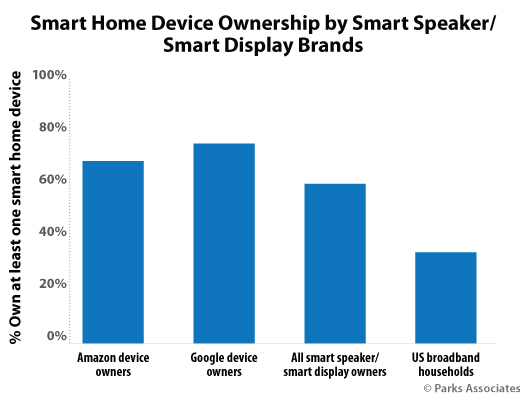 With help from Samsung, Google is also redesigning Wear OS, which has not received a major update in three years. Starting with the Galaxy Watch 4 (released August 2021), Samsung has united its smartwatch hardware with Google's Wear OS, which will eventually expand to include Fitbit. Google's smartwatch announcements were not limited to the software side; I/O also announced the Pixel Watch with the help of Samsung's "Exynos" chip division, providing an alternative to Qualcomm's chips, which have seen little updating since their initial launch in 2011.
Following multiple (unsuccessful) attempts at rebranding, Google Wallet was also announced at I/O. The revamped service will be available in 40 countries and feature the storage of non-payment data, such as boarding passes, vaccination cards, and student IDs.
Android 13, currently available in its third beta form, was also covered extensively at I/O. The latest update includes a new multi-window mode as well as accommodations for large-screen devices and improved smart home controls. System-level checks will also be added to minimize the threat of malware and other abuses of accessibility APIs. Other features include:
New privacy metrics, including a private photo picker and improved media permissions
HDR video and per-app language settings
Bluetooth LE Audio support
Google's updates to software and accessibility highlight a continued interest in cross-brand integration and compatibility. However, the planned release of new and revamped tablets and watches suggests the company is still vested in catching up to counterparts like Amazon, Apple, and Samsung in regard to hardware.
The need for business model innovation is necessary to meet the challenge of generating enough revenue to offset the costs of supporting connected products. Industry players are experimenting with hardware-as-a-service (HaaS) models, where companies sell packages that include hardware, software, maintenance, and sometimes installation for a monthly fee. All of these changes being made now are setting the stage for new offerings for consumers.
Next: Zero Response Time – New Whitepaper Developed with Essence
Previous: Newly Designed Home App Revealed at Apple's Annual WWDC

Comments
Be the first to leave a comment.
Post a Comment