Enabling Intelligent Home Automation: Creating the Vision of our Future
Voice control, data analytics, machine learning, sound recognition, and artificial intelligence play a substantial role in simplifying, streamlining, and automating the smart home, radically enhancing the value proposition by providing context, awareness, and decision making that moves the market beyond scripted, pre-programmed automation scenes. Integration between core smart home entryway and living room products and emerging ones in the kitchen, garage, and bedrooms are increasingly feasible. Video and audio analytics provide the eyes and ears for the smart home, enabling new ways to provide value. In addition, as connectivity is being extended to numerous product categories, smart home solution providers must understand the opportunity for integration with a broader range of solutions in and around the home.
Overall adoption of connected home products is increasing each year, but the next five years will see much broader adoption of groundbreaking technologies, such as AI, machine learning, voice control, video analytics, sound recognition, robotics, and more. These technologies enable intelligent home automation to bring a new level of convenience to end users.
Parks Associates latest research shows a rising average number of connected devices in the home, jumping from 13 in 2020 to 16 at the start of 2022, which includes a mix of smart home, connected health, and connected CE devices. The growing convergence among these home ecosystems is driving new use crossover use cases as well—currently, one third of smart home device owners use a security device to control their smart home automation.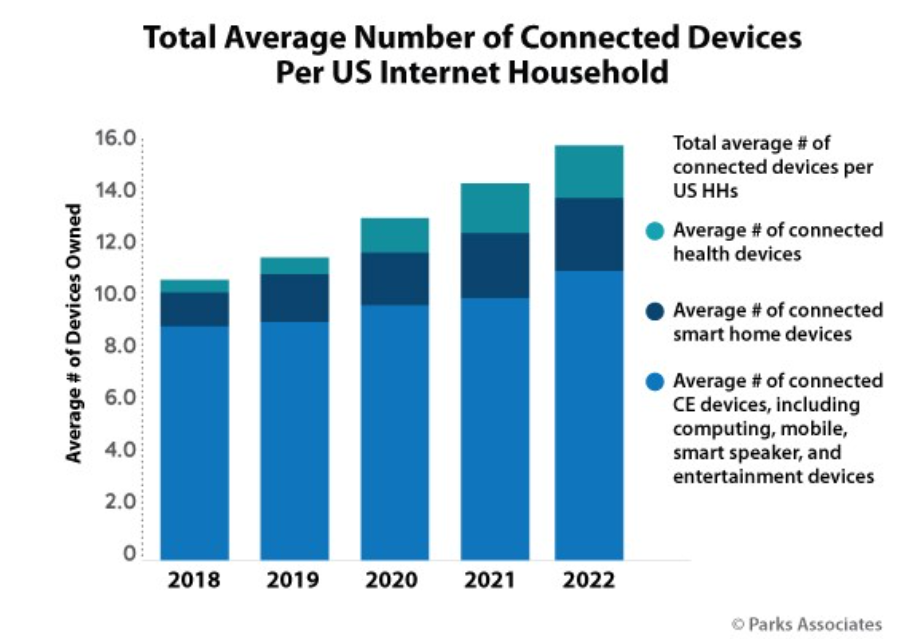 There are many factors propelling the market forward, including the push from consumers for greater control and security. As consumers settle into post-pandemic life, many have permanent changes to their living and work arrangements and new value placed on broadband and connected devices. The opportunity for expanded services across energy, security, health, entertainment, and controls industries in the home is huge. Consumer IoT solution providers can consider the following implications and recommendations for how to move forward:
AI and machine learning will enable true home automation. Predictive analytics and machine learning will help create greater experiences in the smart home by enabling the home to become truly intelligent, learning family habits, patterns, and even needs. To achieve full home automation, interactions with consumers must be treated gently and incrementally. Recommendations can lead to nudges which can lead to true automation after the user has affirmed certain courses of action or preferences. Consumer control is critical. The intelligence of a product or system best functions as an extension of the owner's intelligence that offers more convenience, safety, savings, and peace of mind.
Increasing interest in processing video and audio at the edge requires chipsets and networking modules that can meet the robust specifications for memory, processing power, and security. Smart home systems are processing more data in order to become more context aware through using AI and machine learning. This contextualization enables deeper personalization and more intelligent automation of devices and services. For example, the next generation of security systems may never be armed/disarmed but actively working all the time to understand the occupancy and the context of the home to provide different kinds of protection. This intelligent functionality will require cameras, sensors, and controllers capable of collecting, processing, and managing that data.
Distributed intelligence is an approach that warrants exploration. Innovation in the cloud has evolved at a rapid pace. Abstraction layers and API management services are delivering the technology to enable distributed intelligence. As new technologies emerge, players will have to evolve in their approach. Many future systems will use a distributed control strategy with a voice user interface as the only centralized function. However, not all offerings will follow this strategy - service providers, security companies, and high-end system integrators have designed their offerings with a centralized control infrastructure instead. As voice vies for dominance, stakeholders in the smart home arena will need to understand how voice interfaces impact their strategies and how to adjust strategies moving forward.
Exploration and expansion will bolster smart home territories. Smart home industry players must continuously evaluate the next product feature, use case, or industry partner that can add value to their offerings and push the boundaries of connected consumer living. Opportunities to expand the smart home beyond its core offerings must be explored, including smart water products, smart kitchen appliances, connected car use cases, entertainment in the home, and integration for health and fitness.
The smarter home powered by AI will emerge gradually over the next five years and beyond. Many companies are touting AI in messaging, but it can be argued they are not always talking about what AI practitioners would define as true artificial intelligence, but rather some form of big data analytics. Many advancements in enterprise AI will trickle down to consumer products and services.
Securing the smart home could be one of the largest recurring revenue opportunities. ISPs are in a very good position, as they already have a subscription-based relation with their end customers. They are in the perfect position to secure the connection to their smart homes, thus securing their devices, regardless of their platforms, operations systems, or any other specifics. Advanced network security offerings use robust AI for device identification, network analytics, and enhanced security with real-time threat prevention to provide modern protection in a world with increasing attempts at device and network hacking.
5G speeds will impact multiple industries, including the smart home. 5G technologies will ultimately ease the burden on mobile networks and smart homes while providing much quicker broadband speeds and more reliable connectivity. These improvements will target the billions of new IoT devices that will connect to operators' networks over the next decade and beyond. With 5G implementation, connected markets that are reliant on both high and low bandwidth connectivity will experience disruption. The rollout of 5G services may allow operators to gain market share in the competitive mobile market, as well as gain a foothold in the home broadband market. Loss of connectivity with smart devices is a consistent pain point voiced by device owners, and cellular devices that can offer stand-alone, plug-and-play connectivity with little to no downtime will be compelling.
The ideal smart home experience is one in which a broad range of smart home devices and services are set up effortlessly and work together seamlessly, providing convenience to the user and enhanced value throughout the ecosystem. However, the challenge of integrating a broad group of products while maintaining a solid user experience is significant. New technologies like voice control, data analytics, machine learning, sound recognition, and artificial intelligence play a substantial role in simplifying, streamlining, and automating the smart home, radically enhancing the value proposition by providing context, awareness, and decision making that moves the market beyond scripted, pre-programmed automation scenes.
Parks Associates is hosting its 26th annual CONNECTIONS: The Premier Connected Home Conference, May 17-19, 2022 at the Omni Frisco Hotel. Parks Associates' 26th annual CONNECTIONS™: The Premier Connected Home Conference features an in-person conference in May and multiple virtual sessions hosted throughout 2022. The event focuses on the adoption of technology including smart home, security, connected health, energy, and home automation.
Bringing together more than 1,500 senior executives, CONNECTIONS™ provides networking opportunities combined with visionary keynotes and virtual sessions. The Parks Associates analyst team leads all conference sessions, which are focused on technology innovations, consumer adoption and trends, product and service forecasts, and the evaluation of new business strategies, partnerships, monetization opportunities, and value-added service design.
Throughout the event, sponsors offer demos during networking events, spotlighting new technology innovations and services for the entertainment, mobile, and smart home market segments. For more info, visit www.connectionsus.com
Next: Smart Lighting: Enhancing Smart Home Use Cases
Previous: Privacy and Security: Building Trust in the Connected Home

Comments
Be the first to leave a comment.
Post a Comment