Eliminating EV Barriers: Future Proofing the Experience – Webinar Cohosted by Parks Associates and Particle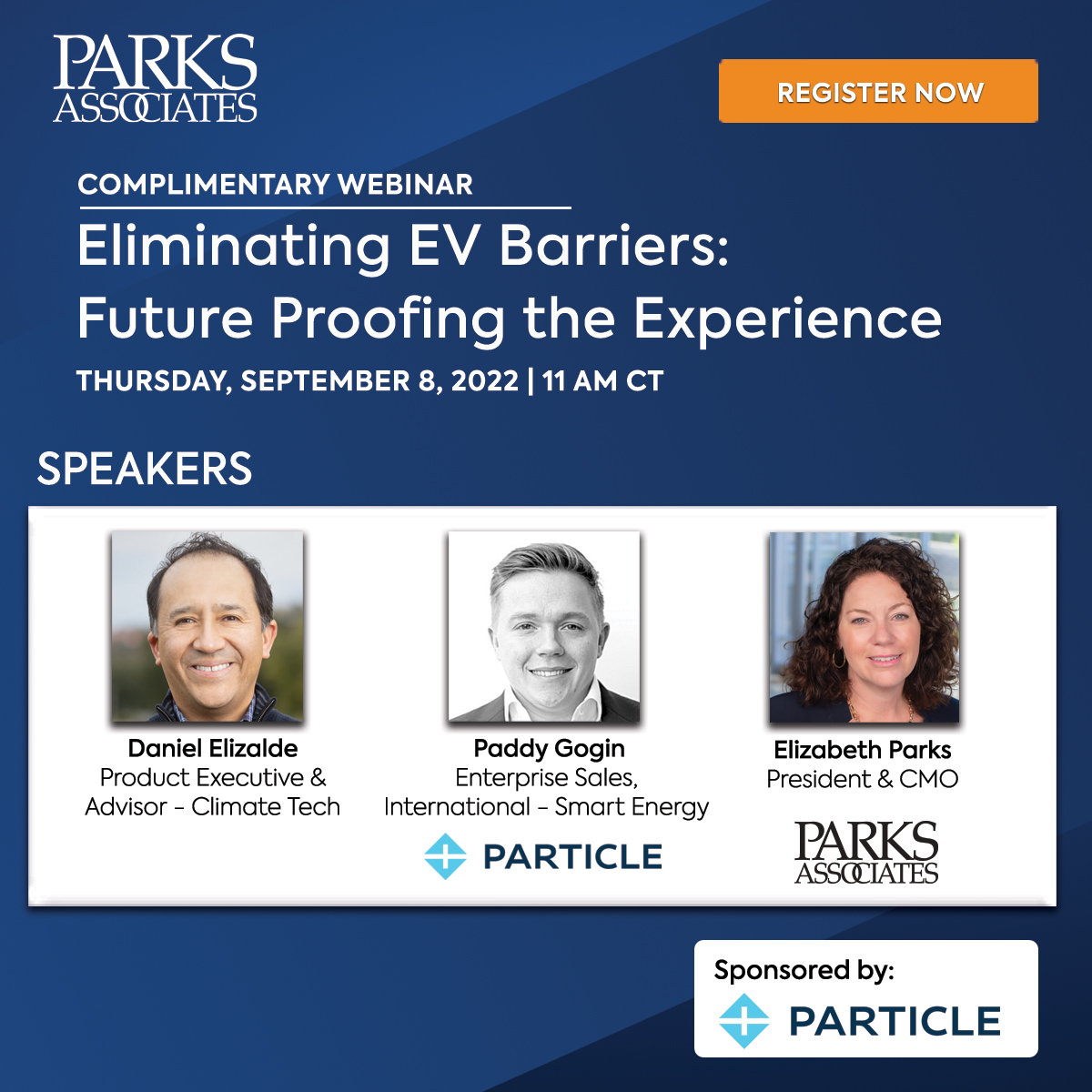 Parks Associates research finds that more than a third of US internet households are likely to purchase a vehicle in the next year. While EVs are a growing market, the EV ecosystem is still immature and requires substantial investments to scale and meet future demands. Consumers have many concerns around the reliability and security of the vehicle, the charging infrastructure being in place to alleviate charging concerns, and the operational aspects that come with it, including the use of data and the development and introduction of new business models. In areas where electrical supply is constrained during peak demands and pricing varies, data is critical to understand customer use, consumption, and gain better control of the physical assets.
On Thursday, September 8, 2022 at 11 AM CT/ 9 AM PT, Parks Associates will co-host a complimentary webinar with Particle, Eliminating EV Barriers: Future Proofing the Experience. The webinar will address the challenges facing EV charging solutions, including the adoption of and familiarity with EVs, purchase drivers and inhibitors, the increase and number of charging stations, and consumer perception of access to charging stations.
Register today to join Parks Associates along with industry experts from Particle and more as they highlight how companies can scale the EV infrastructure, unlock the value of energy data to future proof their business offerings, provide secure and reliable solutions, and the importance of timing in go-to-market strategies.

Previous: US Internet Households Work to Reduce Energy Consumption at Home

Comments
Be the first to leave a comment.
Post a Comment