Consumer Interest in Energy Solutions Continues to Grow with More Time at Home
The impact of COVID-19 on consumers' lifestyles, work, schooling, and transportation patterns have been immense. Beyond the actual infections and deaths resulting from the virus, perhaps no impact has been greater than the resultant effects on the economy, employment, and ability for people to make ends meet.
29% of US consumers in households with broadband internet tell us they are "Very concerned" with their ability to pay the bills as of September 2020 – a percentage which increased as the pandemic continued on.

In addition consumers have spent more time at home over the 18 months, working and schooling at home, driving up residential energy use and bills. These lifestyle changes – and the increased bills that come with them – indicate a fresh opening for products and services that help consumers understand and control their energy use.
Parks Associates latest data shows that 20% of US broadband households report that COVID-19 has increased their interest in a smart energy solution that would help them manage their energy use, cost, and comfort. In particular solutions that mange, adjust and monitor energy solutions like HVAC and lighting are popular among consumers.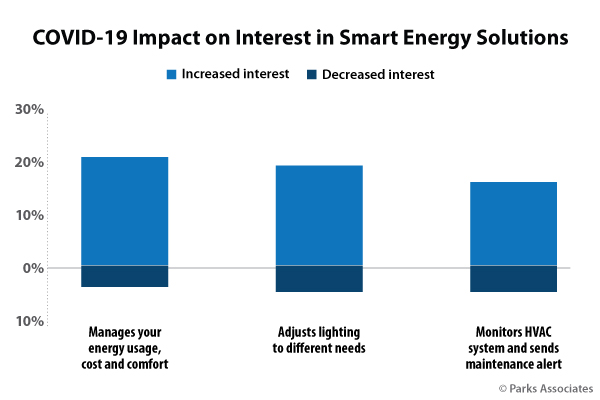 Parks Associates latest research, Smart, Clean, Connected: The Future of Home Energy Management provides in-depth information on the perspectives of 10,000 broadband households. connectivity, smart products and platforms allow consumers and energy service providers to understand and manage energy consumption throughout the home. As adoption of solar, storage, and electric vehicles grows alongside the smart home, utilities have the opportunity to align operation of these devices to the needs of the grid.
This research provides insights on consumer interest in clean energy and smart energy management products and services, including features, price sensitivity, and incentives for energy-efficiency solutions.
Key questions answered:
What is the demand for clean energy?
What are the obstacles to tapping demand for clean energy?
What is the demand for solar panels and key purchase drivers?
What is the demand for home battery back-up systems?
How willing are consumers to participate in load control programs and what incentives can best motivate them?

For more information, visit https://www.parksassociates.com/marketfocus/hem-future
Next: Smart Home Driving Residential Energy Efficiency: Google Announces Nest Renew
Previous: Promising Growth for the EV Market

Comments
Be the first to leave a comment.
Post a Comment